ALAN DAVID CUSTOM
BESPOKE TAILORING FOR MEN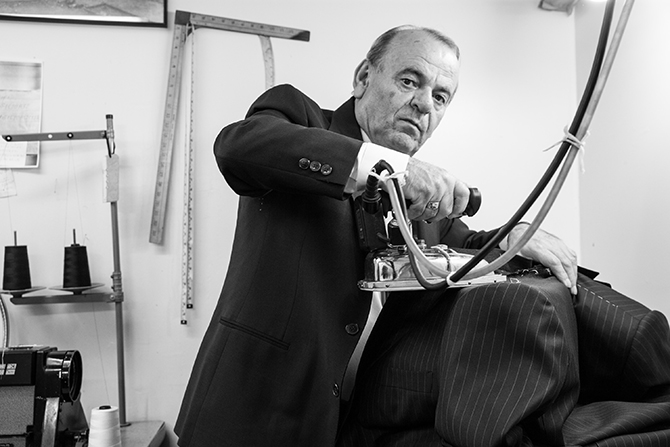 By Ruth J. Katz
Secreted away on the seventh floor of a non-descript building in Midtown is a hidden gem, the Alan David Custom showroom. A fourth-generation business, founded on the Lower East Side in 1926 by Jacob Ginsburg, Alan David Custom remains true to its legacy—bespoke tailoring.
The company embraces its heritage of fine tailoring, elevated to an art form, and takes great pride in creating meticulously crafted garments for both men and women. (And since it is high season on the social calendar, now is a perfect time to think custom tuxedo.)
MECCA FOR MEN
Current owner and great-grandson of the founder, Alan David Horowitz grew up in the garment business and worked in his father's store, surrounded by custom suits, so it was no surprise when he left his accounting firm and went into the family business in 1992 with his grandfather, Moe Ginsburg. At the time, Moe was working feverishly, producing over 1,000 suits a week, which he sold from his Lower Manhattan showroom.
That shop was a mecca for men of all stripes, with an enormous customer base of tourists and Wall Streeters. When the fallout from 9/11 impacted both of these groups of shoppers, the celebrated shop shuttered its doors; so well-known was the destination tailor and clothier, that the New York Daily News ran a story in September, 2002, about its closing, and according to the paper, it was not solely ordinary civilians who were saddened by the shop's demise; the News reported that, according to a salesperson, the famed clientele included "former Mayors Ed Koch and Rudy Giuliani, actor Robert De Niro, and lawyer Johnnie Cochran."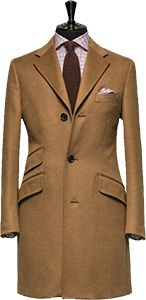 PERSONAL ATTENTION
However, the grandfather and grandson duo did not stay sidelined for long, and in 2005, they reopened a new custom-clothing establishment. Since its debut in 2005, Alan David Custom has attracted customers from all around the country—clients seeking a true bespoke experience, from the initial fitting to the alterations-for-life perk. The price for a classic custom suit hovers around $2,000, but it is not unusual for a suit to cost nearly $10,000, particularly when one of the most pricey fabrics is used. One Lone Star State customer makes an annual pilgrimage to the showroom, where he easily spends some $50,000 on a new wardrobe.
Painstaking service and cossetting personalization are the hallmarks of the shop and its skilled tailors. Drafting an initial pattern requires well over 20 measurements, using the company's proprietary measuring system. Each garment is 100 percent custom-made and produced in the U.S.A., allowing Alan David tailors to oversee the entire process. Fabrics come from the finest mills, including Loro Piana, Scabal, Dormeuil, and Ermenegildo Zegna for suiting and Tomas Mason, Loro Piana, and Ermenegildo Zegna for shirting.
For more information on Alan David Custom, visit alandavid.com.