FLEX MUSSELS
BEACH-WORTHY PLEASURE WITHOUT LEAVING THE CITY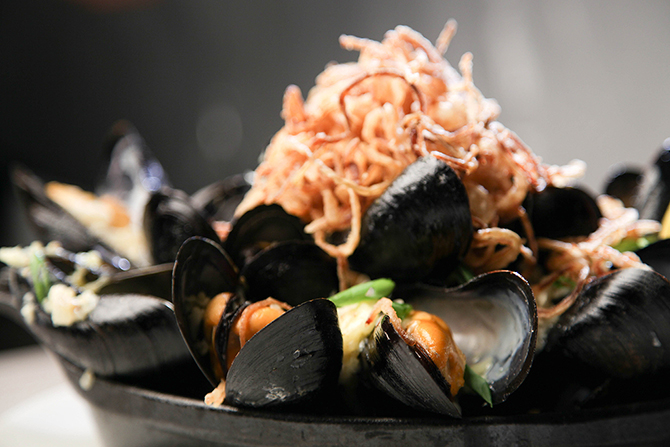 By Lori Simmons Zelenko
Get ready for a culinary tour of the world's cooking cultures exceptionally done through mollusks. Mussels rule at this convivial spot that covers uptown and downtown with two fun, friendly locations.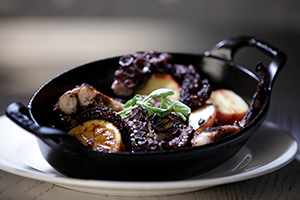 From the icy cold glass of white wine accompanying our freshly steamed mussels to the warm salted caramel, we dipped our delicious dessert donuts in, the experience of dining at Flex Mussels was a perfect reward, surprisingly flavorful, welcoming. With over 20 different types of mussels on the menu, Flex pairs these hand-picked Prince Edward Island bi-valves with sauces that pay homage to India, Thailand, Italy, France and even Mexico. The menu is a tour of the world's cooking cultures. Owner Alex Shapiro who grew up in the restaurant biz, adds to the merriment bringing an easy smile, relaxed flair and upbeat energy to the space, populated by a youngish crowd, birthdays happening right and left, laughter and goodwill flowing freely.
THE START OF SOMETHING GOOD
We started with the Crab Guacamole, just spicy enough, refreshing and zesty. The Kale Salad topped with Rana Padano cheese, with a crunchy topping of toasted pine nuts all tossed in lemon, olive oil was a natural segue leading to Fish Tacos, juicy, tasty, so very fresh topped with crispy, red cabbage jicama slaw, chipotle aioli.
Saving room for our mussels was a challenge we surmounted, diving into my preference, The Classic with white wine, herbs and garlic while my companion, who diets rigorously, couldn't get enough of Fra Diavolo with San Marzano tomatoes, olive oil, fresh basil, red pepper, and garlic. The accompanying truffle fries were worthy of seconds.
Dessert, however, is the ultimate topper. Abandon all restraint as you indulge in the stealthy-sized Flex donuts, each bite immersed in toppings that beg for more unfettered self-indulgence: fluffernutter, PBJ, cinnamon sugar, salted caramel, chocolate, wild blueberry, Meyer lemon, raspberry, s'mores—sublime flavors topping off an evening of beach-worthy delights.
FUN & LIVELY
Flex Mussels isn't fancy, but it is fun. The ambiance is unpretentious, airy, and accessible. The prices are affordable. The food is exceptional. The staff is attentive and involved, intuitively on top of things. We were at the Downtown location (West 13th Street) for a celebration dinner which owner, Alex, made sure was a night to remember. But having been to the Uptown location (East 82nd Street) too, it's apparent Flex Mussels is a friendly place; the vibe is light-hearted, summery no matter what the season after all the concept started as a charming seafood shack on Prince Edward Island. It may be in the heart of the city now but listen closely, and that happy babble might as well be waves lapping on the shore.
For more information on Flex Mussels, visit flexmussels.com.