ON STAGE THE PUBLIC THEATER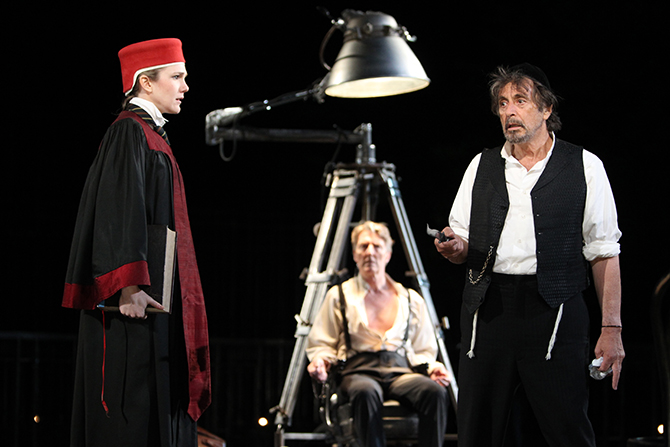 Lily Rabe, Byron Jennings and Al Pacino in The Merchant of Venice ©Joan Marcus
By Lori Simmons Zelenko
Everyone is an artist this Summer as The Public Theater essentially goes public creating a theater experience not only for the people but by the people with community members, New Yorkers from all five boroughs acting alongside the award-winning equity performers on stage. Five million people have spent Summer evenings under the stars watching more than 150 free productions of Shakespeare and other classical works and musicals at the Delacorte Theater since 1962. Conceived by founder Joe Papp, The Public's Shakespeare in the Park makes excellent theater accessible to all, uniting us in the singular sensation of great performances with some of our favorite actors dazzling us inclusively.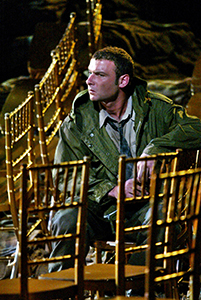 Liev Schreiber in Henry V ©Michal Daniel
The intimacy of the experience is otherworldly. Seeing actors who awe us on the big screen and Broadway up close and personal takes your breath away as you forget time and place to be in the moment waiting for words that thrill and performances that linger deliciously in your memory. I've been going to Shakespeare in the Park since I can remember and, of course, I have favorites and look forward to re-imaginings too, but being in Central Park as the sun sets and velvet cloaks the stage is a moment in time I cherish all year round. Don't miss this season; it will be one of the best yet.
THE STARS
The list of luminaries who have graced the stages of The Delacorte is unparalleled; it's as impressive as Oscar night. Talents like Meryl Streep, Al Pacino, Natalie Portman, Denzel Washington, Anne Hathaway, Liev Schreiber, Amy Adams, Annette Bening, John Lithgow, and Sam Waterston are just a few who have inspired and entertained us. Amazing talents engaging us naturally, sometimes humorously upstaged by a raccoon or other wildlife wandering on stage spontaneously distracts for the moment. Occasionally the play will be wiped out by a sudden downpour, but an evening at The Delacorte is always brilliant, surprising, and memorable for its randy humor even in tragedy, Shakespeare found comedy, and genuine, candid performances.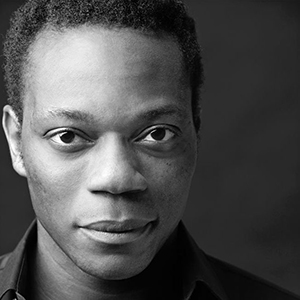 Chukwudi Iwuji as Othello ©Charlie Carter
OTHELLO
June 1st - June 24th
This Summer, Tony winner Ruben Santiago-Hudson returns to Shakespeare in the Park to direct a sumptuous new production of Othello. Set amid war and palace intrigue in 17th-century Mediterranean, this classic drama about a noble Black Venetian general whose marriage is sabotaged by theater's most infamous villain, Iago, remains Shakespeare's most urgent and relevant tragedy today. A lush, romantic vision gives way to the violent tangle of love and jealousy, race and revenge in this must-see production of Shakespeare's great tragedy.
Celebrated for their performances during past seasons of Shakespeare in the Park, the production stars Chukwudi Iwuji as Othello (Royal Shakespeare Company) with Corey Stoll (House of Cards) as Iago and Heather Lind as Desdemona (Boardwalk Empire).
TWELFTH NIGHT
July 17th – August 19th
Shakespeare's Twelfth Night is the unforgettable musical about love in all its many disguises. It is joyfully continuing this Summer season with music and lyrics by Shaina Taub. Oskar Eustis, Artistic Director of The Public Theater; and Kwame Kwei-Armah (incoming Artistic Director of London's Young Vic) direct a stellar cast.
Twelfth Night is an enchanting comedy about a young heroine who washes up on the shores of Illyria, disguises herself as a man, is sent to court a countess, and falls in love with a Duke.
Ato Blankson-Wood (The Marvelous Mrs. Maisel) joins the cast of Twelfth Night in the role of Orsino with Nikki M. James as Viola (Book of Mormon Tony Award winner), Andrew Kober as Malvolio (Boardwalk Empire), Jacob Ming-Trent (Shrek the Musical) as Sir Toby Belch, and Shaina Taub as Feste (composer, lyricist and actor; Shakespeare in the Park, Twelfth Night, 2016).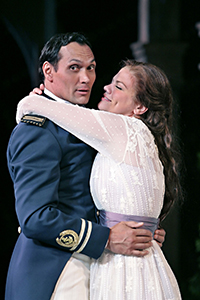 Jimmy Smits and Kristen Johnson in Much Ado About Nothing ©Michal Daniel
EVERYONE IS AN ARTIST
This enchanting, whimsical and musical comedy brings together not only acclaimed equity actors but also two rotating ensembles of community members from all five boroughs, a celebration of five extraordinary years of Public Works, a national (Dallas, Detroit and Seattle) and international (The National Theater in London) Public Theater initiative that invites diverse communities across New York to create ambitious works of participatory theater.
Twelfth Night will run for five weeks during the summer, the first time the Public has included a production from Public Works, in its regular summer program allowing 50,000 more New Yorkers to see this inspiring community initiative. Public Works was founded in 2013 to encourage New York City residents to get involved in the theater. "This summer, we are making a huge leap forward by presenting a full-length run of a Public Works show," said Oskar Eustis, the Public Theater's artistic director. "Surrounded by a huge ensemble of community members, Twelfth Night will reach an enormously expanded audience with the profound Public Works message that everyone is an artist, and we are all in this together." The Delacorte Theater in Central Park is accessible by entering at 81st Street and Central Park West or 79th Street and Fifth Avenue.
For more information about The Public Theater and Shakespeare in the Park visit publictheater.org.
HOW TO OBTAIN TICKETS
TICKETS Tickets to The Public Theater's Free Shakespeare in the Park are distributed, two per person, at the Delacorte Theater in Central Park on the day of the show. The Public Theater continues its partnership with TodayTix, which will again be offering the exclusive Mobile Ticket Lottery for Shakespeare in the Park. Tickets will be distributed by mobile lottery on the TodayTix app each date that there is a public performance at the Delacorte Theater.
LOTTERY On each public performance date, a limited number of vouchers for that night's performance will also be distributed via an in-person lottery at The Public Theater (425 Lafayette Street at Astor Place). Borough distribution information, as well as details about ADA accessible performances, will be available at a later date.