SUMMER IN THE CITY
Make The Most Of Those Warm And Sunny Days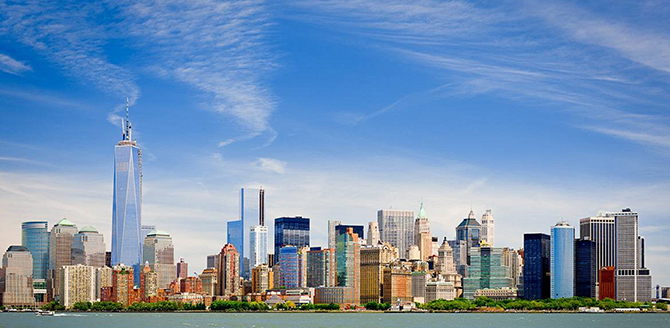 By Natasha Bazika
Around every New York City corner is an adventure. But add sunshine, vibrant flowers, and streets overflowing with people—and what do you get? Fun in the city. So get ready to revel in long warm days in the park, rooftop bar nights and music-filled nights. Here, just some of the hot events to add to your list.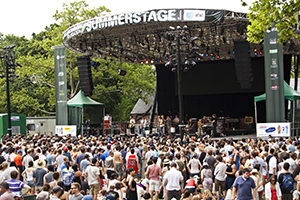 MoMA PS1
As the weather warms up, why not Warm Up the dance floor at MoMA PS1's pioneering outdoor music series, returning for its 21st season this summer from June 30th through September 1st. The series will feature the best in live and electronic music, featuring a wide range of emerging and established artists. The program's alumni include contemporary creators Solange, Black Dice, Jamie XX and legendary DJ's Ritchie Hawtin and Derrick May. Each year, Warm Up takes place within a site-specific installation by the winners of the annual Young Architects Program and this summer, MoMA PS1's courtyard will be transformed by Dream the Combine, an installation featuring large-scale mirrors that create unexpected visual connections. Tickets can be purchased for $99. Info: moma.org/calendar/events/3897.
SUMMERSTAGE
New York City's biggest free summer music festival is upon us once again, and we couldn't be more excited. For all music fans, SummerStage, presented by City Parks Foundation is a popular event to kick up their heels and let loose as they listen to everything from New York hip-hop artist's in outer borough city parks to big-name indie-rock bands on Central Parks' mainstage. This year's festival runs from June 2nd through September 27th, with events happening almost every day, including dance parties, concerts, live poetry, theater, ballet and outdoor opera series. SummerStage also brings family-friendly activities, including dance and drum workshops from the experts themselves. Info: cityparksfoundation.org/summerstage.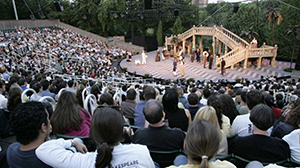 Shakespeare in The Park
SHAKESPEARE IN THE PARK
"If music be the food of love…play on," said Shakespeare in his famous play the Twelfth Night. One of the great summer traditions of Central Park is Shakespeare in the Park at Delacorte Theater. The annual free event includes two productions over the summer course, which this year include Othello and Twelfth Night. This summer Tony winner Ruben Santiago-Hudson directs a sumptuous new production of Othello, while critically-acclaimed songwriter Shaina Taub showcases her music and lyrics in the beloved Twelfth Night production. This free production is an unmissable New York City experience, as crowds are seen lining up at the crack of dawn to watch the play begin as the sun sets behind the charming Delacorte Theater. Info: publictheater.org.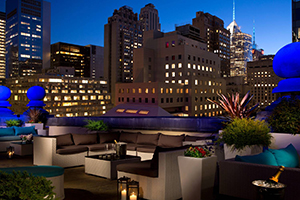 Rooftop Bars
ROOFTOP BARS
With the warm weather rolling in, city dwellers are gearing up for all manner of seasonal activities including outdoor dining and savoring a Manhattan on a rooftop bar with stunning panoramic views of the real Manhattan at sunset. Rooftop bars are a great way to see the city from above without having to pay for a ticket to the top and drinking is permitted on this deck. There are endless options of rooftop bars, including some with pools, others with lounges and, of course, the classic brick architectural details that make a rooftop bar romantic and traditional to New York City's bar scene. So, here's to raising a glass in front of the best views of the city. Info: nycgo.com/photo-galleries/nyc-hotel-rooftops.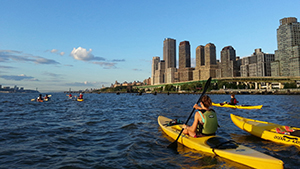 Kayaking Upriver
KAYAKING UPRIVER
Escape the city by water, with free kayaking on the Hudson River. Adventurers will head out to two locations along the Hudson River for a chance to see New York City from a new perspective. Pier 96 or the dock at 72nd street are two locations of the Manhattan Community Boathouse that offers free kayaking to anyone looking for an adventure, while also getting some exercise in. After signing a waiver and strapping on a life vest, climb into a kayak from the water-level floating deck and float away for 20 minutes on the serene waters of the Hudson, while witnessing the city from the outside. It is a first come, first-served basis, so make sure to get in early. Info: manhattancommunityboathouse.org.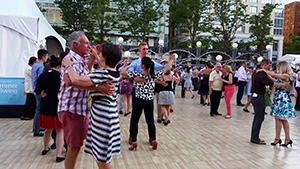 Midsummer Night Swing
MIDSUMMER NIGHT SWING
Midsummer Night Swing brings together crowds of people to Damrosch Park at Lincoln Center looking to swing, flip and tap away the night under a starry sky. From June 27th through July 15th, dancers will partake in group dance lessons that kick off at 6:30 pm, learning everything from ballroom to salsa and everything in-between. Dancers can also attend a late night silent disco on selected nights, which sounds like a perfect romantic date. Twirl under the stars by music provided by incredible live bands and artists such as The Legendary Count Basie Orchestra, Loser's Lounge, Harlem Renaissance Orchestra and more. Tickets range from $20 to $170, depending on how many sessions you choose. Info: lincolncenter.org/midsummer-night-swing.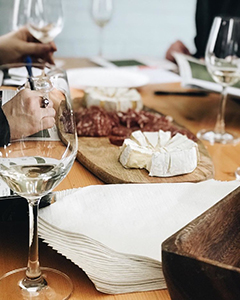 Grape Escapes in Bklyn
GRAPE ESCAPES IN BKLYN
This summer, visit the world's first commercially viable rooftop vineyard, located in Brooklyn's innovative Navy Yard. Rooftop Reds occupies a space of 14,800 square feet, with 42 planters, containing 168 grape vines and offers visitors the chance to try a variety of wines from New York's Finger Lakes region. You can sip on a glass of Cabernet Franc Rosé from a picnic table or hammock overlooking downtown Brooklyn. A familiar sight is crowds of young professionals mingling over a game of corn hole or catching a rooftop movie with wine and pizza included. Every Wednesday evening starting at 7 pm, tour the rooftop space, partake in wine and cheese tastings as you learn about the operations and visions of New York City's first rooftop vineyard. Info: rooftopreds.com.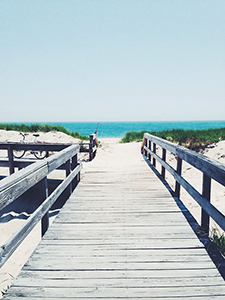 Day Trip to The Hamptons
DAY TRIP TO THE HAMPTONS
Escape the city for a day to enjoy the beautiful scenery and seaside charm of the Hamptons on Long Island. Choose to look into a guided tour or catch the train out and make your own itinerary. Walk the pristine beaches, scour boutique shops, sip on rosé, enjoy a contemporary art exhibit or tour a Hampton show house for an all-around experience in the Hamptons. You can also opt in for a sunset cruise or a ride on a yacht to appreciate the clear waters of the Atlantic Ocean. Info: Empire Vacations, empirevacations.com; Hampton Jitney, hamptonjitney.com; Long Island Railroad, mta.info.
MORE HAPPENINGS IN THE CITY
JUNE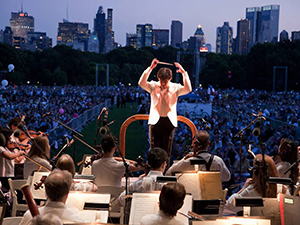 June 12th – 17th
Music In The Park
Hear classical music outdoors under the stars at New York Philharmonic Concerts in the Parks, followed by fireworks
June 16th
Outdoor Adventures
Hike, bike, climb, fish, and paddle at Adventures NYC at the Central Park bandshell area. Children under age 18 need a legal guardian for some activities.
Mermaid Parade
Watch (or participate) in the glittery parade with costumes, floats and aquatic themes along with classic cars that drive east along Surf Avenue on Coney Island, Brooklyn. Starts at 1 pm.
June 21st
Solstice Celebration
Summer Solstice Celebration includes art-making workshops, face painting, a solstice ritual, music, and entertainment at Socrates Sculpture Park, Astoria.
June 23rd – 24th
Craft Fair
Shop from 200 artisans, chefs, and vintage vendors at Renegade Craft Fair at Brooklyn Expo Center.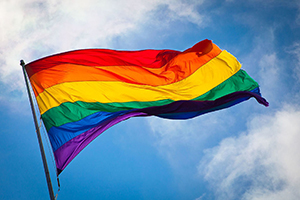 June 24th
Pride Sunday
Pride Week events include a noon Pride March down 5th Avenue, an afternoon PrideFrest fair on Hudson Street, and Pride Island from 2 – 10 pm, at Pier 97, followed by fireworks.
JULY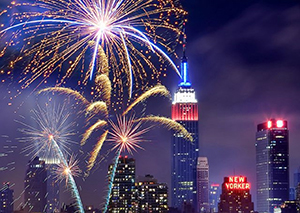 July 4th
New York Fireworks
Macy's 4th of July Fireworks Spectacular lights up the sky above the East River at 9:20 pm for 25 minutes. To hear details, call 212-494-4495, ext. 1.
Hot Dog Eating Contest
Watch qualified champion eaters, compete in the world famous Nathan's Famous Hot Dog Eating Contest on Coney Island. Women compete at 11 am; men at 12:30 pm.
July 13th – August 24th
Outdoor Movies
See free movies outdoors at Summer Movie Series at Intrepid Sea, Air & Space Museum. Every Friday; arrive early.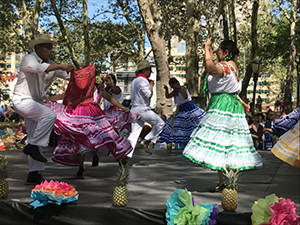 July 17th – 26th
Jazz Festival
Hear world-class jazz artists (including soulful singers) at the Jazz in July Festival at 92nd Street Y.
July 29th
Folklorico Festival
Watch colorful dancers perform the dances of Oaxaca, Mexico, hear lively music, and shop for crafts at Guelaguetza Festival in Socrates Sculpture Park, Astoria.