ENTREPRENEUR'S CORNER
Charles Smith, Former NY Knick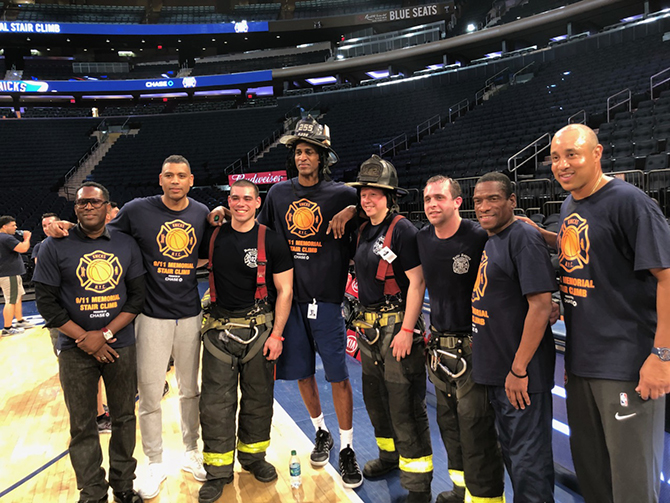 By Lee Gabay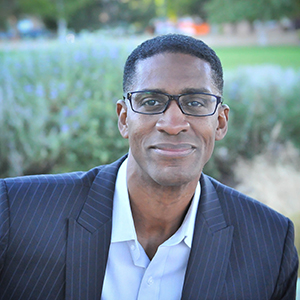 Basketball was thrilling in the city during the years Charles Smith played for the New York Knicks. With Smith in the line-up (1992-1996), the team went deep into the playoffs each year including consecutive Eastern Conference Finals and an exciting seven-game NBA final against the Houston Rockets in 1994.
But when he wasn't battling Reggie Miller's Pacers or Michael Jordan's Bulls, Smith traded in his #54 orange and blue jersey, for a blue suit and tie, to work at a marketing firm.
Recognizing the burgeoning business/marketing side of sports and corporate sponsorship, Smith personally brokered deals and negotiated contracts for his teammates and the arena. He explains, "When I met Marvin Jemal—owner of The Wiz—I asked him why he was only doing deals with Patrick [Ewing] and not the other guys? Jemal said that he didn't like working with agents." Smith offered to handle the contracts for his teammates and is responsible for those memorable Knicks-Wiz TV commercials.
Soon after the successful Wiz deal, Smith approached the CEO and Head of Marketing for Perry Ellis at an event and introduced the idea of seat-back advertising on the Madison Square Garden chairs. Today, this visionary promotional tool is standard throughout most venues across the NBA.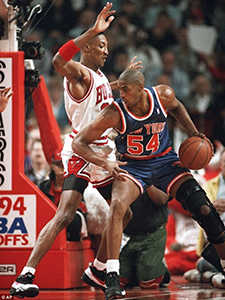 NBA TO MBA
Charles Smith is a gifted negotiator whose passion for commerce is supported by a Bachelor's Degree from the University of Pittsburg, the entrepreneurial program at Stanford University and just shy from his Masters of Business from Seton Hall. "If I am with you, I am studying you. I am not trying to size up or find flaws. I look for things that I can learn, take away and perhaps apply to my practice. I can tell you all the players and CEO's I have borrowed from."
His penchant for acquiring knowledge has served this NBA star turned corporate executive well. Smith now works at The Midas Exchange, owned by the largest media company in the world, WPP. With corporate trade as Smith's area of expertise, he creates value propositions for specific brands and purchases their underperforming assets. In exchange, he gets to execute their media buys and expenditures. Target, Direct General, and Rent-A-Center are just a few of his clients.
EXPANSION
Segueing from starting power forward for the ready-to-brawl Knicks of the 1990's to a proven business executive and entrepreneur, was a surprisingly natural progression for Smith. "As a young kid, I was always problem solving and negotiating—ask my sisters."
Being a former Knick opened up many doors but also created a few challenges. "I don't think people know how to take me at times. They don't expect the depth and knowledge of my business acumen. I love to talk about basketball in meetings but when it is time to work, they eventually stop seeing a Knick and see me as a celeb-utive."
After retiring from his successful 10-year NBA career in 1997, Smith applied his networking know-how and relentless work ethic towards founding a digital media company in the Financial District. He was the first employee in the office before sunrise and last to leave at night. In fact, he admits, "My recollections of Wall Street are that it was always dark."
He also opened an after-school center for inner city school children in his hometown of Bridgeport, CT and became executive director of the National Basketball Retired Player Association, where he developed Legends Care; a program for NBA and WNBA players to assist local communities.
Reflecting on his unique and unprecedented trajectory, Smith comments, "It's all one continuous flow. I've been through the whole gamut in business, I've failed more than I've won." But then continues, "I've learned that failures are written in pencil and become erasable from the knowledge I've gained."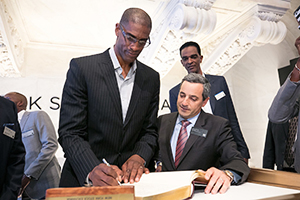 WINNING STRATEGIES
Seeing him in action at his midtown Manhattan office, Smith seems to draw from his athletic background by employing a group-oriented philosophy. He's an integral part of this billion dollar company, but he also seems to stand out from his teammates. This goes well beyond the optic of him being nearly seven feet tall. He's naturally vibrant, discussing creative strategies for his clientele, crafting new techniques to further their brand awareness and acquiring more foot traffic. "On the basketball court. I didn't excel at one particular thing. I was good at a lot of different facets of the game." His approach to working with companies during his annual Sports, Business and Entertainment Conference is similar. "I look at a company's growth potential to see what direction they are going in and identify three or four areas where I can become of value to them."
Despite success in the highly competitive fields of professional basketball and New York City business, Charles Smith has remained humble. He uses the subway to get around and only takes taxis when necessary. He still goes to Knicks games, and for him, the most rewarding aspect is reconnecting with the union people who work at the Garden. "The players come and go, but the ushers, food vendors, locker room attendants, security people have been around for years."
Smith is proud that his Knicks still resonate so fondly with New Yorkers. "People come up to me all the time to talk about those days," he says with quiet gratitude. And like a good entrepreneur, Charles Smith understands he has to adapt to a changing world. He's done it well—and his efforts are sustainable.