MY NEW YORK STORY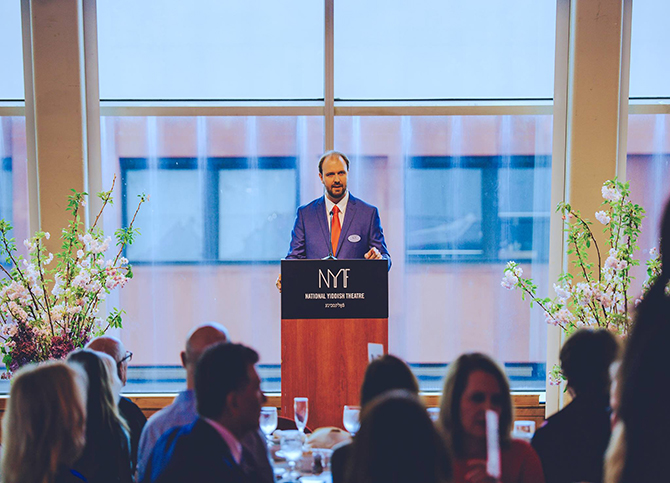 By Chris Massimine
What's more New York than the theater? You can see wonderful performances almost anywhere in the world. Seminal playwriting and productions percolate up from around the country, but the spiritual heart of professional theater is indisputably here in NYC, for a very good reason.
Coming from a tapestry of cultures and backgrounds, the people in the arts community here inspire each other through richly diverse ideas. That is what theater is all about. I am a walking, talking, piano-playing case study: I am the CEO of the National Yiddish Theatre Folksbiene. I am not Jewish. I'm not a native Yiddish speaker. I am 32 years old. Some might say it is an unlikely match. But this is New York, where a head full of creativity and a heart open to enrolling opportunities can register the impossible more-than-possible: probable.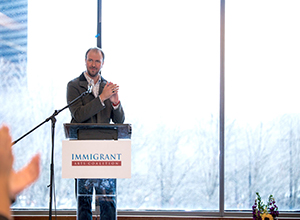 Creating the Immigrant Arts Coalition
THEATER IN MY DNA
I was born across the ocean and entered into the theatrical world as a child performer. I was a Broadway babe, literally, and in a sense, I grew up backstage. And by college, I had grown out of performance and into producing.
After attending NYU, I pursued work as a general manager, eager to learn more and do more. Ultimately, this was my first lesson in balance as it burned me out of theater and transitioned me into the mainstream worlds of advertising, communications, and television. I became a fast-rising star in all three sectors, winning awards, and bettering my craft as a creative manager. Then, after starting a brand development consulting firm, not two months into a client-packed A-list roster cash cow, I was approached by several people working at the National Yiddish Theatre Folksbiene. The company needed a marketing consultant. I didn't need more clients. I reluctantly met with the Executive Director, and we had an amazing hour-long conversation.
Now, I had come to this meeting only knowing the Executive Director's name and that I was speaking with an Off-Broadway theater company. So, after our mutually enjoyable lengthy discussion, when the Executive Director asked if I had any questions, it occurred to me that I had no idea which company this was. That's when the Executive Director revealed to me I was chatting with the National Yiddish Theatre Folksbiene. Immediately, I thought that was awesome.
At NYU, I had learned about the Yiddish theater's contributions to the American Cultural landscape. What started out as a part-time consulting gig, ended up restoring my faith in theater. Within a few months of taking on the Folksbiene, I transitioned my firm's clients into other capable hands and began my journey as the Marketing Communications Director of the National Yiddish Theatre Folksbiene. I became COO, and now CEO. I find myself enjoying it thoroughly.
THE CENTER OF IT ALL
I am very fortunate to live in Hell's Kitchen. It is central to everything I do. Just walking down Ninth Avenue, there is every kind of ethnic food you can imagine. The neighborhood brings together the theater community, the arts community, and the multi-cultural community. Many of the commercial Broadway companies make it a practice to go off to grab a bite in groups, and I'll often tag along with them to try different cultural cuisines and start conversations based on that; it's so stimulating.
Being an immigrant myself, I began to reflect that everything I knew about my heritage was somehow fabricated. I concluded that we were Americanized. My family didn't really talk about the past, the old country, or cultural traditions. I thought that loss of heritage was sad.
That is why founding the Immigrant Arts Coalition is near and dear to me. The theater is a massive economic engine for NYC. Broadway's past season generated $1.45 billion for the industry, $12.6 billion to the economy of NYC, and created over 87,100 jobs. And to repeat, those numbers are just for Broadway, not taking into account all the other performing and fine arts that make our city's cultural landscape so vibrant, or the restaurants, hotels and other ancillary businesses.
A career in the arts is never secure. And being an immigrant artist is doubly difficult, with all the complicated issues that they have to deal with related to immigration laws, obtaining visas, and battling language and cultural barriers. It is regrettable, but true that many immigrant artists wind up working in what amounts to indentured servitude in exchange for an employer's sponsorship for a visa application.
BRIDGING ARTS & POLITICS
Immigrant performers are often not given a fair opportunity in casting, sometimes because their visa status is in process and the casting director is afraid to take a chance, or because they have an accent, authentic though it may be. We know that immigrant artists are essential to the creative process. Without the cross-pollination of ideas, cultures, heritages, many of our most iconic "American" art forms would not exist and could not flourish.
Working with the National Yiddish Theatre Folksbiene, I saw a gap between immigrant advocacy organizations and arts organizations. There are tens of thousands of cultural arts organizations in New York City that in some way or another connect to immigrant arts. In 2017, we wanted to see if there was the seed of an idea to come together for the benefit of all. We hosted an Immigrant Arts summit. The genesis was getting people together to create an open dialogue.
THE CREATIVE SPIRIT IS ALIVE
What resulted was hundreds of thousands of people watching online streamed and recorded events and panel discussions. From the audience engagement, we realized the challenges that exist are present beyond the confines of our little island and are major national issues. There was a definite need for a someone, something, an entity of sorts to help steer the conversation and be that beacon of hope for the multiethnic cultural composition of our country.
We stepped up: all 50 multi-cultural arts organizations which comprised the first Summit--including the Mayor's Office--the entertainment unions, and the New York Foundation for the Arts. Together, we formed the Immigrant Arts Coalition to advocate for immigrant artists and the particular problems they face, to elevate the standing of immigrant arts groups, to champion diversity as a strength, not a weakness. In the short window of a year, we have become the answer for this kind of community-building. The Immigrant Arts Coalition will be that umbrella organization that bridges art and politics.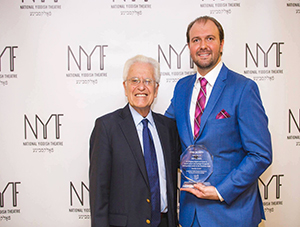 Jerry Zaks with Chris Massimine
A WORLD OF POSSIBILITIES
My "day" job is unquestionably an immigrant arts experience. The National Yiddish Theatre Folksbiene is the oldest consecutively-producing performing arts institution in the U.S. and was founded in 1915. The modern Broadway theater is a direct descendent of Yiddish theater. Part of the excitement of working with this company is the opportunity to make it relevant to new audiences, who may not have the emotional connection to either the material or the language.
That is where my status as a "goy" (non-Jew) is such an asset. In the same way that other immigrant arts transcend their ethnic heritage due to their artistic virtuosity—Flamenco, African drumming, even K-pop—Yiddish theater is also finding resonance. This summer, we will produce Fiddler on the Roof in Yiddish. It will be the first time this musical theater icon has been presented in Yiddish in fifty years and the first time in the U.S. Of course, there will be supertitles in English, but I feel confident that when Tevye talks to the Almighty about his troubles, visibly carrying the weight of the world on his shoulders, it will be universally understood by everyone.
The bottom line is we're all born, do some stuff, and then leave this world. So, during my short stay here, I choose to do good as an advocate for compassion and compromise through conversation. It also happens there's nothing I love more than a good talk. The secret is everyone wants to talk, once you get them to open up. And getting someone to open up, opens a world of possibilities.