HUDSON VALLEY ESCAPES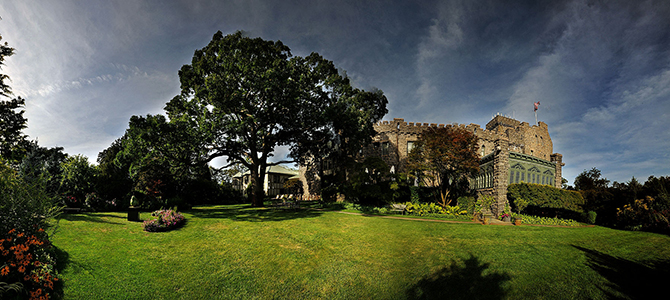 By Laurie Bain Wilson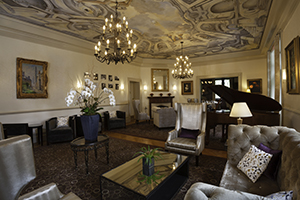 You don't have to time travel back to medieval days to experience breathtaking castles and magnificent estates—we've got them right here in New York's Hudson Valley. Here, our picks for the best getaway.
CASTLE HOTEL & SPA
About 30 miles north of New York City, there's a castle tucked in the Hudson Valley, in the heart of Sleepy Hollow country, a landscape of rolling hills and bucolic villages. It's called the Castle Hotel & Spa, and like any good castle, it has a fable.
Once upon a time, before the turn of the 20th century, General Howard Carroll, a newspaperman (he was the Washington, DC correspondent at The New York Times), a playwright (he wrote The American Countess which had a Broadway run) and a businessman, purchased some land. He built Carrollcliffe a 45-room castle, beginning in 1897 and completing in 1910. If only walls could talk: the castle hosted many regal parties with a guest list that included foreign dignitaries and social notables like Andrew Carnegie and J.P. Morgan.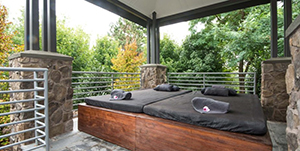 Later, in 1910, a new addition that included a dining room and ballroom was built, and when the General died in 1916, his widow and children lived there until 1940. The castle then had several incarnations, and in 1981 the town of Tarrytown designated the castle a historic landmark. In 1996 it opened as a luxury hotel, and in 2013 it was renovated with the addition of the spa.
You'll spy the castle long before you arrive—it sits atop one of the highest points in the region, with commanding views of the Hudson River and lower Hudson Valley.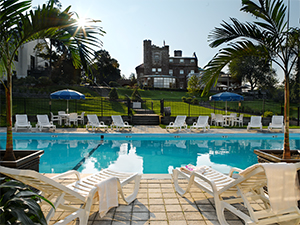 Outdoor Pool
OLD WORLD MEETS CONTEMPORARY
There are 31 guest rooms and suites. Book one of the newly renovated luxury suites that are located in the original castle with spacious living rooms, bedroom and king four-poster bed, along with traditional armoires and contemporary features like flat-screen HDTVs and Keurig coffeemakers. Carrollcliffe is the name of the newest wing, the name giving the nod to the castle's historical past and is home to Junior Suites with king-size beds and alcove sitting areas.
Locally-sourced and organic ingredients are the thrust behind the hotel's elegant Equus restaurant. Order the New York State Cheese plate and you'll get a sampling of locally crafted cheeses served with baked bread and fresh fruit. Perfect sip: the Carrollcliffe Classic Martini (Genever, Lo-Fi Dry Vermouth, Absinthe Rinse, Cucumber Essence, Fennel Frond.)
The castle crowns ten wooded acres, with one-mile hiking, walking and jogging trails on the property for a wellness dose of nature and fitness. There's also a health and fitness center on property. And an outdoor pool is an especially tempting tease on hot summer days. Crave a rub or wrap? Succumb to a signature Asian treatment at the Sankara Spa, or just chill in the spa's Relaxation Lounge. Serenity now.
For more information on Castle Hotel Spa (a member of Small Luxury Hotels), visit castlehotelspa.com.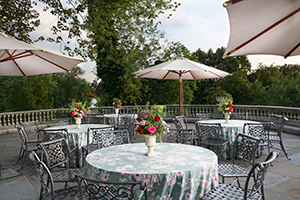 West Terrace
TARRYTOWN HOUSE ESTATE
There's another castle-like estate in the storied Hudson Valley region—the Tarrytown House Estate on the Hudson. And it, too, has a fable. In the mid-1800s through the turn of the century, the estate was home to generations of wealthy families of the tobacco and railroad industries. It was a party house, so to speak—lavish galas and receptions for wealthy New Yorkers.
Fast forward to the mid-1960s, and the castle was still a place for gatherings but this time around as "the nation's first commercial conference center." At the helm was Bob Schwartz, Life Magazine's New York Bureau Chief, who had reinvented the mansion to become Tarrytown House. But it was also a place for New Yorkers to escape the city.
Today, it is still an idyllic spot for city slickers to retreat as well as a popular pick for destination weddings, especially May through mid-November. The hotel caters to adults in the summer, while families tend to visit, especially in the fall, particularly around Halloween—Sleepy Hollow is considered one of the most haunted places in the world. And like any good fable or fairytale, there is a heroine. At the Tarrytown House, the heroine is Lady, a black lab. Best of all, you can bring your dog, too—the hotel is pet-friendly.
FEEL LIKE A ROYAL
The estate has 212 guestrooms and another 10 Georgian-era-inspired suites in the King Mansion, the oldest building on property. The restored 1840s mansion is named for Thomas King, who once-upon-a-time lived here in the 1900s. Some rooms have patios, and the rooms are outfitted with antique furnishings and contemporary amenities like flat screen TVs, Keurig coffee machines, and custom toiletries. Book the King Mansion Sundeck room and you'll have a private terrace and sundeck with views of Manhattan.
There are two swimming pools—an indoor pool and an outdoor summer adults-only pool with a Cabana Bar and Grill. There are also walking and jogging trails, hiking at nearby Bear Mountain (about a half-hour drive), and wine sipping at Torn Valley Vineyard (less than a half-hour drive). Also, expect a fitness center with a racquetball court and indoor hot tub and a sauna. Get out on the tennis court or tee off at one of the Hudson Valley's nearby prestigious golf courses, hit the outdoor basketball court or bocce court, and play horseshoes and volleyball, too.
Dig into classic American tavern food at Cellar 49, a cozy spot in the original cellar of the historic Biddle Mansion. The emphasis is on locally-sourced ingredients from area farms, breweries and wineries like Hudson Valley Harvest in Kingston, New York and Hillrock Estate Distillery in Ancram, New York. There is also an ambitious wine program at the estate.
You choose from several room packages this summer. Book the signature Bed and Breakfast package and you'll get daily breakfast for two in the Biddle Mansion.
For more information on Tarrytown House Estate, visit tarrytownhouseestate.com.