GOLD RUSH
California Bound? Look No Further Than These Winning Resorts.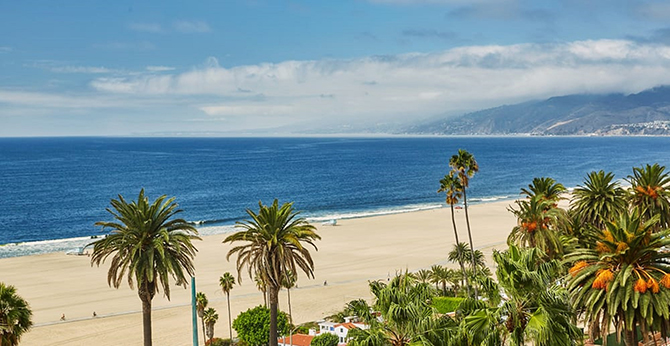 By Diana Roberts
So much about southern California is golden, from the sun to the fabulous vistas. And there's no better way to experience its glow than from behind the stately doors of these enchanting hotel and resorts.
FAIRMONT MIRAMAR HOTEL & BUNGALOWS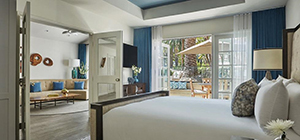 Santa Monica
If there's a Heaven, it must look an awful lot like this grand hotel, smack on Santa Monica's Ocean Ave. The views! The amenities! The bungalows!
Ah, yes. The Bungalows. Originally added to the historic hotel in 1938, the secluded and private bungalows were a home away from home for some of the most iconic stars of Old Hollywood. Legends including Jean Harlow, Marilyn Monroe, and Greta Garbo, who would retreat to the Miramar as a hideaway, and Jean Simmons who resided in a bungalow for seven months.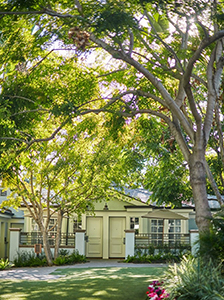 Tucked within the Miramar gardens, these 31 bungalows, including four bi-level suites, were recently updated to incorporate a fresh mix of mid-century modern design, Southern California oceanfront style, and natural textures. Each of the new suites has a unique personality, and combine a bright color palette with organic elements throughout, integrating cooling gray-blue hues, custom lighting, and local-inspired vintage artwork, reflective of the Santa Monica beach community. From seagull-shaped light fixtures and wallpaper that creates the illusion of wood paneling, the suites bring the natural beauty of coastal California indoors.
On top of that, the hotel is home to the beautiful lobby lounge, where you can dine outdoors by waterfalls and koi fishpond, and Fig, which sources straight from the Santa Monica farmer's market. Fitness enthusiasts can work out in the health club and Exhale's mind, body, spa. Not long ago, a Glam & Co outpost offering blowouts was opened. Heaven never looked so chic. Info: fairmont.com/santa-monica.
---
THE BEVERLY HILLS HOTEL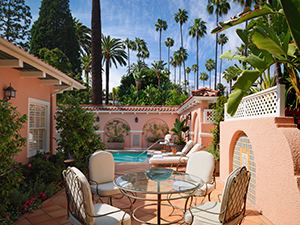 Beverly Hills Hotel Bungalow
Beverly Hills
Yes, this is that hotel, the world famous pink cupcake that has been part of Hollywood lore forever. But like some of the city's most iconic residents, it was in need of a facelift. To date, the lobby, Polo Lounge, famed pool cabanas and Cabana Café, and all guest rooms and most suites in the main building have been updated and will continue through 2019.
Steeped in history as the preferred "home away from home" for generations of Hollywood royalty, the historic bungalows at The Beverly Hills Hotel include color palettes inspired by warm Southern California tones, such as rust, pinks, greens, and golds.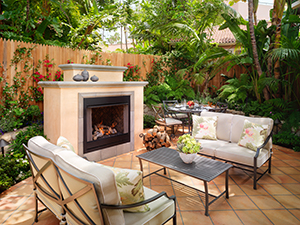 Beverly Hills Hotel
First introduced in 1915 to accommodate families that wanted more space and privacy, the iconic bungalows remain an essential part of the hotel's character. They have known the world over for their history with Hollywood royalty and colorful anecdotes, which include Gloria Swanson temporarily residing in one after getting divorced, Elizabeth Taylor spent six of her eight honeymoons there, and Lauren Bacall and Marlene Dietrich each called them home for over a year. Marilyn Monroe spent weeks at a time in her favorite Bungalow 7 and filmed Let's Make Love in Bungalows 20 and 21. Howard Hughes lived on-and-off in Bungalow 4 for 30 years and registered several others under his name so no one would know which one he was occupying. He also requested that one of his meals of choice, roast beef sandwiches, be left under a tree outside his bungalow almost every night. The hotel was thrilled to comply. Info: dorchestercollection.com/en/los-angeles/the-beverly-hills-hotel.
---
THE RANCH AT LAGUNA BEACH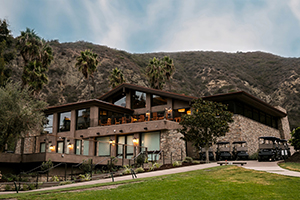 The Ranch at Laguna Beach
Laguna Beach
The Ranch at Laguna Beach aspires to be the coolest hotel in Laguna Beach, and they pretty well succeed. Midway between Los Angeles and San Diego in the picturesque Southern California arts community of Laguna Beach, The Ranch is set on 87 acres just inside the steep walls of Aliso and Woods Canyons.
The completely renovated boutique hotel embodies an authentic beach cottage flavor that fully captures the charm and artistic heritage of the quaint seaside village of Laguna Beach. The piece de resistance is the Tree House: a 1,600-square foot, two-story residence, complete with private entrance, two bedrooms and three baths featuring a Master Suite and guest bedroom. Included is a full kitchen, a wrap-around deck, boasting inspiring golf course and canyon views.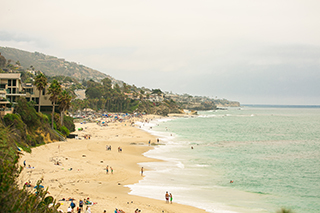 Laguna Beach
Guests dine at Harvest restaurant, which marries the bounty of the season with the atmosphere and creativity of Laguna Beach into a dizzying array of local flavors, ingredients, and traditions of California cuisine. Or you can order Ben's Pantry, outside by the fire pit (where there's live music!). Check the chalkboard for the day's specialties, featuring Artisan sandwiches that utilize the best seasonal ingredients. Info: theranchlb.com.
---
LANGHAM HUNTINGTON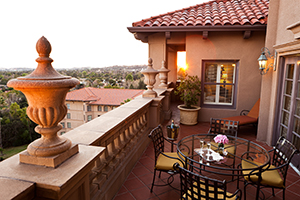 Tournament of Roses Suite Patio
Pasadena
Happy tenth anniversary to the Langham Huntington (formerly the Huntington Hotel), just minutes from downtown. The hotel has 377 elegantly furnished rooms, suites, and cottages, each one with expansive views of the surrounding landscape and nearby mountains.
To celebrate, the Langham is offering yoga classes in the Japanese Garden (Saturdays and Sundays at 9:00 am from Memorial Day through Labor Day); hotel property tours (conducted daily); and lawn games like bocce ball, badminton, croquet, mini-golf, and other surprises. There's also a "Pink X" anniversary drink in the Tap Room bar, along with the hotel's signature afternoon tea with Wedgwood in The Lobby Lounge. England never looked so good. And so sunny. Info: langhamhotels.com/en/the-langham/pasadena.
---
THE RANCH 4.0 AT THE FOUR SEASONS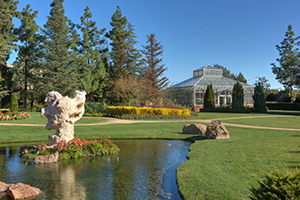 The Ranch 4.0 Property
Westlake Village
Get your glow back at The Ranch 4.0, the 4-day version of The Ranch Malibu's acclaimed 7-day wellness program, which includes 4 hours of daily hiking, yoga, cardio and conditioning classes, massages, and a 1,400 calorie-a-day organic vegan diet. It's impossible not to lose inches if that's what you're going for (as well as a couple of pounds); many guests continue to do so long after they leave.
The Ranch 4.0 features a Thursday through Monday stay that is specially designed for those who can't or don't want to take a full week off, but want to kick-start their fitness routine. Unlike the Ranch Malibu, which is tucked away in the mountains, the mini-version takes place at the Four Seasons Westlake Village, in the heart of the Conejo Valley. This means there are "non-program" people walking around, and endless temptations. (The Ranch staff locks your minibar, but it does take some willpower to resist the hotel restaurants or bar.) But there are benefits of staying in the real world, Wi-Fi access notwithstanding.
Ranch 4.0 guests can take advantage of hotel facilities, including the indoor and outdoor pools, diagnostic fitness testing through a BOD POD body composition assessment and a VO2 Metabolic test. You can also indulge in an array of a la carte spa services like acupuncture, hypnotherapy, spa treatments, and energy healing (not included in the fee). By the end of the four days, you will be exhausted, but you'll also never feel better. You've earned every blister. Info: theranchmalibu.com.
---
LA QUINTA RESORT & CLUB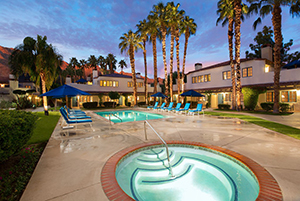 La Quinta Pool
La Quinta
Frank Capra dubbed it his Shangri-La of Screenwriting. Set against the magnificent backdrop of the Santa Rosa Mountains, La Quinta Resort & Club, a member of the Waldorf Astoria Hotels & Resorts, is one of only two resorts in the country for which a city has been named (La Quinta!). Nearly 140 miles southeast of Los Angeles, the hotel is nestled in the Coachella Valley, which has gained popularity for that little music festival.
La Quinta's verdant grounds are accentuated by beds of colorful flowers; fragrant orange, lemon, and grapefruit trees; cypress trees and cacti; sparkling pools and picturesque courtyards, all framed by towering palms. Greta Garbo, Bette Davis, Errol Flynn and Clark Gable were frequent visitors. In fact, Capra wrote It's a Wonderful Life here. For similar inspiration, guests can rent the Frank Capra Suite, with the original wood-burning fireplace, a king bedroom and separate living and dining areas.
However, if writing the next big Oscar-winning film is not your thing, you can always zip around the 45 acres on a bike or pamper yourself at the 23,000 square foot Spa La Quinta. The resort is also near miles of hiking trails including the seven-mile Bear Creek Canyon Trail. Info: laquintaresort.com.