GRENADA Spice, Beauty & Great Vibes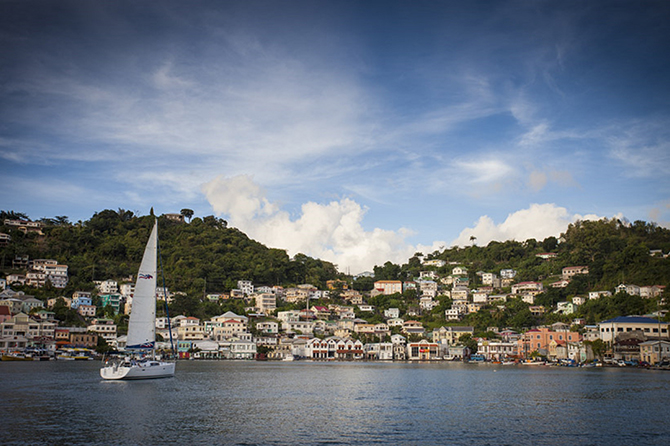 By Darren Paltrowitz
With rainforest-clad mountains rising behind its white- and black-sand beaches, it's no wonder eco-tourism is hot on Grenada. This lush, tranquil island is light-years away from glitzy resorts and casinos. In Grenada, glittering nightlife means counting stars overhead as waves dance over your toes.
No high-rise hotels are towering above the palm trees here. Even Grenada's capital, St. George's, is pure postcard: quaint pastel buildings topped with red-tile roofs form a picture-perfect frame around the city's azure harbor.
At just a dozen miles across and 21 miles long, Grenada is a little corner of the Caribbean that seems from a slower-paced time. The island is perfect for a beautiful getaway. And fortunately for New Yorkers, Grenada has direct flights daily from JFK to St. George's Maurice Bishop International Airport, courtesy of JetBlue Airways. The friendly, English-speaking people are another plus; Grenada and its sister islands, Carriacou and Petite Martinique, form an independent nation with the British Commonwealth.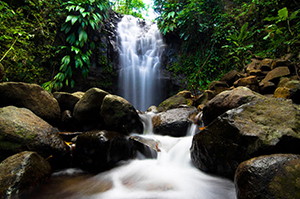 WHAT TO SEE & DO
At the island's center, Grand Etang National Park is a fantasyland for hikers. Here, nature's soundtrack plays—the chattering of monkeys, the whistling chirp of tiny tree frogs and the splash of waterfalls. The main trail through the rainforest leads to the park's sapphire centerpiece—Grand Etang Lake, which fills the vast crater of an extinct volcano. En route, visitors may spot some of the 150 bird species that inhabit this island trio, such as the unique Grenada dove, emerald-throated hummingbird, and yellow-breasted bananaquit.
No less enthralling are coral kingdoms under Grenada's turquoise waves, and most of it dive sites lie less than a half-hour away from shore by boat. The coral wall known as Flamingo Bay swarms with Grenada's most prolific fish life. And Point Moliniere, a marine preserve, is home to iridescent parrotfish, blue tangs, neon-orange squirrelfish, and other brilliant marine life. However, some visitors prefer to toss masks, fins and picnic supplies in a car and set out to discover the perfect beach—Grenada has nearly 50 to choose from, including nine of exotic black sand.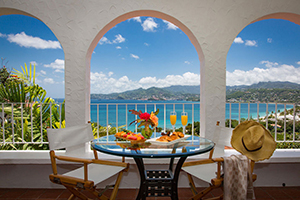 FLAVORFUL PLEASURES
A tour of St. George's often begins at colonial Fort George, where the 18th-century battlements afford panoramic views of the red-roofed, storybook city and its sheltered harbor far below. The bustling produce market in the center of town is equally picturesque, with fruits and vegetables artfully arranged in open-air stalls. The market and nearby shops are also good places to pick up spice-filled mini-baskets: Grenada which produces more nutmeg than any country in the Western Hemisphere, also produces cinnamon, cloves, and other spices. In colonial days, Grenada was renowned as the Isle of Spice. You can learn about how spices are grown and processed by visiting the Dougaldston Spice Plantation.
A must-see is The Belmont Estate, home to the Grenada Chocolate Tourism Company, which bills itself as "the Caribbean's Finest Agri-tourism Experience." Visitors are shown how cocoa beans are fermented and dried. Detailed tours provide a glimpse into how the estate's cocoa beans are turned into chocolate. There's a good restaurant offering buffet Creole lunches, and a shop where you can buy the Grenada Chocolate Company's award-winning chocolate bars.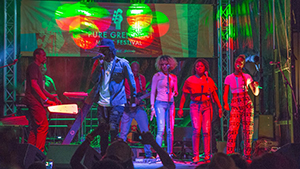 MUSIC TO YOUR EARS
Spices and chocolate are only some of the things that make Grenada stand out from other Caribbean destinations. The island also hosts a world-class music festival.
I had the pleasure of visiting Grenada earlier this year during the 2018 Pure Grenada Music Festival. The three-night musical extravaganza took place on the Port Louis Lawn and featured a Soul Night, a Reggae Night and a Caribbean Night. The fun-filled music show featured world-class performers including UK soul artist, Daley; New York-based R&B artist Chrisette Michele; homegrown Grenada talent Sabrina Francis; Grammy-winning reggae group Morgan Heritage; and the Queen of SOCA, Alison Hinds. For more information on Pure Grenada Music Festival, visit grenadamusicalfestival.com.
BEST BET
Within my five-day stay in Grenada, I had the pleasure of staying at the Mount Cinnamon Resort & Beach Club (mtcinnamongrenadahotel.com). Mount Cinnamon—named "Best Caribbean Resort" by USA Today's 2018 Readers' Choice poll—overlooks the popular two-mile-long Grand Anse Beach. Once on Mount Cinnamon's stretch of sand (across the street from the resort), which is a private yet welcoming beach club, there is plenty to do beyond the sand and water. For starters, there is a cabana with a menu from the on-site Savvy's Restaurant & Bar, which offers a mix of traditional West Indian, Caribbean and pub food favorites; the produce used for the menu is homegrown, of course. There are outdoor sporting options (ping-pong, volleyball, shuffleboard, scuba school) and equipment rentals, beyond the beach chairs and umbrellas, so you can honestly do as much—or as little—as you want while visiting the beach. Back at the resort, if having a spectacular view from your villa is not enough, there is a pool, a tennis court, and a 24-hour fitness center. Regarding customer service, nearly every staff member I encountered during my stay knew my name after one meeting.
For more information on Grenada and its attractions, visit puregrenada.com.