FROM PARIS WITH LOVE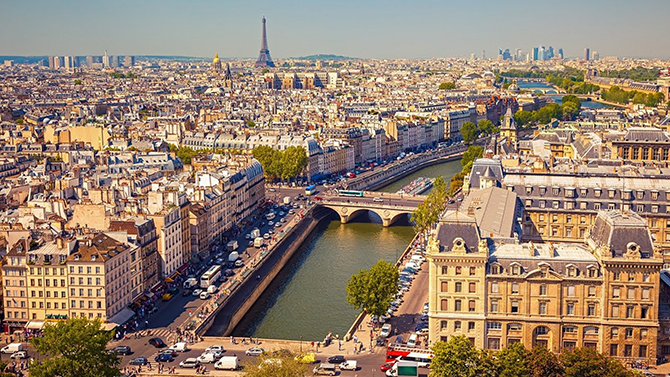 By Jeremy Murphy
Where iz ze cat? Not the greeting you expect from a five-star Parisian palace but it's apropos for the Hotel Plaza Athénée where every guest, quirk and paw is embraced at the drop of a chapeau. I had the occasion to bring my furry friend Champers (named after French Champagne) on a visit to the grand dame, and to this day, it's always their first greeting. It's just one of the reasons Paris is my mon ami.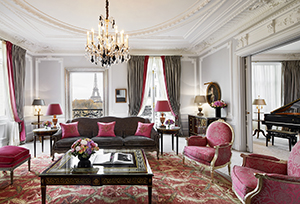 Suite Haute Couture
VIOLA! WE'VE ARRIVED The most important decision in visiting Paris is where to stay. It's an easy call. Distinction Palace is an official government decree awarding the truly worthy the royal blessing. There are the mainstays (Le Bristol, Le Meurice, The Royal Monceau, the George V), new jeunes (The Mandarin, Shangri-La, Park Hyatt) and the very top is Hotel Plaza Athénée, the 105-year grand dame perched majestically off Avenue Montaigne, Paris' undisputed den of decadence.
The Plaza Athénée is by far the most Parisian, with Louis XVI furnishings and accents, Art Deco inspired décor, rooms draped in taffetas, velvets and bits of gold embroidery, elaborate crown moldings and a signature amber scent that evokes a past romantic life. It's impossible not to feel glamorous here, especially knowing its ties to Christian Dior (he once staged his shows in its lobby, and the spa is branded Dior Institute), proximity to the finest haute couture salons and its immortalization in culture populaire: Sex and the City filmed its series end at the hotel, as did The Devil Wears Prada. The ambiance is royal-court-meets fashion runway. In fact its lobby Galleries is the best people watching in Paris, as the glitterati glide through rolling their Goyards.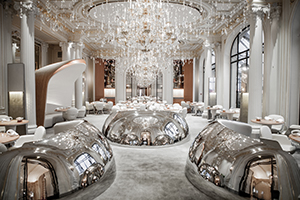 AlainDucasse
DINING
Paris likes to see itself as the birthplace of haute cuisine, and in many cases, it is. French gourmand Alain Ducasse, perhaps the world's most celebrated chef, has several to consider: his top restaurants at the Plaza Athénée and Le Bristol, and the popular Jules Verne inside the Eiffel Tower. The opulent eatery has a terrific tasting menu and amazing views of Paris, but the influx of not-so-well-dressed diners is a bit off-putting. The ultimate in dining is L'Atelier Joel Robuchon on the Left Bank, where guests sit next to each other in a square shaped bar and savor entrees from foie gras to mini-hamburgers (not sliders… sacre bleu!) Add in a bottle of Châteauneuf-du-Pape and you're in heaven.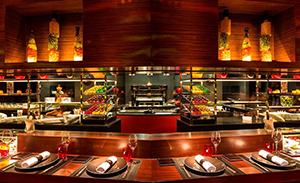 L'Atelier Joel Rubochon
One of Paris' most famous institutions is Tour d'Argent, which dates itself back to 1582 and cites Henry IV as a guest. The food is classic French – its specialty is duck, which is raised on its own farm. The piece de resistance, though, is its 450,000-wine bottle list. For authentic, book a table at Fontaine de Mars, an old school brasserie from 1908 where President Obama and Michelle once dined on cassoulet.
For those looking for American tastes, Ralph Lauren's Ralphs off Saint Germaine has all the traditional (and delicious) staples: burgers, salads, sandwiches, steaks. But before you end any day or start/finish any night, consider drinks at Bar Hemingway, the out-of-nowhere watering hole once frequented by the celebrated writer inside the Ritz. Located all the way in the back, the small, tackle-shop decorated bar is a complete throwback to a different era but contemporized by the libations of head pourer Colin Field.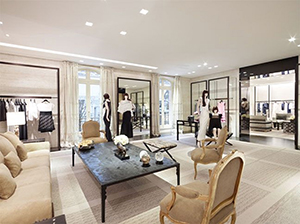 Shopping at Coco Chanel
SHOPPING
In addition to the flagship Dior boutique off Avenue Montaigne, Paris is home to the best couture and vintage collections. Coco Chanel's original atelier off Rue Cambon is still a must-visit; though surprisingly small it's historical significance puts it top of the list (just dress the part). The three level Hermes, crown jewel of the luxury French brand, offers the well-coiffed anything they can grasp: from bracelets to Birkin bags, housewares to horse saddles. Louis Vuitton has more than a dozen boutiques around Paris, though it's most famous is off the Avenue des Champs-Élysées, a surprising destination considering it's the city's equivalent of New York's Broadway. Still, the three-level landmark is a shopper's delight and it's the one luxury outpost open on Sundays. For the vintage minded, there is one stop: Didier Ludot, in the Galerie Montpensier. Didier, the "enfant terrible" of Paris' couture, may have attitude to spare but he also has the best couture. Does this clutch come in croc? Euchante, madam.
GETTING THERE
It's counter intuitive to think a British airline is your best bet to Paris, but 'tis story. British Airways' "Open Skies" route is the best kept secret in the air. A direct flight from Newark to Paris' Orly Airport in a small, 100-seat plane that ensures maximum attention and comfort. Its Biz Bed class features a 180-degree flat bed, vintage French wines and cuisine, while its premium and economy have more space and amenities than traditional long-haul carriers. Flying into Orly has its privileges: it's small and easier to navigate. The route is BA's only direct NY to Paris but travelers might also consider a short connection in London Heathrow, where its Terminal 5 features the best shopping, eating, and lounging than any international airport.