THE SILVER MUSE Sailing The Seas In Style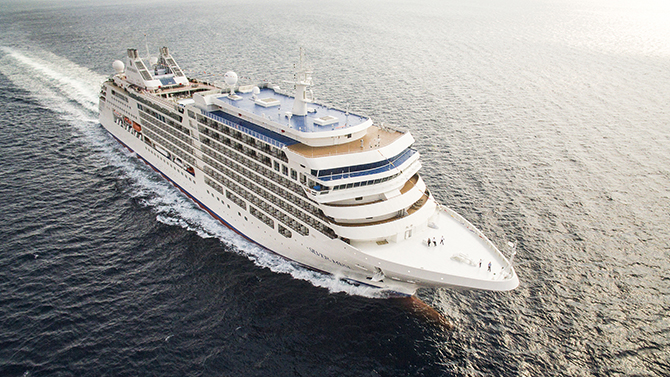 By Patti Pietschmann
The most romantic thing happened during a magical 13-day Caribbean cruise on the super swank Silversea Silver Muse. We were one night out of Fort Lauderdale when we returned from dinner to find our suite decorated with balloons, disco-like lights bouncing off battery-operated candles and a colorful revolving globe that gave off romantic tunes by Kenny Rogers ("You Decorated My Life," and "Through The Years"). It was our wedding anniversary and our butler, Pedro, helped us celebrate. He even set up a gorgeous table with a sinfully delicious chocolate cake.
Everything about Silversea—a member of an elite group of cruise lines that operate small, upscale ships that cater to Champagne tastes and Park Avenue budgets—is unique. The 596 passenger Silver Muse is the newest member and a real goddess of the sea. We're not talking bodacious behemoth boat here, but intimacy and comfort.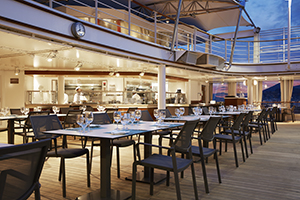 REST & RELAXATION
Go ahead, sit back and relax and gaze at the wake from panoramic windows in different lounges or from your balcony. Of course, other options ensue: relaxing in a cozy deck chair, swimming in the large pool, hitting the gym to work off the calories from the gourmet meals, pampering yourself at the gorgeous spa which offers head-to-toe treatments, hair care, and more. The spa also sports sauna and steam rooms with windows overlooking the sea.
The Muse offers ten diverse dining venues providing steaks, lobster, fresh fish, Asian food and specialty dishes. Of course, there were luscious desserts served in the restaurants or the Arts Café—which was stocked with sinfully calorific goodies (thank goodness for the fitness center).
Of course, there is no escaping the daily activities on Silver Muse. Take a morning deck walk, then dive into trivia contests, movies, shuffleboard, a golf driving cage, bridge parties, seminars, lectures, and jogging on deck.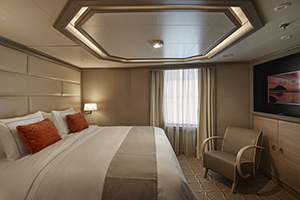 SUITE LIVING
Silver Muse is an all-suite ship; each one comes with 24/7 butler service. The Silver Suites are the most popular boasting spacious cabins with luxurious amenities as well as long verandas. Bathrooms are swathed in marble, beds are fitted with luxe linens. But the elegance doesn't stop: a mirrored wall magically transforms into two TVs (one for the sitting room the other in the bedroom) where you can see restaurant menus, on-demand movies at the click of your remote. The most impressive accommodations include the super swank Owner's Suite that comes with adjoining bedroom and en-suite bathroom with spectacular sea views.
A DINING DIFFERENCE
Our Silver Suite on Deck 11 was two doors from a lounge which affords panoramic views of the sea. Each night we strolled over where Rodney, the friendly barkeep, adeptly prepared martinis before dinner. Some of our dining excursions took us to Atlantide or the Asian Indochine both serving outstanding cuisine. Other nights we found ourselves enjoying our favorite Hot Rocks—a poolside eatery where you cook your own veal chop, steak or fish on a sizzling hot plate placed in the center of your table. We also took advantage of the indoor/outdoor La Terrazza, the three meal a day venue. Another not-to-be-missed highlight is the Silver Note supper club, where a talented jazz singer and equally adept pianist performed while guests ate or sat at the bar.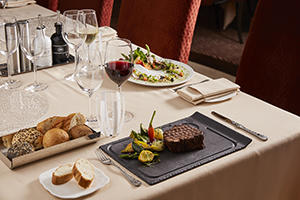 HERE COMES THE CARIBBEAN
After a day at sea, we continued our journey exploring the beautiful islands of the Caribbean calling at ports in Antigua, Barbados, St. Barth, St, Thomas, St, Kitts, and Martinique. Silversea offers a huge variety of shore excursions and the list on this trip was tantalizing. Everything from a rum and chocolate tour in Barbados, zip-lining in Antigua, city tours, to plenty of snorkeling, scuba diving, golf and more.
One highlight on shore came on a Sunday in Antigua when we visited nearby St. John's Cathedral, and listened to a melodic choir that was so good it gave us chills. We also checked out duty-free port shops in St. Thomas and did window shopping and hit our favorite Shell Beach in St. Barth.
The Silver Muse offers itineraries ranging from the Mediterranean to the Caribbean to Asia and the southernmost tip of Argentina. Wherever your heart takes you, it's impeccable service with the emphasis on luxury.
For more information on all Silversea Cruises, visit silversea.com.