INVESTMENT CORNER
Deborah J. Hamilton, Hamilton Advisors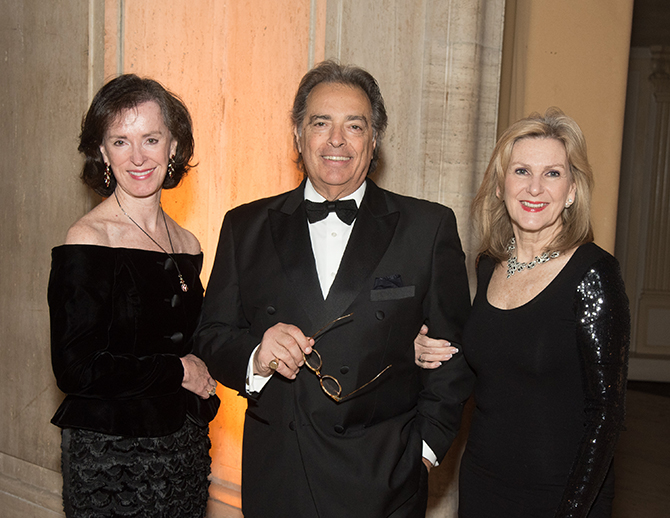 Deborah Hamilton (left) and friends
By Daniel J. Bollinger
Deborah Hamilton is the president of Hamilton Advisors, an investment firm she and her late husband founded in 1980. Having started her career in 1972 at ISI Corporation—a large corporation managing mutual and corporate pension funds—she's experienced as a securities analyst, portfolio manager, and has been instrumental in developing one of the first computerized bond analysis programs. Deborah has dealt in equities, fixed income, and more in her long tenure on Wall Street. New York Lifestyles had a chance to sit down with Deborah to learn about Wall Street's ups and downs and how it's affecting our world.
Have you ever seen such volatility and uncertainty as what we're experiencing today?
We have certainly seen volatility and uncertainty in the past. I think this time it has really caught our attention because last year we had very little volatility and such a soaring stock market. Also, the numbers catch our attention. We are not really used to seeing 700 or 1000-point intra-day swings in the market such as we saw back in February and March. Even though as a percentage it is not all that significant, the sheer number is a bit shocking.
Do you feel it is a combination of global politics and debt-credit causing this turbulence?
I think it is a combination of a lot of things. Certainly, rising interest rates are a contributing factor after a decade of miserably low rates. How far this increase extends is yet to be seen but if it continues we could see an impact on earnings growth. I can remember a time when geopolitical events did impact the stock market. Now it seems as though the market reacts for a brief moment or barely reacts at all. And, we have had some pretty significant events recently.
What actions have you taken for your clients in this climate?
In anticipation of higher interest rates, we hold bonds with very short maturities most of which will mature in the next 12 months or so. We are cautiously maintaining equity levels at the moment.
What do you see for the rest of 2018?
Continued uncertainty. We have had a brief and fairly small correction this year. On the positive side, corporate balance sheets and cash levels have never been better. Corporate taxes have been slashed. On the other hand, if the Fed continues to raise rates we could see downward pressure on the markets. At some point, Federal and State deficits will need to be addressed. As always, there are a lot of cross currents making this a very interesting and challenging business.
Has the new Trump tax plan affected your investing or investors in any way?
Not really. I think most of us really won't know the impact on our tax situations until we file next year. For those of us who live in states with high income and property taxes, the $10,000 deduction limit will definitely have an impact. We will have to see how that all plays out.
NYC real estate, historically, is a great hedge against inflation, it is one of the most secure harbingers' of wealth, and NYC real estate always bounces back from a dip. What are your thoughts?
I grew up in a family that invested in real estate so that has always really been my first love. I can always remember my mother telling me that I should always own real estate and certainly NYC real estate is a great place to be. It has had a great run like the stock market so some kind of pull back is to be expected.
What opportunities are you seeing in today's market?
There is tremendous opportunity out there with so many industries still in their infancy. We are really witnessing a dramatic sea change in the way we live now. Think of robotics, artificial intelligence, the revolution in medicine, the way we communicate, shop and pay for things. It is all very exciting and offers great opportunity.
What is your favorite restaurant in NYC?
It's hard to pick a favorite because there are so many great restaurants in New York. We all like to be entertained so I find myself returning to the ones that have a fun atmosphere with an interesting clientele along with great food and service. . and those that can make a good Martini!
For more information on Hamilton Advisors, visit hamiltonadvisors.com.