AUDI: RENT OR OWN The Choice Is Simple
By Jenny Peters
Sliding into the cockpit (aka the "driver's seat") of an Audi R8 V10 Spyder convertible may make you swoon, especially if you are a true car lover. For that spectacular new vehicle – the convertible element, at least, is brand new – is designed for those who love to drive.
The R8 V10 Spyder convertible isn't designed to be a family car nor a vehicle to haul bicycles, kids or furniture. No, this is one of the world's ultimate driving machines: a sleek, superfast automobile that will make you happy to be alive. The 2018 version features a 532-HP V10 engine—unless you feel the need for speed. If so, go for the version that boasts 602 horsepower, but be prepared to pay up if you get caught going 100 mph! The Spyder's top speed is 198. We'd advise a trip to the track to try to push it that far.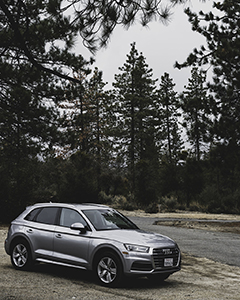 SMOOTH & QUIET
The beauty of any Audi is the smooth ride that the company's German engineers have built into all their vehicles. With the top down on an R8 Spyder, you'll hear the growl of that 398 LB-FT torque loud and clear, but with the top up and windows closed, the car slips quietly down the road, which means finding the speedometer at close to 100 isn't hard to do.
The Audi R8 V10 Spyder has a hefty price tag, starting at $175,100, which also includes racy 19-inch aluminum wheels, LED headlights and a-rockin' Bang & Olufsen sound system, so owning this gem in the big city means finding a reputable garage to keep it safe, too.
And if owning an Audi isn't in your life plan, there's still a way to enjoy the sleek, smooth feel of one of their luxury vehicles. Check out Silvercar, the Audi-only premium car rental company with 21 locations around the U.S.A., including ones in Manhattan (River Place at West 42nd Street) and Brooklyn (on Myrtle Avenue and also at the McCarren Hotel).
GETTING PERSONAL
Exclusively renting silver Audi A4 sedans and Q5 SUVs, Silvercar is all about a personalized experience, with rates varying as to the market you rent in. So in New York City, for example, the fully loaded A4 (Wi-Fi, GPS, Bluetooth, SiriusXM satellite radio, ski racks, child car seats, etc.) goes for $69 to $159 per day; a Q5 for $89 to $179 depending on where and when you pick it up.
With Silvercar service, you use a mobile app from start to finish, from booking the car to returning it, even communicating with the rental office via text message. We checked it out after landing at San Diego Airport recently—most of the Silvercar locations are close to airports, including Newark International—and the experience is seamless. Prices outside of New York are even more reasonable for a true luxury car experience starting at $49 per day.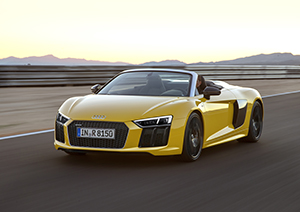 Driving the Audi A4 on Southern California's freeways was a snap, especially with built-in elements like the side-assist mirror indicators that light up (and beep, too, if you try to move into a lane that is already occupied) to tell you that there's a vehicle sneaking into your blind spot. That alone is a feature that comes in very handy both on the freeway and on crowded city streets. And the Audi A4 is so quiet, moving swiftly and effortlessly across the pavement, that you can actually forget you are in a 190-hp turbocharged car that is hurtling along the highway.
Both the A4 and the Q5 are perfect for all that transporting of bicycles, kids or furniture that the R8 Spyder convertible disdains; so perhaps the answer to having it all is to own a Spyder for the fun times and rent the A4/Q5 when reality intrudes?
For more information on Audi, visit audiusa.com.