SUN, SKIN & SUMMER
You Might Say, "Buyer, Beware!"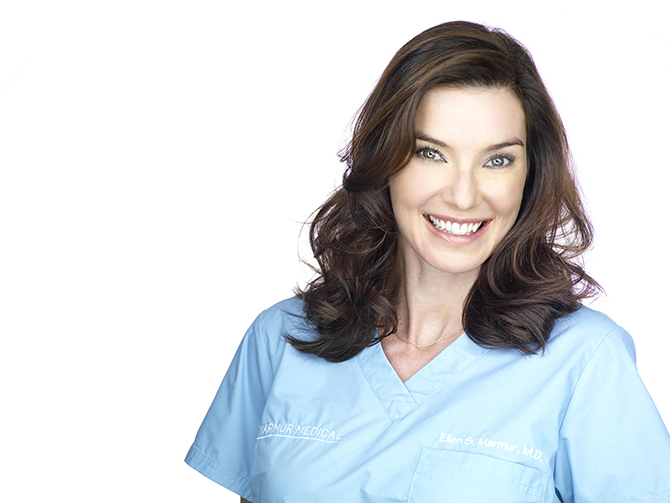 By Ruth J. Katz
Dr. Ellen Marmur, a board-certified dermatologist, is a walking advertisement for her own services: She has flawless, ageless (and enviable) skin. Patients might well declare, as director Rob Reiner's mother emphatically stated (in that famous restaurant scene where she was a diner) in When Harry Met Sally, "I'll have what she's having."
However, Marmur is not just a pretty face. Like many of her patients, she is a skin cancer survivor, having personally experienced two basal cell carcinomas and one very early melanoma. Her personal experience and her passion for dermatology led her to establish Skin Cancer, Take a Hike!, an organization that raises funds for the American Academy of Dermatology's SPOT Skin Cancer campaign by literally hiking. She is very proud of the fact that the organization has raised $750,000 and has provided free skin-cancer screening exams for thousands. Her Team Ellen summited Mount Kilimanjaro in 2014 and will hike Denali (formerly Mount McKinley) in Alaska in July.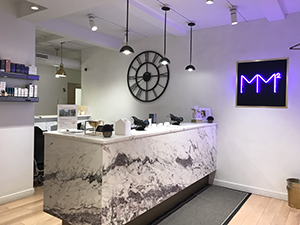 SKIN DEEP
In addition to maintaining her practice, with two Upper East Side locations and three other staff physicians, she is an associate clinical professor in the Department of Dermatology as well as in the Department of Genomics and Genetic Sciences at the Icahn School of Medicine at Mount Sinai Hospital. She is an experienced clinical researcher, specializing in genomic analysis of the effects of sun exposure and aging on skin. During the nine years, she spent as vice chair of Surgical and Cosmetic Dermatology at Mount Sinai, she established the Skin Cancer & Anti-Aging Biobank, the first of its kind.
Today, her practice focuses on both cancer and cosmetic dermatology. In addition to her work with patients, Marmur has headed several research studies, with a focus on skin cancer prevention and anti-aging treatments. And in her "spare time," she authored Simple Skin Beauty: Every Woman's Guide to a Lifetime of Healthy, Gorgeous Skin.
New York Lifestyles sat down with her recently to discuss skin cancer and caring for your skin, especially during the summertime.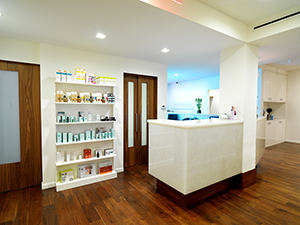 Office Front
Because skin cancer is the most common type of cancer, how often should we be checking our bodies?
Most skin cancers are completely curable when caught and treated early, so you should get a full body check at least once a year with a board-certified dermatologist. More than three million cases of skin cancer will be diagnosed this year, and one out of every five Americans will develop some type of skin cancer over a lifetime. For this reason, you need to do a monthly self-check, as well, looking for changes to your skin.
Tell us more about the alarming increase in melanoma.
It is likely that over 90,000 cases of melanoma will be diagnosed this year and it is, indeed, on the rise. The chances of getting it increase with age. Sadly, we are also seeing a rise in pediatric melanoma. If you see something suspect on an infant or child, I recommend a visit to a dermatologist who knows more about skin cancer than a pediatrician. Melanoma most commonly peaks in young men in their 40s and very often it is found on their backs, a place they cannot easily view. In women, it is most commonly found on the legs, as mine was, on my knee. Rates of skin cancer have doubled in younger women. We know that indoor tanning and sunburns are avoidable risk factors. Melanomas are not confined, however, to areas that are exposed to the sun. They can form inside the eye, too, so wear sunglasses.
What about the other two skin cancers we hear so much about—basal cell and squamous cell carcinomas?
There are five kinds of basal cell carcinoma: [1] It might appear as a pink pimple that never quite goes away. [2] It might look like a little brown patch that is a bit flaky on the face. [3] It may appear to you as a scar, but when you think about it, you realize you have no reason to have a scar in that area. [4] It can look like a little ulcer that keeps bleeding. [5] And finally it might look like a rash, like eczema. Basal cell cancers mimic many normal skin conditions, but if the problem persists longer than three weeks, see your dermatologist.
Squamous cell carcinoma starts out like pink sandpaper, very commonly on the head, neck, or hands. It can get crustier, turn pinker, and then scab. You may think you scraped your skin a little bit, and it may be a little scaly and dry. They get more common as we age, and they have the potential to metastasize.

A NEW LOOK
NeoCutis, a Swiss company, launched 10 years ago with just one beauty product. The creation was an extension of its medical line, which had been created to benefit burn victims, helping their wounds heal more quickly. Ultimately, that formula for patients was tweaked and the anti-aging NeoCutis line was born. Now the company has debuted a more advanced line of skin care products, all featuring its proprietary micro-protein complex (MPC), an anti-aging formula.
A must-have is MICRO·DAY Rejuvenation Cream which provides broad-spectrum sun protection with an advanced formula that's gentle on your skin. Crafted with potent additives like green tea and hyaluronic acid, this creamy formula diminishes wrinkles and free radical damage.
For more information on NeoCutis, visit neocutis.com. Also available at dermastore.com.
Do you recommend sunblock all the time and do you have favorite products you recommend?
It takes a minute to button a shirt or put on sunblock. UVA/UVB rays are both equally bad and cause damage, and their effect is cumulative, so the harm caused by baking in the sun as a teenager cannot be erased. I like the ISDIN Ultralight Emulsion and also EltaMD sun care products. There is evidence now that the higher the SPF, the better. For a while, it was felt that nothing over 30 or 50 could offer more protection, but now there is evidence to the contrary. And to reverse some of the effects of sun damage, we use several different types of lasers and photodynamic therapy for diverse problems.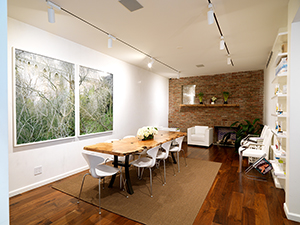 Office Reception
You're also devoted to cosmetic dermatology. Tell us a little about that aspect of your practice.
What I love about working in both of these areas is that while they seem opposite, they are truly intimately connected specialties. I could have someone come in to address dark circles under the eyes and when I get close to inspect the problem, I see a basal cell cancer. And the opposite is true of people who come here for skin cancer treatment. When they relax after the cancer treatment, they often think of a cosmetic procedure to feel a little better. My practice is known for the gentle and natural application of fillers and neurotoxins; less is more.
Do you have final advice for our readers?
No one has skin just like yours and since it is with you for life, remember it needs your help to stay healthy and radiant.
For more information on Dr. Ellen Marmur, visit marmurmedical.com.
© 2018 Ruth J. Katz All Rights Reserved