PAMPERING POP
Premier Spas Offer Decadence For Dad
By Jeremy Murphy
Cucumbers under the eyes. Mud masked around the mug. Cashmere slip-ons cuddling the toes. Is that dad? Forget the metrosexual: spa treatments are all the rage with even the manliest of men, from the Wolfs of Wall Street to the Frat Boys at Five Guys. In fact, 49 percent of all spa-goers now bring a Y chromosome to their reservations, according to The International Spa Association.
So, this Father's Day, eschew the heinous day-on-the-links gift card or Hammacher Schlemmer gadget and give dad some much-needed "me" time—on a massage bed. There are dozens of spas throughout NY that cater especially to men, whether it's a seaweed wrap, sea salt scrub or manly stretch. And so, in that spirit, New York Lifestyles put on our softest spa voice to brave the deepest exfoliation and reflexology to bring you this under "face cradle" investigation.
---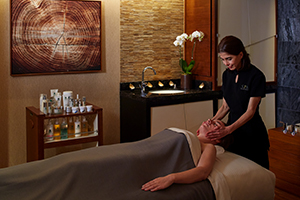 Peninsula MBR Facial
RETREAT… AHHH, REPEAT
WHERE The Peninsula Spa at The Peninsula Hotel New York
WHAT A three-hour "Men's Retreat" into the deepest echelons of escapism, pending you have $800 (not including tip) to spare. A therapeutic Deep Tissue massage and "skin-specific Men's Purifying Facial" are complemented by a shoulder and scalp treatment designed to suit men's skin care needs and release tight muscles and tension. The treatments are capped off with a "cuisine lunch" atop the Peninsula roof-top patio, and access to its pool and fitness center.
Info: newyork.peninsula.com/en/spa-wellness.
---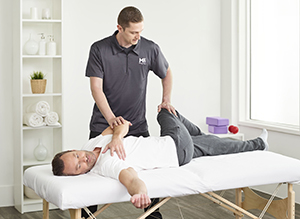 Massage Envy
STRETCH IT TO THE LIMIT
WHERE Massage Envy (locations throughout NYC)
WHAT The hour-long "Streto Method"—a customizable, assisted treatment was created to "relax your mind as your body is stretched." The treatment increases flexibility and improves mobility. Shoulders, arms, thighs, legs—every part of the body is accessed and finessed by trained therapists whose mastery of the body and muscles will give dad a layer of comfort. And, take note: a Father's Day Promo runs from May 28th runs through June 17th.
Info: massageenvy.com.
---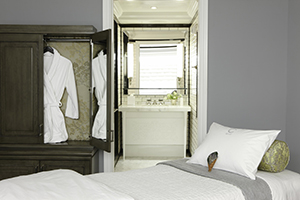 Cornelia Spa at The Surrey
THE HOLY GRAIL
WHERE Cornelia Spa at The Surrey Hotel
WHAT A two-hour treatment called "The Purist" envisioned by Cornelia owners Ellen Sackoff and Rick Aidekman, with an assist from chemist Jack Ventimiglia that detoxifies, cleanses and hydrates the body. A taste of honey sets the mood for the journey, which begins with exfoliation by a Lavender infused towel, then application of Shea Butter and Cypress Oil to soothe and hydrate the body. This is followed by a Slimming Wrap, which detoxifies the body with an abundance of trace minerals and vitamins. Next comes a warm bath infused with Detoxifying Mineral Salts, ginger, lemon, dandelion and wild marjoram to further flush out toxins, capped off with a light application of Firming Crème of algae balm, mint, lemon, and lavender.
Info: thesurrey.com/spa.
---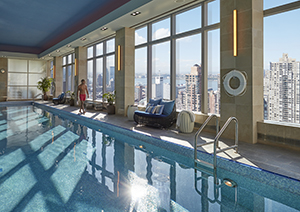 Mandarin Oriental New York Wellness pool
BEING GENTLE WITH THE MEN
WHERE The Mandarin Oriental Hotel New York
WHAT A "Gentlemen's Retreat" provides a full menu of treatments that begins with a 20-minute "Quintessence Body Scrub" blending Mandarin Oriental's Signature Body Oil—infused with essences of tropical ginger, frankincense, and mandarin—with organic, mineral-rich sea salt. Next up is a 50-minute Therapeutic Massage, followed by a 50-minute Men's Focus Facial which consists of a two-part exfoliation system to remove dead skin cells while vitamins, minerals, peptides and botanical extracts improve tone, texture and address irritation associated with shaving, all while combating the visible signs of aging skin.
Info: mandarinoriental.com/new-york.
---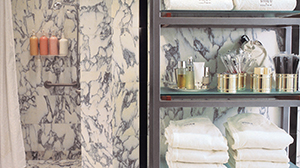 La Prairie Ritz
A LA CARTE FROM THE HEART
WHERE La Prairie Spa at The Ritz-Carlton Central Park
WHAT The "For the Gentlemen" menu is filled with indulgences for dad, accented by La Prairie's signature Cellular technology that infuses all its products. A "Gentlemen's Facial" includes a 3-minute Cellular Peel (which eliminates congestion and skin impurities), while standard pedicures, manicures, and massages make sure dad can get all the goods during his day-long retreat.