RESTAURANT ROUNDUP HERE'S TO DAD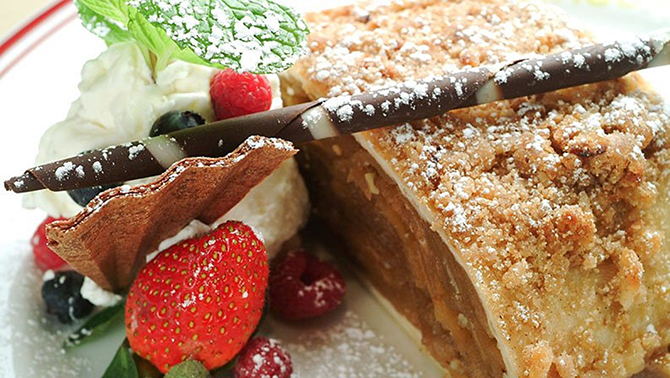 By Patricia Canole
Give the man of the house a break from the barbecue this Father's Day and take him out for brunch, lunch or dinner. We've rounded up the best places to take him to dine, from eateries featuring steaks and more.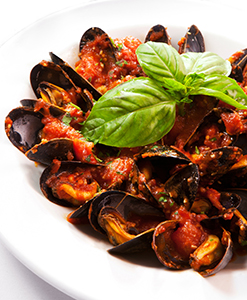 PATSY'S ITALIAN RESTAURANT
This favorite West 56th Street eatery is simple elegance and warmth—made famous by Ole Blue Eyes himself, Frank Sinatra—and operated by the Scognamillo family. But what makes it a lasting NYC institution is not so much the celebrity clientele, but the food. This is where they know how to make red sauce—from marinara to pizzaiola.
According to third-generation Chef Sal Scognamillo, many guests love all things stuffed including the Veal Rollatini Marsala with mozzarella, Parmigiano-Reggiano and prosciutto and mushrooms or the Trio of Ravioli - Lobster, Spinach and Mushrooms each served with a distinctive sauce. A big hit is the Stuffed Artichoke filled with a mixture of garlic, bread crumbs, Gaeta olives, capers, and anchovy.
Make sure Dad orders the signature Veal Meatballs and Spaghetti—a genuinely unforgettable dish. Chef Sal re-created his grandfather Patsy's recipe for the dish and considered by many to be tender and flavorful. Served with a simple tomato and basil sauce, it's a Number 1 in our book. Other entrees include Striped Bass Marechiare in a light garlic sauce with tomato and white wine. Or perhaps the Chicken Pizzaiola with Mushrooms and Peppers served in marinara sauce (hot cherry peppers are optional) will score points.
Be sure to toast the man of the hour with a fine wine. The varietals are impressive and reasonably priced. Info: patsys.com.
---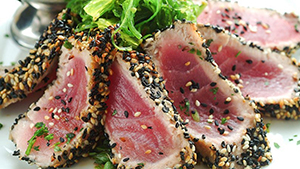 UNCLE JACK'S STEAKHOUSE
This classic restaurant, which has been open since 1996, cultivates the atmosphere of a venerable New York institution—mahogany bar, pressed-copper ceiling, speakeasy décor. We visited the flagship Uncle Jack's Bayside restaurant (there are two outposts in Manhattan and a recently opened Uncle Jack's Meat House in Astoria.) Start off with a toast to Dad with the handcrafted cocktail or the popular Big Red Bloody Mary (it's potent!). Then order a selection of appetizers for the table including "Lollipop" Lamb Chops sprinkled with bread crumbs, garlic, and rosemary; Bluepoint Oysters; and a delicious Buffalini Mozzarella in a balsamic reduction sauce.
There's more to come. Porterhouse is the specialty, but there's also the Prime Rib, as well as the Filet Mignon. Don't forget the sake-massaged Kobe beef which will melt in your mouth. All meats are cooked perfectly, the char exactly even on both sides. And be sure to ask for the house-made Jack's 21 sauce. Of course, indulge in a few sides that include Garlic Mashed Potatoes, Sauteed Mushrooms, and Truffle-Roasted Cauliflower.
There are plenty of seafood and chicken options as well. One standout is the Build Your Own Surf & Turf which includes Prime Filet or NY Strip with your choice of Brazilian Lobster Tail, Shrimp Scampi or Crab Oscar.
And for those wanting to brunch instead, there are plenty of tasty options. Try the Lemon & Mascarpone Pancakes with Maple Syrup and the B.F.F. Steak & Eggs (any style you wish) served with Rustic Hash and Salsa Verde Herb Salad.
Whether it's a brunch or dinner, end the feast with the delectable Apple Strudel or the favorite New York Cheesecake, which is "old school"—meaning creamy and very dense. Info: unclejacks.com.
---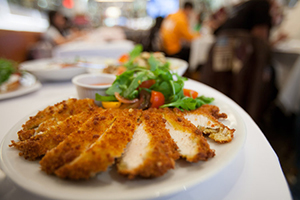 MAMO
MAMO has all the ingredients to delight the palate and the eyes of its patrons. The décor features exposed brick, clean white lines, oversized vintage movie posters and a beautifully designed marble bar. Sister to the renowned eatery located in Antibes in the French Riviera, MAMO—named for its owner Herve "MAMO" Mammoliti—is famous for its array of international celebrities and is one of the hottest spots during the Cannes Film Festival. Actor Leonardo DiCaprio, Beyonce, and Jay-Z are among the regular patrons at both the Antibes and New York locations. MAMO New York is under the watchful eye of Herve's son, Michael.
The incredible menu is curated by Executive Chef Salvatore Marcello. Originally from Naples, Italy, Salvatore was born into a family of cooks and bakers, igniting his passion for food at an early age. Start off with Come a Capri (heirloom tomatoes, burrata, and basil) or Fiori di Zucca Ripieni e Fritti (stuffed zucchini flowers with tomato and mustard sauce). Continue your dining experience with an entrée of Petto di Pollo Arrosto con Verdure Alla Girglia (roasted chicken breast with grilled vegetables, balsamic and rosemary sauce). Or, if Dad is a seafaring kind of guy, he might like Orata Arrosto con Caponata Siciliana (roasted sea bass with Sicilian Eggplant Caponata).
For those who want lighter fare, try one of the renowned pizzas such as its Foccacia al Tartufo with Parmesan, Cantal, and Truffle. Or, perhaps the thick juicy MAMO burger will do just fine. And be sure not to miss the velvety Tiramisu for dessert. MAMO also offers a selection of homemade cakes, such as the Torta di Meringa e Vaniglia and Torta al Cioccolato. Take advantage of the special Father's Day three-course prix fixe dinner menu is offered Sunday through Monday 5:30 to 11:00 pm. Info: mamonyc.com.