MY NEW YORK STORY
Jim St. Germain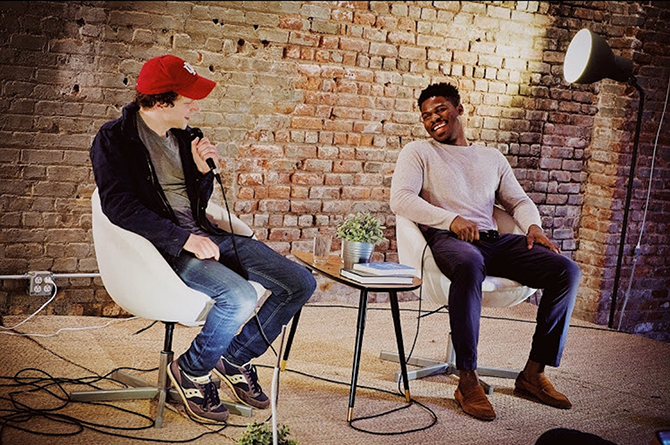 By Lee Gabay
I go to therapy on Mondays at four o'clock in Union Square," offers Jim St. Germain, whose willingness to share extends well beyond his therapist's couch and onto the pages of his recently published memoir, A Stone of Hope. The book chronicles Jim's troubled youth, exploring how he got caught up in street life and how he ultimately overcame the traumas of urban violence.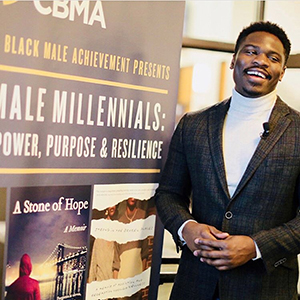 MEAN STREETS
Jim was born in Haiti and grew up in dire poverty, with little access to running water, electricity and food. When his family moved to New York City, his troubles accompanied him and only intensified on the rough new soil of Crown Heights. "As a ten-year-old moving to the toughest section of Brooklyn, I was now responsible for escaping poverty, and also gun violence, lead poison, confrontation with police, drugs, and a history of blunders I couldn't understand," says Jim.
As a juvenile, Jim's choices and limited resources landed him behind bars. It was in lock-up where Jim read his first book and began his transformation. Through reading and clinical treatment, he found ways to manage his anger and to address deeper issues of mental health. "There is such stigma of showing vulnerability where I am from," explains Jim. "So to talk about my depression and ADHD in a toxic, hyper-masculine surrounding was not an option."
FROM LOCK-UP TO LEADERSHIP
Jim's passion for learning not only led to his healing but eventually enabled him to earn an Associate's Degree in Human Services from the Borough of Manhattan Community College as well as a Bachelor of Arts degree in political science from John Jay College.
In his role as a youth advocate at the Mental Health Association, Inc., Jim used his specific life experiences to help young people living with mental illness, in whose shoes he once walked. He also added his empathic voice as a member of New York State's Division of Criminal Justice Services Youth Advisory Council.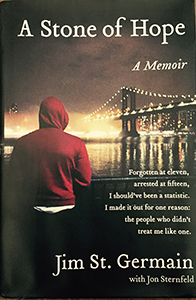 Being so forthcoming and essentially an open book, Jim received numerous speaking engagements throughout the city. At one such function, he says, "A publisher at HarperCollins heard me speak and offered me a book contract on the spot." The result, A Stone of Hope, delves deep into the decisions and actions which almost cost him his life and freedom, and depicts how his transformed behaviors took him from lock-up to leadership.
After joining the Board of the National Juvenile Defender Center, Jim was appointed by President Barack Obama to the Coordinator Council on Juvenile and Justice Delinquency Prevention. Advising on matters related to juvenile justice, mentoring, mental health, substance abuse, and educational issues, he has collaborated with countless local, state and federal officials including Mayor Michael Bloomberg, Congressman Bobby Scott of Virginia, and Junior Senator from Connecticut Chris Murphy.
Jim now works with juvenile justice-involved youth and their families in the city with his mentoring program, PLOT (Preparing Leaders For Tomorrow). PLOT offers positive role models in the lives of criminal justice-involved youth. Mentor and mentee go to plays, meet with local leaders, or just grab a bite to eat as they work to build rapport and inspire trust. When mentees need additional support, PLOT will make referrals to various specialists within its network. "I want to assure that the needs of our young people are addressed with qualified health care providers, regardless of their fiscal circumstances," says Jim.
ALL EYES ON ME
Jim's memoir caught the attention of activist/athlete LeBron James, prison reform advocate/musician John Legend and Academy Award nominee Jesse Eisenberg, who is co-writing the movie script of the book with Jim.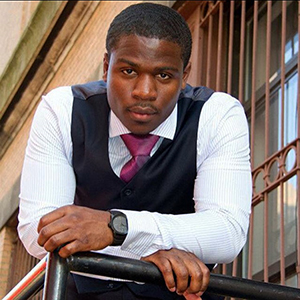 What Jim didn't talk about much in the book was the gaping hole left in his heart from his mother's absence. "One of the most painful parts of my life, my relationship with my mother, was left out of my story. For so long, I ignored how her absence made me feel and how I think it affected me."
He attributes his inability to cope with powerful feelings of abandonment as antecedents to many of his childhood outbursts. These same emotional scars further ignite Jim St. Germain into combatting the chronic unreliability that has become so embedded in the psyches of many young people in his neighborhood.
Jim's way to systemic change is to be the change. "Kids learn more from watching you and much less from listening. I try to teach through the way I dress, the language I use, and how I live my life."
Having the wisdom to show rather than to tell has made Jim St. Germain so gifted at what he does. He believes that all youth can avoid incarceration or re-incarceration through realizing their personal and educational goals. "The time to give up on a child is never."