THE CATSKILLS
A Place To Revel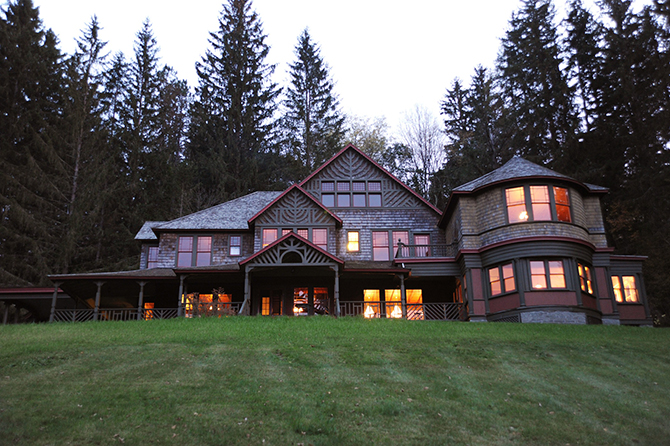 By Gerrie Summers
Need a little downtime from a hectic life in the city? Let's face it, these days we all need a restorative vacation. The Catskills is a good place to start with a stay at Spillian in Fleischmann, NY. A 2.5-hour drive from Manhattan, sits a small village renamed after Charles Louis Fleischmann, founder of the Fleischmann Company, of yeast and whiskey fame and fortune.
Spillian is part inn, part retreat and was originally built in 1882 as a summer cottage for the Flesichmann Family. It rests on 32 acres overlooking the village and surrounded by the beautiful Catskill State Park. The property was purchased in 2012 by Leigh Melander and Mark Somerfield and opened as Spillian, A Place to Revel in October 2013. Now rocking chairs line the front porch facing the tranquil scene of ducks floating on a pond.
Spillian in Old English means "to play, to jest, or to revel." Think raw chocolate workshops, Great Gatsby-style garden parties, cheese-making classes, dream workshops, and the recent Catskills Trout Tales (catskillstrouttales.com). Held in springtime, this fishing celebration features special expos, feasts, hikes, contests and other events celebrating the art of fly fishing. The Catskills are considered the birthplace of American fly fishing.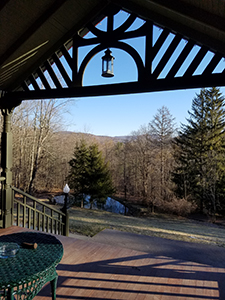 OLD WORLD CHARM
Arrive at the inn and you're immediately taken back in time. The warm and inviting Great Room features period furniture, a harp, a grand piano and fireplace. All eight bedrooms feature antiques, tapestries and original wall murals. I stayed in the Four Seasons room, watched over by four goddesses representing spring, summer, winter and fall pictured in a large tapestry. Elegant touches include the curved windows with serene views of the pond. This was the private sitting room of Max Fleischmann. Although there was no TV and the Wi-Fi was a bit sketchy, it didn't matter. After all, I was here for total relaxation.
The next morning began with a with a restorative yoga class followed by a country breakfast with farm-to-table greens, fresh eggs, and local breads. This fueled us for what was to come. Hiking with Will Soter of Upstate Adventure Guides (upstateadventureguides.com). Our journey began along Emery Creek where we learned more about the history of the area and the flora and fauna. After lunch by the waterfalls, our group covered all 32 acres at Spillian and including sites that in the 19th century featured a tennis court, ornamental gardens, a riding arena (complete with chandeliers) and a deer park.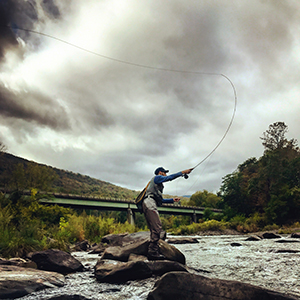 GONE FISHING
Day two and the thought of fly fishing was as thrilling as the gorgeous views. We drove to Esopus Creek near Mt. Tremper, where licensed guides Mark Loete, Catskill Mountain Angler, and Lenny Millen of Catskill Kingfisher Guide Service, who would teach us the art of fly fishing. After we donned waders and boots, we learned about the lightweight flies used (which are made of feathers and designed to look like insects found in the area that trout eat), how to set up the fly fishing rod, and a couple of fly fishing casting techniques. We were then positioned along the creek, fortunately in shallow water, just about up to my knees. After many tries, I didn't snag anything, except my guide. Note: look behind you before you cast!
For more information on Spillian, visit spillian.com.