THE BEST OF THE BERKSHIRES
Our Guide To Everything From Culture To Zen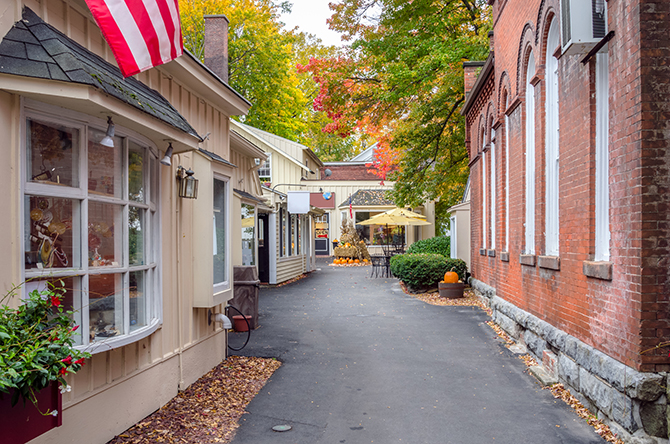 By Laurie Bain Wilson
Some escape to the sea and seaside villages for R&R. Others seek the mountains. It's quite simple. As naturalist and author John Muir put it, "The mountains are calling, and I must go."
The Berkshires in Massachusetts are a mountainous, hilly getaway with frills—picturesque towns with celebrated museums and decorated inns and restaurants. And the arts scene in the Berkshires rivals New York City—in fact, it is home to the largest contemporary art museum in America, MASS MoCA. Besides, any destination that has a dog museum is a solid getaway choice (after much tail-wagging anticipation, the Museum of Dog opened this spring in North Adams).
And, there's this—now that September is here, the crowds and traffic have thinned, the room rates are lower, and the weather is still glorious. Leaf peeping is also a perfect time to escape the City, of course. Typically, the leaves peak in October in this neck of the woods. Here's where to play, stay and eat in the bucolic Berkshires.
Norman Rockwell's Studio
PLAY
The Norman Rockwell Museum The illustrator, painter and author lived and worked on the grounds in Stockbridge, with pretty vistas, including gardens; sculptures created by Norman Rockwell's son Peter; and apple trees planted for each Rockwell grandchild. Of course, it is also home to the world's largest collection of Rockwell art. A prime picnicking spot and you can also visit Rockwell's studio where he worked while living here. Info: nrm.org.
Museum of Dog The North Adams museum, housed in the historic North Adam's Quinn's Paint & Wallpaper Co., is the puppy of pet rescue advocate David York. Exhibits include photographs by William Wegman, sculptures by Mary Engel and Kathy Ruttenberg and unique collections like rare antique dog collars and antique Steiff dog hand puppets. Rotating guest artists also exhibit. Info: museumofdog.com.
Berkshire Botanical Garden's Historical Center House One of the first botanical gardens in the country, it also has a gallery and workshop space. The gardens are open until the beginning of October but there is a Harvest Festival on Columbus Day weekend, as well as a Holiday Marketplace for the holidays, including the popular Gallery of Wreaths. Info: berkshirebotanical.org.
MASS MoCA The largest contemporary art museum in America with expansive open-space galleries featuring exhibits from renowned artists like multimedia artist Laurie Anderson, also stuns at night with special events and concerts. Home to cafes, a restaurant, even a microbrewery that brews only locally-sourced grains and hops. Info: massmoca.org.
Clark Art Institute Another fabulous museum in the Berkshires, this one in Williamstown, makes good use of its outdoor space (140 acres) for exhibiting art. This fall check out Thomas Schütte's Crystal, a full-scale architectural installation on a meadow inn near the top of Stone Hill. Info: clarkart.edu.
Edith Wharton's The Mount A special place, The Mount is a cultural center that celebrates the legacy of Edith Wharton, author of more than 40 books including The Age of Innocence and Ethan Frome. Year-round art and literary events take center-stage, and there's art, too--SculptureNow runs through the end of October, showing off incredible displays of sculpture throughout the property. Info: edithwharton.org.
Ramblewild Adventure lovers will want to ramble here. Expect zip lines, rope courses, trails for hiking or snow shoeing, event forest bathing. Nice: A full moon night climb on September 22nd. Info: ramblewide.com.
The Appalachian Trail A trail runs through it. Ninety miles runs through Massachusetts; You can hike all of it or part of it. Info: appalachiantrail.org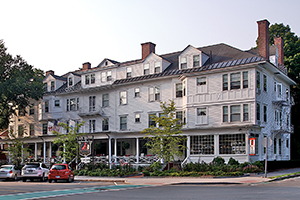 The Red Lion Inn
STAY
The Red Lion Inn in Stockbridge has quite a presence in Normal Rockwell territory. The historic inn has that requisite porch with rocking chairs for sips and people watching. An outdoor heated year-round pool and hot tub, a library, a couple of on-site restaurants—did we mention a perfect porch? And a purrfect cat, too. Norman is the resident feline who may or may not greet you. Info: redlioninn.com.
33 Main in Lenox is the baby of home furnishings entrepreneur Annie Selke. Each room is outfitted with Annie Selke products (think bedding, artwork, furniture, even robes)—and you can buy them across the street in the pop-up shop. Breakfast is a locally-sourced, farm-to-table, multi-course experience. Info: thirtythreemain.com.
Gateways Inn & Restaurant This stylish inn in Lenox, the former summer cottage of entrepreneur Harley Proctor of Proctor & Gamble fame, features nine rooms and two suites in gilded age mansion setting. Nice: full breakfast included. And a bar that features 180 whiskies (yes, 180) and a piano lounge named The Garter in a nod to Shakespeare's Henry IV, Merry Wives of Winds. Info: gatewaysinn.com.
Tourists is an uber-hip North Adams hotel and riverside retreat that's a shout-out to a retro roadside motor lodge. The 48-room spot sits pretty on the Hoosic River and is home to woodland trails and sculpture installations. Guestrooms are outfitted with organic materials. Info: touristswelcome.com.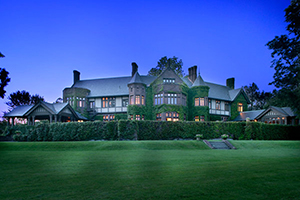 Blantyre
Blantyre The guestrooms and spa at the sprawling Gilded-Age property got a recent multi-million-dollar facelift and there's a new bistro, too, as well as the exclusive, first-ever Dom Perignon Champagne Salon and La Cave. Info: blantyre.com.
Hotel on North Boutiquey and playful, this hotel has a downtown Pittsfield location with 45 guestrooms (some with gas fireplaces) and done up in handcrafted furniture made locally. Like to hike? The Take a Hike package runs through October 20. Info: hotelonnorth.com.
Canyon Ranch Serenity now. You want a rub, a wrap and a wellness experience—at a pricy-but-worth-it cost? This is your spot in Lenox. Come to relax, to lose weight, to regroup, it's world-renowned and for good reason. Info: canyonranch.com/lenox.
Porches at Mass MoCA Retro chic Porches sits pretty in the heart of North Adams, across the street from MASS MoCA. The inn features 19th Century Victorian row homes (once home to generations of mill worker families) that are whimsically decorated (paint-by-number artwork, vintage lamps) for a "granny-chic" experience. Translation: really cool and not your grandmother's inn. Info: porches.com.
Orchards Hotel Timeless and elegant, without the fuss, and in the heart of Williamstown with a Berkshires Mountain backdrop, this hotel is affordable, and most rooms have a fireplace for crisp fall nights. Info: orchardshotel.com.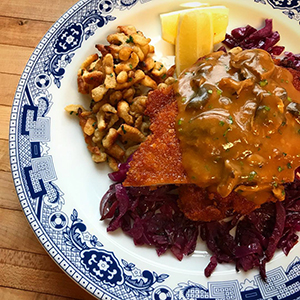 Dining at The Red Lion Inn
EAT
Lion's Den Downstairs in the Red Lion Inn is this fun-loving, popular hang for good music, fun sips, solid pub grub and a casual 'tude. Info: redlioninn.com/restaurants.
Simple Taste (S/T) This gastro-pub in the exquisite Wheatleigh luxury hotel has a seasonal menu with shared plates and inventive sips served in a palazzo setting. Info: wheatleigh.com.
Number Ten Located in Great Barrington, it's number one for small plates and cocktails. It's the new name and reimagined concept for Castle Street Café which has been here for 25-plus years. Info: numbertengh.com.
Nudel Berkshire-born-and-raised owner and chef Bjorn Somlo opened this eatery in Lenox to give a lot of love to local artisans and farmers, which he does in his seasonal and simple but elegant dishes. Info: nudelrestaurant.com.
Alta Restaurant and Wine Bar Did someone say wine? Enjoy a pour and Mediterranean-inspired food, too—Alta is one of the most sought-out restaurants in Lenox. Info: altawinebar.com.
Balderdash Cellars For a tasting and a concert, visit this shiny new facility in Richmond. The winery brings grapes from wicked good California vineyards (Paso Robles and Edna Valley) to the Berkshires. Info: balderdashcellars.com.
The Southfield Store Barefoot Contessa author Ina Garten loves the French toast at this little gem in Southfield. Grab a breakfast sammie and off you go to explore the Berks. Also visit sister restaurant Old Inn on The Green, where you want to go for dinner by candlelight and locally-sourced food. It's also a highly-rated bed and breakfast. Info: southfieldstore.com.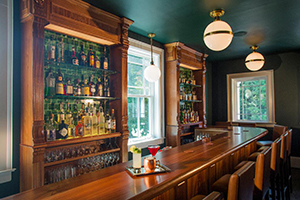 Green Room at Kemble Inn
Green Room The new Green Room at Kemble Inn is where you will sip a local brew (Big Elm Farmhouse Ale) or craft cocktail like the Cherry Whiskey Sour (South Boston Whiskey, egg white, cherry juice, sour mix and bitters). Info: kembleinn.com/eat.
Public Eat + Drink Casual and popular in North Adams, it's all about American comfort food that's sourced locally, and craft beers, too. Food with a hug. Info: publiceatanddrink.com.
For more information on The Berkshires, visit Berkshires.org.