WATER'S EDGE RESORT & SPA
Connecticut's FALL GETAWAY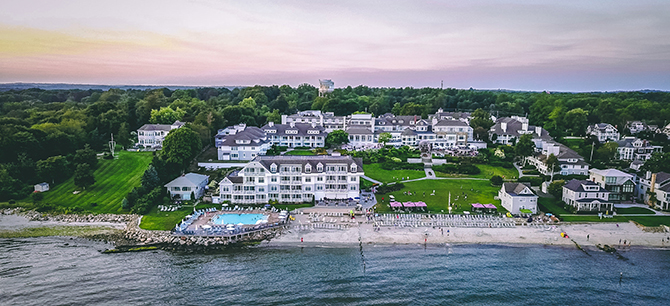 By Jeff & Stephanie Sylva
The setting sun cast a warm glow on the Long Island Sound. Seated at a table on the outside deck, we enjoyed a perfect view of natural pastel creations. Clinking our wine glasses, we said, "Let's do this again tomorrow." So we did—but this time with a window seat in the restaurant with the same glorious view. Where is this idyllic setting? Only a two-hour drive from New York city (also easily accessible by Amtrak/Metro North) in Westbrook, Connecticut, Water's Edge Resort & Spa shines as one of New England's finest beach resorts.
Water's Edge has the unique distinction of being a member of both Preferred Hotels & Resorts and Historic Hotels of America—the only resort in Connecticut with these two prestigious designations. We enjoyed two days at the resort and never tired of the magnificent views and serenity experienced from various spots on the resort. Whether it was while seated at a table at Dattilo's Fine Italian Restaurant, the deck of the Seaview Bistro, the Sunset Bar & Grill, or from a simple Adirondack chair on the Great Lawn, the setting was picture perfect. It's not surprising that Water's Edge is an extremely popular wedding venue.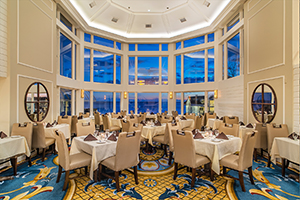 HOW IT ALL BEGAN
Water's Edge began as a quaint seaside hotel over 30 years ago, originating from the vision of humanitarian, Bill Hahn, well known as a fun-loving hotelier. More importantly he knew how to make sure his guests had fun as well, often turning the hotel dining room into a Broadway stage. Hahn's primary goal for his seaside resort was to provide vacationers a refuge from the hustle and bustle of city life. Today Hahn's vision has become a leader among Connecticut hotels and destination resorts.
The resort has a variety of accommodations, both seaside and garden views. Rooms reflect a balance between historic charm and contemporary comforts. The main hotel offers nearly 100 guest rooms and suites, many with balconies. Sixty-eight seaside one- and two-bedroom villas; a pair of 5- and 4-bedroom beach houses; a 2-bedroom cottage; and the resort's newest addition, 20 luxurious 2-bedroom villas on the water round out the offerings. These varied accommodations are spread over 25 acres of lushly landscaped grounds.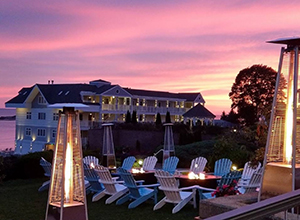 DINING WITH A VIEW
The resort also features a variety of restaurants. Be sure to make reservations for the resort's flagship restaurant, Dattilo's Fine Italian, which is housed in a new dining room with outstanding water views. Creative, high-quality cuisine and impeccable service assured us an outstanding dining experience. The menu as well as the wine list are stellar, featuring many Italian favorites such as hand-crafted ricotta gnocchi and ravioli filled with lobster and finished with a brandy paprika sauce. Al fresco dining is available, weather permitting. It's also the venue for the resort's extremely popular Sunday Brunch.
For more casual dining the Seaview Bistro & Bar has cleverly combined the classic touch of a New England tavern with the panache of a shoreline bistro. Offering an innovative list of signature cocktails, blended tropical drinks, premier wines, and fine craft beers, the Seaview Bistro & Bar has a lively atmosphere and features live entertainment on Fridays and Saturdays. The menu boasts an enticing mix of seafood specialties and tavern favorites including their award-winning New England Clam Chowder, Shoreline Crab Cakes, Seafood Nachos, and a perfectly grilled catch of the day. Meat lovers can indulge in a Bistro Burger or Steak Frites.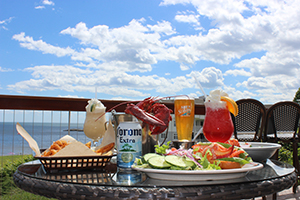 At the Sunset Bar & Grill, you'll enjoy its laid back feel and those picturesque views. The menu is casual and features a number of clam shack favorites such as raw bar selections, fried clams and oysters and, of course, the traditional New England Lobster Roll. Whether at Sunset Bar & Grill or the newly opened adjacent Vista Mare Bar, it's always a fun time with daily live entertainment including jazz, blues, or classic rock.
Be sure to check the Water's Edge website for special weekly-themed dinners at their various restaurants. Some offerings have included a Lobster Boil, Wine & Dine, and Pasta Night.
AMENTIES & LOCAL ATTRACTIONS
A full complement of amenities kept us busy when we weren't admiring the scenery. At the top of this list is the Spa at Water's Edge with its full menu of treatments and services. We enjoyed a relaxing couple's massage, followed by some quiet time in the serene relaxation room. Other amenities include a well-equipped fitness center, an indoor pool, and two tennis courts.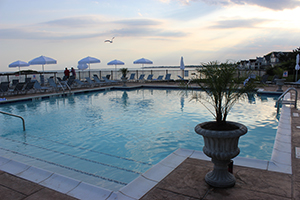 A variety of overnight stay packages and Spa packages are available, a number of which are connected to the resort's line-up of entertainment.
And for those who can actually break away from this serene atmosphere, there's much to do in the "neighborhood." Shoppers will find plenty of stores at the Tanger Outlets of Westbrook and the outlets at Clinton Crossing. Other attractions include the Connecticut Wine Trail, Essex Steam Train and Riverboat boat tours of the Thimble Island chain, Mystic Seaport and Aquarium , and the casinos at Mohegan Sun and Foxwoods.
There's no question we'll return: The resort's staff is welcoming and treat guests more like friends family.
For more information on Water's Edge Resort and Spa, visit watersedgeresortandspa.com.