STAY, SIP & RELAX
The Best Of California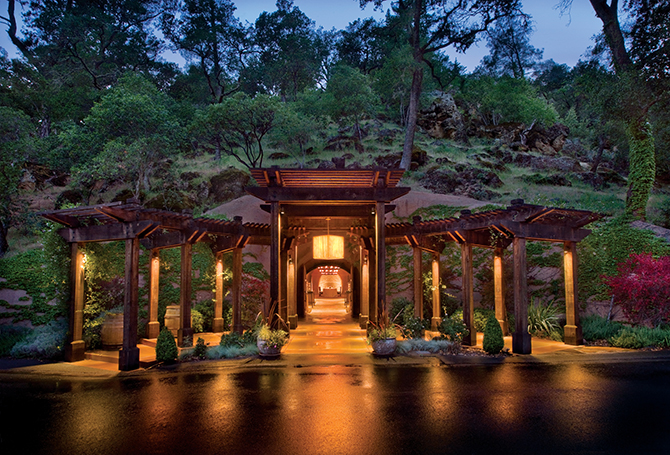 By Diana Roberts
It's harvest time, and we all know what that means: The grapes are ripe for picking, stomping and, eventually, savoring a fine wine. And where best to sample these grapes than at the vineyards of Napa, with a side trip to nearby spots for pure relaxation. Here are some of our favorite places to add to your bucket list.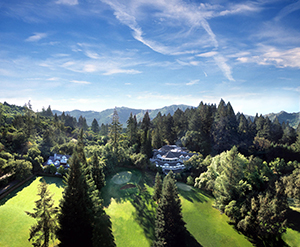 MEADOWOOD NAPA VALLEY
Set among 250-acres of rolling hills of wine country, Meadowood recently launched a new program that celebrates the Napa Valley way of life by including wine. Partnering with local organic and biodynamic wineries, the new retreat incorporates wine tasting but with a health-conscious twist. Guests can learn about biodynamic and organic wines while enjoying outdoor activities, as well as fitness classes, nutritional coaching, cooking classes and the Meadowood Spa.
The Wine and Wellness program is offered in three- and five-day packages but may be extended for those who want a more rigorous health program. All packages include accommodations, wine tastings at featured partnering wineries, special pricing on spa services, unlimited group fitness classes, and more. Meadowood also has an on-site certified health and nutrition coach and offers an array of complimentary fitness classes as well as golf, croquet, tennis, and hiking trails.
If you're looking for a private, elegant, and relaxing getaway, The Estate Suite at Meadowood Napa Valley is ideal. With a cottage-style interior, the interior of the suite features a king-sized bed, wood-burning fireplace, wet bar, and workspace. The master bathroom includes a two-person soaking tub with a view of the private garden, marble, and heated floors. The exterior features French doors that open onto a private terrace overlooking the resort's fairways and forest. Info: meadowood.com.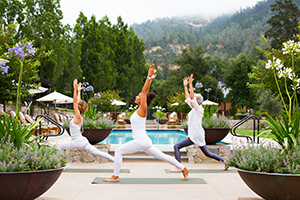 CALISTOGA RANCH, AN AUBERGE RESORT
Napa Valley
Tucked into a hidden canyon in Napa Valley, Calistoga Ranch provides a "bungalow in the woods" experience that combines luxury accommodations and sophisticated design with an intimate, authentic connection to the natural surroundings. The 157-acre property features 50 secluded and free-standing guest lodges, along with a private restaurant exclusive for their guests. Calistoga Ranch's Lakehouse Restaurant features glass walls and overlooks the property's Lake Lommel and Oak Groves.
They offer a Wellness & Wine program (reservations required) including a guided hike over to Davis Estate Winery, where a private wine tasting will be awaiting your arrival. There, you'll enjoy a tour of the property and a tasting. Thankfully, the Ranch will drive you back home, so you can sample as much as you want. Info: calistogaranch.aubergeresorts.com.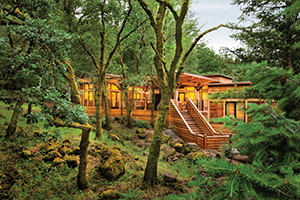 CARNEROS RESORT AND SPA
Napa Valley
The Carneros Resort and Spa recently finished a $3.5 million renovation of its 5,919 square-foot spa, which includes a new spa entrance, guest reception, and retail space, an expanded relaxation area, as well as newly-designed treatment rooms and suites (think: upscale farmhouse). New treatments include the Body Botany Massage which integrates a choice of natural ingredients with corresponding benefits, the Tune Me Up Tri-sensory Experience in an anti-gravity chair, and more.
The resort also holds wellness retreats and activities in partnership with Napa Valley's leading fitness provider, Donavan's Wellness Solutions (DWS). Led by DWS experts, fitness activities include private MYZONE heart rate classes, fitness fusion, yoga classes, and a high-intensity boot camp. Groups can also take part in a team-building Olympic-style competition or enjoy a vineyard run/walk throughout nearby vineyards. Individual 60-minute fitness assessments and recommended training sessions are available as well. Info: carnerosresort.com.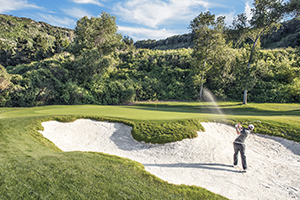 QUAIL LODGE & GOLF CLUB
Carmel Valley
About a three-hour drive from Napa is Carmel Valley situated on the spectacular Monterey Peninsula. It's also home to much lesser known—but equally fabulous--vineyards. One standout, Quail Lodge & Golf Resort, is nestled amid lush fairways, oak-studded meadows, and sparkling lakes. A good recipe for some serious relaxation.
The hotel has an 18-hole championship golf course, tennis courts, swimming pools, bocce court, a movie/presentation room, restaurant, bar, expansive meeting and banquet space and extensive nature trails which all combine to create a true destination experience.
Edgar's, an upscale restaurant and sports bar located at the Quail Clubhouse is named after the Lodge's legendary founder, Edgar Haber. Try the California eclectic cuisine with an emphasis on fresh local farm-to-table ingredients and organic produce. Waypoint offers casual, yet elevated fun fare complemented by a selection of craft beer, whiskey, wine, and cocktails, providing the perfect hangout spot for locals and hotel guests alike. Paying homage to the art of travel and the modes of transportation that move us along on our different journeys, Waypoint features real motorcycles provided by the Moto Talbott Collection in Carmel Valley, motorsports-themed artwork by renowned local artist Molly McCall, and a selection of interactive games to be enjoyed. Info: quaillodge.com.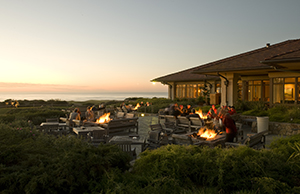 THE INN AT SPANISH BAY
Pebble Beach
Deliciously situated on the Western edge of the Monterey Peninsula along the Pacific Ocean, within the Del Monte Forest and accessible via 17-Mile Drive, sits The Inn at Spanish Bay, part of the Pebble Beach Resorts. The Resorts turn 100 in 2019, and they're gearing up for a year-long celebration. Also in 2019, Pebble Beach Golf Links will host its sixth U.S. Open Championship.
The Inn at Spanish Bay has 252 guest rooms and 17 suites, featuring gas-burning fireplaces. The view doesn't get better, overlooking The Links at Spanish Bay, their 18-hole championship golf course, and the Pacific. Since it can be a little cool, there's an outdoor terrace with nine fire pits. Dining experiences include Pèppoli and Roy's both having received Best of Award of Excellence from Wine Spectator for six consecutive years.
Thanks to Pebble Beach Resorts' partnership with Lexus, guests can "borrow" one of their test drive cars for two hours—a great way to explore the amazing coastline of 17-Mile Drive. Naturally, there's an app—the Pebble Beach app, powered by IBM Watson's cognitive capabilities. Info: pebblebeach.com/accommodations/the-inn-at-spanish-bay.