MAUI
A Slice Of Paradise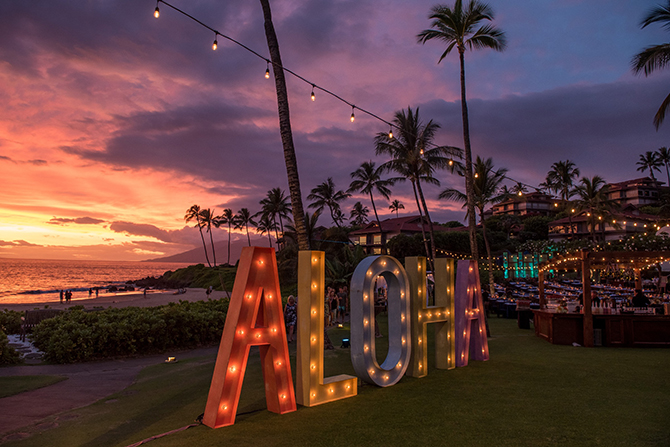 By Patti Pietschmann
Maui moves to its own tropical beat. Laid back with a touch of sophistication, the island offers everything to make a vacation special. While there are plenty of diverse places to bed down—from Airbnb to over-the-top luxury resorts, three properties stand out above the rest in distinctiveness and style. One is all glitz, glam, and water-centric. Another caters to monied Millennials, and the last attracts a quieter crowd.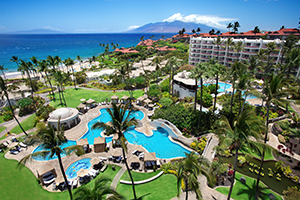 Lagoon Signature
FAIRMONT KEA LANI MAUI
Arriving at the Moroccan-styled Fairmont Kea Lani Maui proves as seamless as it gets. A welcoming staff greets you with genuine Aloha smiles as they inform of amenities including free Wi-Fi, a fitness center, and complimentary parking. It's only the beginning. The roomy suites afford living areas featuring a large entertainment center. The bedroom features an impossibly comfortable king bed with an adjoining bathroom with a blissful soaking tub and separate shower stocked with luxurious lotions and potions. There is a large lanai accessible from the living room and sleeping area that looks out onto the pool and ocean. One couldn't ask for more creature comforts. The blue Pacific is a bit of a hike from the room but who cares. There are plenty of towels accessible to guests at beach and pool along with ice water and even sunscreen for your use. For true relaxation, visit the serene Willow Stream Spa for its menu of top treatments that range from hair masques to foot care, toning sessions and a lot more. Take in a yoga session while soaking up the tropical splendor.
Evenings start at the Luana Lounge where the barkeeps pour potent specialty drinks and live music provides the unique romantic ambiance and unbeatable sunsets. Be sure to book a table at Ko which specializes in healthy menus. The Ti Leafed Wrapped Island Fish with Mango Salsa, Coconut, and Molokai Sweet Potatoes is a standout. Info: fairmont.com/kea-lani-maui.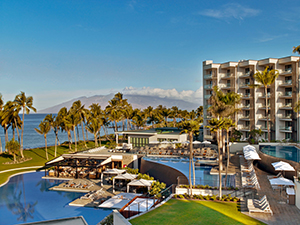 Andaz Maui at Wailea Resort
ANDAZ MAUI
It's a digital delight for the young, vibrant and restless who frequent this 300-room waterfront hotel, Andaz Maui is all hooked up to computerized tablets. Everything—including check-in—is hassle-free.
Each of Andaz's 300 spacious rooms and suites is attractively appointed with tropical style furnishings created with woods and soothing colors—all magnificent overlooking Haleakala. Select a room with a soothing neutral palette or villa with a private plunge pool and inspired views of the Pacific. There are elegant suites for big spenders that span 850 to 1,500 square feet and villas with full kitchen, private plunge pool, and hot tub. Although the hotel charges a resort fee of $45 a night per room, you do get a lot of bang for the cost: daily outrigger canoe excursions, yoga, Pilates and fitness classes, ukulele and hula lessons, lei making, paddleboard lessons and more. For some extra pampering book a treatment at the Japanese-style Awili Spa that offers specialized services called 'Journeys' designed to bring you to that ultimate moment of Zen. And they do.
Be sure to stop for cocktails at the charming Lehua Lounge, named after Hawaii's brilliant red blossom. The outdoor venue features farm-to-table appetizers and high-octane artisan cocktails, hand-infused with fresh fruit juices. Favorite dishes include the watermelon salad and black sesame noodles and the Wagyu beef—so good. At the Ka-ana Restaurant portions of well-prepared dishes are made more enjoyable with views of terraced pools that cascade to the ocean. Don't miss Morimoto restaurant offering outstanding surf and turf fare in an elegant setting. Info: maui.andaz.hyatt.com.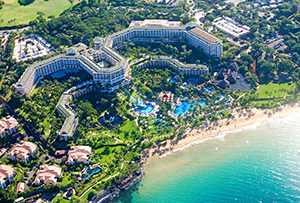 Grand Wailea
GRAND WAILEA
The oh-so-glam Grand Wailea—boasts a most spectacularly, jaw-dropping designed hotel with megabucks worth of art, sculptures and lots of marble. But water, water everywhere is the theme of this 776-room acropolis of tropical relaxation that sits smack on the beach in one of the most exclusive residential areas of Maui. Much of the H2O is found in the Spa Grande—which is the hotel's main attraction for many pamper-seekers. Lavishly large and marbled, the gorgeous facility is dedicated to water therapies, which trust me, really do the trick. Massages also rule and the therapists have proven some of the best on the island. When you arrive at the spa you are escorted to the Healing Waters of Maui hydrotherapy soaks and then accompanied to one of 40 treatment rooms for a massage, facial or whatever your preference.
Although tempting, one doesn't spend every hour of the day in the spa. Grand Wailea has gorgeous rooms with lanais equipped with all the modern necessities (Wi-Fi, 24-hour room service, coffeemakers, robes, mini fridges and more). You have a choice of nine pools, water slides, cruiser bikes for additional exercise; it's also a fun way to take a peek at the pricey homes that line this exclusive area of Maui.
A favorite dining spot at Grand Wailea is the romantic Humuhumunukunukuapua'a (a mouthful to pronounce and named after Hawaii's fish) that sits on beautiful lagoons and offers some of the best appetizers including Hamachi Carpaccio Spiced with Hawaiian Chili and Ginger Shave Ice. Absolutely delicious but then so is the New York steak. Be sure to book a table for two at sunset—a surreal experience. Info: grandwailea.com/Waldorf_Astoria/Grand_Wailea.