ICELAND
4 Days In The Land Of Fire And Ice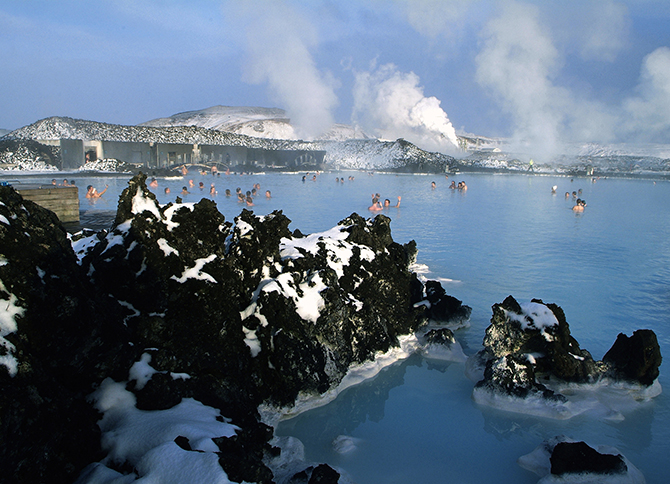 By Clint Brownfield
Popular travel destinations have phases. Currently it seems nearly everyone has just gotten back from, or are in, or are planning a trip to Iceland. We all travel for various reasons, but one common denominator is plain old sightseeing—taking a break to see something new. And that's what Iceland has in spades—amazing sights! It's not just a land of landscapes, but one of dreamscapes, everywhere you look—up, down and sideways, year round.
Iceland's the closest European destination to our area, about five hours, and most flights arrive early in the morning the next day. After easily clearing customs/immigration, we met our guide, Garðar Örn Hinriksson, from Prime Tours (primetours.is). This was my first encounter with an Icelandic name and I thought he said his name was Carlos. He cheerfully remained Carlos for the rest of the trip.
Then we were off, on our excellent Icelandic Adventure.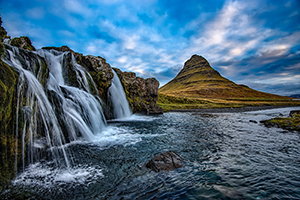 Iceland
RELAX LIKE A VIKING
First, it's a hearty Icelandic buffet breakfast at Viking World, a beautifully designed museum near the airport devoted to a replica of a typical Viking vessel, which was sailed across the Atlantic in the year 2000 to celebrate Leif Erikson's arrival to the New World in 1000AD. During our trip we would continue to learn how those Vikings really got around.
Not too far off is perhaps Iceland's most famed attraction—the Blue Lagoon (bluelagoon.com) a great way to iron out some of the kinks after our flight. Enjoy the waters as long as you wish, enjoy a glass of Champagne, and even indulge with a mud mask—so refreshing.
BIG CITY CHARM
Feeling younger and rejuvenated, we headed into Reykjavik, the world's northernmost capital (the southernmost is Wellington, NZ). Iceland has a population of around 340,000 and nearly 66 percent live in or around Reykjavik. It's big city charms meld with the ambiance you might find in a quaint New England or Atlantic Canada town. Our lunch that day was at the world's most profitable hot dog stand—Bæjarins Beztu Pylsur, a local landmark so famous that even Bill Clinton was once observed wolfing one down. A hot dog and soda for $10 is a true, and delicious bargain.
Fortified, we checked into the new and very snazzy Sandhotel (sandhotel.is) one of the Small Luxury Hotels of the World, located on the city's main commercial drag, Laugavegur. It's within easy walking distance to the city's thriving night scene, restaurants, shopping, cultural attractions and Hallgrímskirkja, the largest church in Iceland. It can be seen from all over the city and its observation deck offers truly spectacular views of the city and harbor below. The hotel's restaurant is a great way to sample Iceland's delectable seafood and lamb. Sandholt, the city's best bakery, is next door. I'm still dreaming of their plate-size cinnamon rolls with burnt sugar icing.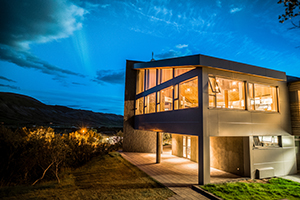 Hotel Husafell
LAND OF THE MIDNIGHT SUN
Traveling northwest, it's a 90-minute dreamscape-laden drive from Reykjavik, via a well-paved four-lane highway. Our destination: Húsafell. On the road you'll be mesmerized by the vast lava fields, grassy horse-filled meadows, hot springs and crystal clear streams—all surrounded by majestic mountains and some of the largest remaining glaciers in the world are just some of the dazzling sights along the way.
We checked into Hotel Húsafell (hotelhusafell.com) which has rapidly established itself as the place to stay since opening in 2015. The sleek, lodge-like 48-room hotel overlooking an idyllic valley is the hub of the area's amazing attractions including glacier/snowmobiling adventures, the world's largest lava cave, famed Icelandic horse farms and Krauma—the new day spa featuring soothing waters from Europe's largest hot spring (and a spectacular new restaurant).
Also nearby is Snorrastofa, a complex where visitors are welcome to learn about Snorri Sturluson (1179–1241) who first translated and wrote down many of the historic Nordic sagas that make Game of Thrones seem like a nursery rhyme.
The hotel's friendly staff can arrange visits to all these attractions and more—like fishing for salmon and trout in nearby streams. During summer they can even book tee times at the local golf course at midnight. After all, this is the Land of the Midnight Sun.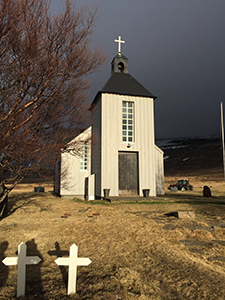 Husafell family chapel
And, back at the hotel, there's just plain old relaxing while sipping a warming drink or soaking in the private hot springs on premises. In winter and early spring, guests can opt to be awakened if the Northern Lights streak across the sky.
Members of an extended local family, dating back several hundred years, manage the hotel and will instantly make you feel at home in their slice of heaven. The hotel overlooks a small village where many of them still live, including Páll Guðmundsson, who is perhaps Iceland's most famous living artist. His magnificent art is prominently displayed throughout the hotel. To visit with the artist (the word genius comes to mind) in his studio and gallery, is something you'll remember for the rest of your life.
Hotel Húsafell features a bistro and a fine-dining restaurant with commanding views of the glaciers above and the village and streams below. Icelandic delicacies—lamb, seafood and microbrews are highlights. The complimentary breakfast buffet will keep you going for most of the day. Skoal!
For more information on Iceland, visit: inspiredbyiceland.com.
---

Reykjavik
Prime Tours
Prime Tours (primetours.is) was invaluable during our stay in Reykjavik, its nearby attractions, and environs in the northwest. Icelandair (icelandair.com) also offers guided tours and packages that are great ways for first-time visitors to explore the country and keep costs down. Striking out on your own in Iceland, especially for first-timers, may not be your best option.