AROUND TOWN
Tribeca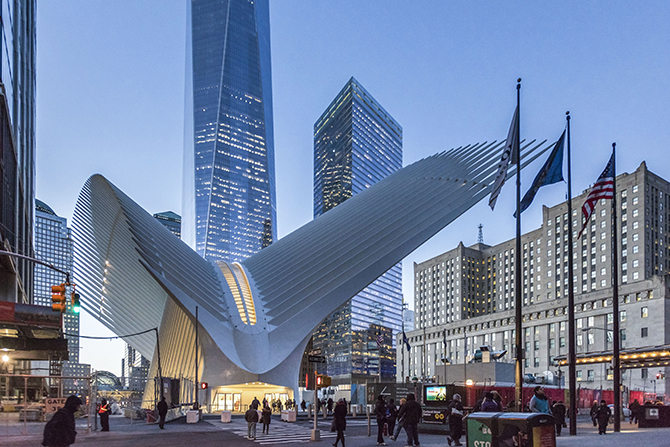 By TJ Johnson
The tiny wedge-shaped territory known as Tribeca (the abbreviated description of Triangle Below Canal Street, it includes the area bounded by Lafayette Street, the Hudson River, and Chambers and Houston Streets.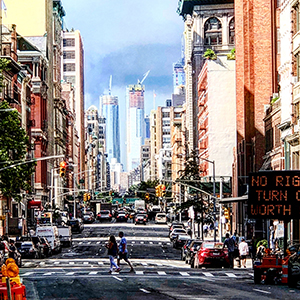 Tribeca
Tribeca retains much of the bohemian quality that characterized the entire complex of cast-iron architecture between Chambers and Houston Streets before it went upscale. Because this neighborhood overlaps the City Hall area, with its enormous daytime working population, it has been more successful in resisting the tide of fad enterprise. Small businesses still enliven its streets. In fact, you might think little has changed since the 1930s. Art and commerce have, of course, transformed Tribeca, but they have not overwhelmed it. With easy access to Chinatown and Lower Manhattan it remains a unique, artistic New York neighborhood.
One of the priciest neighborhoods in Manhattan, Tribeca has loft buildings converted into beautiful condos with breathtaking views and easy access to the Hudson River. It is also home to the coveted Tribeca Film Festival. This amazing neighborhood that many celebrities call home has everything you need to live the posh life in New York City, including charming restaurants lining the streets.
A PLACE TO CALL YOUR OWN
If converted lofts are not your taste, perhaps new construction with all the amenities is the type of living you want in NYC. Well, you are in luck, because new construction is booming in Tribeca! Here are just a few of some notable new developments in the area: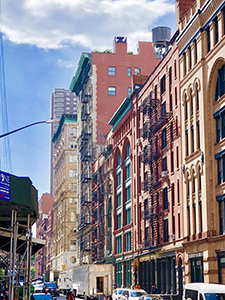 Jay Street
Let's start with 111 Murray Street, the new 800-foot tower consists of one-to-five bedroom apartments with absolutely mind-blowing amenities. Besides the pools, private dry bars, and state-of-the-art fitness center, 111 Murray offers a concierge jet service. Yes, let that sink in. If this seems like the place you want to call home, I would hurry because it's 70 percent sold. Condos range from $2 million up to $40 million for the penthouses.
If you'd rather have something on a smaller scale, there's a beautiful building located at 15 Jay Street. This building is being converted into 5 luxury condos designed by the Meshberg Group with a price tag starting at $4 million.
Then there's the stunning 70 Vestry Street with its breathtaking views of the Hudson and designed by Robert A.M. Stern Architects. The 14-story building comprises 46 apartments—and going fast. Move here, and count Gisele Bündchen and Tom Brady as neighbors. There are still a few apartments left (5 to be exact) starting at $7.9 million.
If these apartments seem out of your range or not your style, there are still plenty of amazing co-ops and condos for sale throughout Tribeca ranging from $865,000 for a studio, $995,000 for a one bedroom, and $1.7 million for a two bedroom.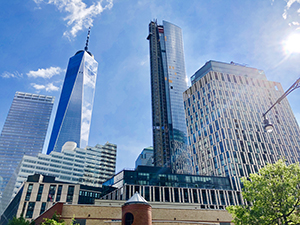 The Changing Face of Murray Street
FINE FARE
While you're looking for your new apartment in Tribeca, don't forget to stop in and eat at some of the amazing restaurant offerings. At the top of the list is Racines—New York's version of the beloved wine bar in Paris. Nobu Tribeca is always the place to eat and make your taste buds happy. Another must try would be Locanda Verde. One of the big celebrity hangouts with some of the most amazing tasting food! You will not be disappointed, and maybe you'll be spot regulars like Robert De Niro. If you just want to unwind at a regular bar and have a burger, then look no further than a place called Tribeca Tavern located 247 West Broadway. I've been going there for over 20 years. Great bar. Great service. Great food.
There's a little glimpse into Tribeca. There's so much more to show in this neighborhood. My team and I are here for all your buying and selling needs. I would be happy take you around Tribeca and perhaps stop into Tribeca Tavern have drink and discuss your goals.
For more information on TJ Johnson, visit him at bhusa.com/real-estate-agent/thelonious-tj-johnson.