SOUTH BEACH MEETS LONG BRANCH
The Launch Of NJ's Newest Luxury Development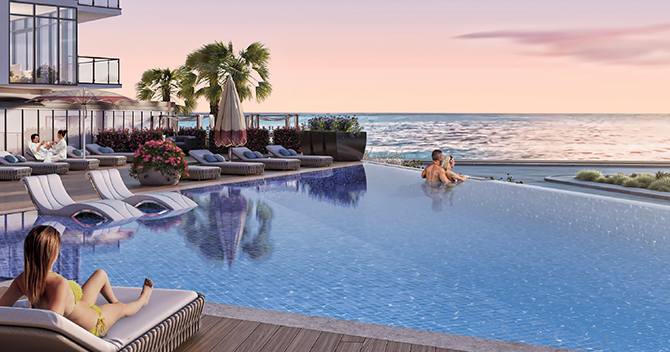 By Debbie Dickinson
Diane Von Furstenberg's DVF SoHo Boutique and Mimi & Edwin Feliciano were honored to present South Beach At Long Branch, a Miami vision for the Jersey Shore. Mimi Feliciano, her son Cary and Sales Executive Aida Lorenzo of FEM South Beach Urban Renewal showcased the first look in New York City of the luxury condominium residences inspired by South Beach which will redefine the landscape in Long Branch, New Jersey.
"My family and I vacationed in South Beach where the lifestyle was so care-free and luxurious…it was incredible. We quickly realized there was nothing like it on the Jersey Shore so after considerable thought and work, we decided to bring our Miami vision to the Jersey Shore," said Mimi Feliciano.
Currently under construction, the project will cater to the sophisticated high end buyer. The development will present 47 maintenance free lifestyle homes with two to four bedrooms, ranging from 1,595 to 3,453 square feet on 1.7 oceanfront acres. Ultimately, South Beach at Long Branch will provide a luxury living experience to include a private dining club and elevators opening directly into your designer residence, four luxurious appointed guest suites for your family and friends to enjoy plus floor-to-ceiling glass with panoramic ocean shoreline views. Home prices will start at $1.5 million with completion slated for late summer 2019.
When asked what motivated Mrs. Feliciano in business she responded, "During the last five years after graduation, both of my sons came to work for our company. They have grown so much, each in different areas of the business. It is inspiring and heart-warming to see such family excitement, company team work and dedication towards growing and developing our FEM brand and contributing to the community.", says Mrs. Feliciano.
This event benefits the Feliciano Center for Entrepreneurship established by Mimi & Edwin Feliciano at Montclair State University.
DVF offered their latest designer fashion collection highlighting artist Evan Sebastian Lagache and his Solstice art exhibition and donating 10 percent of sales to benefit, honoring women in business. Guests were served Champagne and dined on vegan appetizers by a team of DVF's staff. Guests included such A-listers as Anthony Haden-Guest; Carlos Gerardo Izzo (Mexico's Counsel General) and wife, Tea Izzo; Dorothy Fernandez; David Hochberg; George Wayne; Julie Zhang; Nole Marin, Aaron Bond; and Dr. Kevin & Louise Basralian.
For more information on South Beach at Long Branch, visit southbeachatlongbranch.com.
ABOUT THE DEVELOPERS
FEM South Beach Urban Renewal, LLC brings its vision, innovation, experience and leadership to developing, owning and managing commercial and residential real estate across the United States.  FEM brings forty years of proven experience to every project with passion, true expertise and unique vision which drives its continued success. Founders Mimi and Edwin Feliciano are dedicated philanthropists. FEM is committed and engaged in community leadership where it supports many charities and civic causes. At Montclair State University, FEM has established the Feliciano Center for Entrepreneurship and the Feliciano School of Business building is named in the founder's honor.
For more information on FEM, contact E.D. Enterprises Marketing & Public Relations at edentpr@gmail.com (917-622-8136).