'Bella Fortuna'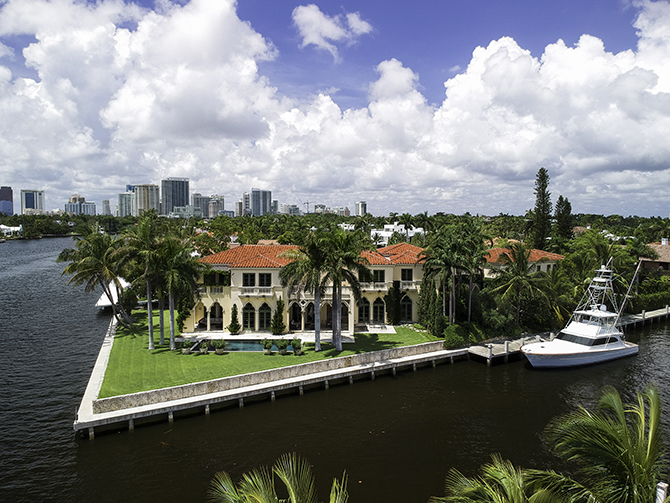 One of the most lavishly appointed mansions in South Florida will soon be available to the highest bidder through a luxury auction. The more than 17,000 square-foot, 27-room mansion, lovingly called 'Bella Fortuna' (which means 'beautiful fortune' in both Italian and Spanish), is loaded with amenities and unique appointments and features direct yacht access just minutes from the Atlantic Ocean.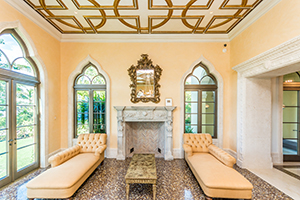 The mansion, which at $39 million is currently the most expensive listing in Fort Lauderdale, is situated on a rare peninsula lot with panoramic views of both the Intracoastal Waterway and New River in Fort Lauderdale's exclusive Las Olas Isles estate enclave. The estate features five bedrooms, 11 bathrooms and a host of amenities including seven balconies, 750 linear feet on the water, a 325-foot concrete dock, whole house generator and exterior kitchen, just to name a few.
The mansion was designed by the world-renowned Jeffrey W. Smith of Smith Architectural Group in Palm Beach, Fla., with collaboration from legendary interior designer Bunny Williams of New York City and was built by Marker Construction. After purchasing the property, the current owner tore down the existing mansion and raised the land on the peninsula by 8 feet.
Loaded with luxurious appointments and one-of-a-kind features, Bella Fortuna includes custom marble throughout, a whisper-ride elevator, mahogany butler pantry, massage room, hand-painted Portuguese wall tiles, 1,780 square foot yoga meditation room, hidden panic room, 27,500 gallon heated swimming pool, two fireplaces and two home offices.
Bella Fortuna's owners paid particular attention to even the most intricate of details offering custom-made French Lavastone kitchen countertops, P.E. Guerin and Nanz hardware, custom 'mosaicos hidralico' bathroom floor tiles, carved shell-stone window and door borders and sconces, Wolf and Subzero appliances with built-in cabinets in the gourmet chef's kitchen, authentic coquina pavers throughout and even a five-hole putting green overlooking the Intracoastal Waterway.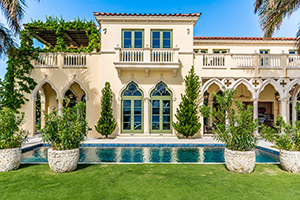 The late Leonard Pardon, whose faux painted ceilings are works of national cultural significance in the Sultinates of Oman and Brunei, and who also was appointed by Queen Elizabeth to do restorative painting in Buckingham Palace, faux painted the many unique ceilings in Bella Fortuna in one of his last major commissions.
After much research and consultation with star listing agent Katrina Campins of The Campins Company, Bella Fortuna's owners decided that the luxury auction process would be a viable route to showcase the property in an effort to get the right buyer's attention. Campins had previously worked with Lamar Fisher at the Fisher Auction Company on the very successful Versace Mansion auction, so Fisher was brought in to manage the auction process.
The one-acre peninsula estate was completed in 2014 after five years of construction. The minimum bid for the auction is $19.5 million.
The auction will be held Thursday, November 1 at 11 a.m. at the home, 534 Bontona Avenue, Fort Lauderdale, FL 33301. Bidders must be prequalified in order to be eligible to bid. For information on how to prequalify, visit www.bellafortunaestate.com.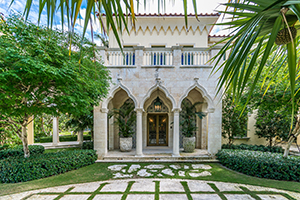 "We are thrilled to have the opportunity to work with Katrina Campins to manage the sale of this magnificent waterfront estate in Fort Lauderdale," said Lamar Fisher, President and CEO of Fisher Auction Company. "Given its ideal location and host of luxurious appointments, we feel this property will draw significant attention from multiple prospective buyers around the world."
Katrina Campins and Fisher Auction Company have both previously handled numerous high-profile sales and auctions including the former Versace Mansion, private islands and multi-million dollar mansions of business executives, celebrities and professional athletes.