WOODPECKER BY DAVID BURKE
Wood-Fired Ovens, Cricket Pizza, And More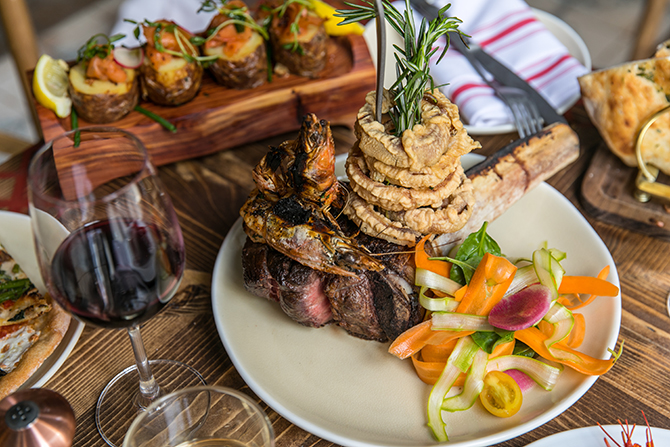 By Anne Raso
David Burke is a legend in the New York restaurant business and even had a stint on Iron Chef. Since 1992, he has opened nearly 20 modern American eateries - all with great success.
His latest eatery, Woodpecker By David Burke (which has been open only a few short months) serves pizza with crickets in its crust and is wildly popular. It has, as you might expect, a whole lot of wood. Guests genuinely love it and it's not meant as a gimmick.
Woodpecker has custom wood-burning ovens and everything except for the ceiling, TV screens, and dishes are made from wood. Speaking of dishes, the presentations are a bit quirky: Burke's trademark thick home-cured bacon is served with clothespins hanging from a line. His creative pizzas come straight from the oven resting on red paint cans. The portions are generous and it's quite easy share a large artichoke and mushroom pizza—and be totally satisfied.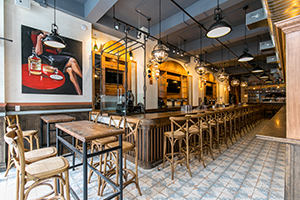 THE PULSE OF THE CITY
How did the affable Chef Burke decide to open a restaurant in NoMad. He reveals, "Opening in NoMad was a great opportunity because it is such an exciting time in this area with all the new hotels and condo developments. It's really becoming the pulse of NYC. There is a mix of people and I have found them to be welcoming neighbors. There is also the corporate clientele during the week. It brings me great joy to open a fun neighborhood-style place that is comfortable and approachable while giving the foodies their crickets!
While Burke is proud to call Woodpecker New American—and he realizes that it is the type of cuisine that he does best—guests can't help but notice that there are some other touches slipped into the mix. "Yes, the menu features some Southern Italian and Mediterranean influences which make it a bit different then my other restaurants," reveals the master chef and restaurateur.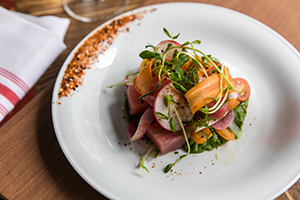 Watermelon Salad
WHAT'S OLD IS NEW AGAIN
One would assume that the name Woodpecker was chosen because Burke and crew have wood fire-roasted pizza, salmon and chicken on the menu. He clarifies, "The name was inspired by the wood-fired ovens, of course. Wood-fired cooking adds great flavor and brings cooking back to a time well before having all the fancy ovens and gadgets of today."
As expected, any David Burke restaurant will include red meat on its many menus. Woodpecker doesn't disappoint with its most popular menu choices, Pork Prime Rib with Casino Style Oysters and Himalayan Salt-Aged Strip Steak. Are there health-conscious choices we asked? "Those watching their health can't go wrong with Broccoli Mops. It's a play on chips and guacamole but in place of chips, we use ice-cold crisp broccoli pared with guacamole-shaved fennel, citrus, and radish. It's fantastic. Of course, for even more healthy, head to Sea Bright, NJ and my Drifthouse Bar & Grill which serves up plenty of seafood."
What new items will be added to the Woodpecker menu for Fall? Chef Burke remarks, "With the Fall menu you will see some more slower cooked items like bison short ribs, wood fire baked pasta dishes and some game meats as the hunting season comes around."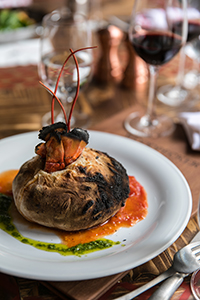 Lobster Calzone
Woodpecker has a casual ambiance thanks to basic dark wood booths without cushions and a giant screen behind the bar that often has the latest sports game roaring. Chef Burke is often on hand in his street clothes, wandering around and greeting diners. Service is friendly and accommodating without any intimidating factors—it's even kid-friendly. The wait staff will suggest dishes that you might like based on a few simple questions about personal tastes. Desserts are American classics with Euro influences creeping in—a great example being the large Red Velvet Sundae that is topped with soft French patisserie-style meringues and a homemade assorted berry sauce.
It goes without saying that Chef Burke made a tremendous influence on the restaurant scene with his long list of accomplishments as a chef and restaurant owner. But ask him his what he's most proud of and he'll say, "My children, my family that supports me in all my efforts and who made me the chef and restaurateur that I am today."
For more information on Woodpecker by David Burke, visit woodpeckerbydb.com.