LIFE & STYLE
An (Eclectic) Autumn Look-Book
By Griffin Miller
Having bid Fall Fashion Week adieu, it's the holidays that loom impertinently around every corner and pop-up ad, starting with Halloween. Before I dust off my plastic fangs and stage blood, though, I'm lining up my new favorite things: some for self-preservation; others for sharing or gifting—all integral to Life & Style!
---
Life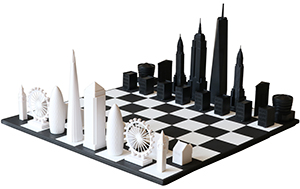 CHESS APPEAL
It began in a London flat shared by architects Ian Flood & Chris Prosser, whose chess games turned into "what-if chess pieces were famous structures" sessions. And so Skyline Chess was born, tapping into their hometown with Big Ben rooks, London Eye knights, and King & Queen as Canary Wharf and the Shard respectively. NYC was next (World Trade Center King, Empire State Building Queen, etc.). Just launched: San Francisco, with more global cities in the works. The sets come in original, Premium and Luxury versions plus there's a new NYC vs. London special edition! (Shipping time from the UK takes approximately 7 days.) Info: skyline-chess.com.
---

A LITTLE BIRD TOLD ME
Have kids? Dry skin? An aversion to germs? You are so covered thanks to one of this Fall's greatest hits: Minnie by Olika, a literal bird-in-hand-sanitizer whose selling points add up to an on-trend addition to backpacks, suitcases, totes and vanities. The design is visually sweet, but it's Minnie's soothing ingredients (essential oils), savvy size (carry-on cool), longevity (500 sprays), that enticed me to stock up. Beyond affordable, Minnie comes in four color options: Robin's Egg, Charcoal, Eggshell and Thistle. Info: olikalife.com.
---
TASTE QUEST
I'm not a foodie—not even close, but now and again I've been seduced by heavenly dishes and, on rare occasions, whipped up something in my own kitchen. Since discovering Nielsen-Massey Madagascar Bourbon Pure Vanilla Extract, however, I've been trolling the company website, downloading recipes, and attempting the unthinkable: actual culinary creations. It's rather addictive, since the 110-year old company's collection of extracts, pastes, sugars, etc. keeps growing, while always managing to maintain the level of quality prized by professional and superstar chefs. Outstanding. Info: nielsenmassey.com.
---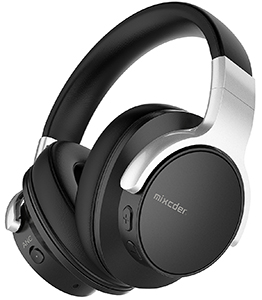 LISTEN UP
Noise cancelling headphones—welcome words to those of us who share our world with garbage trucks, impatient drivers, barking dogs, barking people, music genres we've yet to embrace, and so on. Which is why it gives me great pleasure to introduce Mixcder E7 Active Noise Canceling Bluetooth Over the Ear Hi-Fi Stereo Headphones. Yes, it's a mouthful, but these reasonably priced, comfortable headphones do it all, making them perfect for studying, meditating or just kicking back. And give it up for 20-hour battery life: Bluetooth, audio and hands-free phone calls. Info: mxcder.com.
---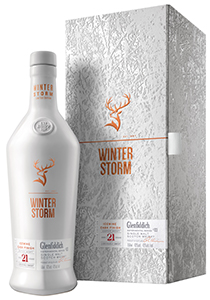 GOOD SPIRITS
To some of us, a distinguished single malt Scotch (18 years & up) is a siren's song in a bottle. If it happens to be Glenfiddich Winter Storm, that song has full-blown opera potential. Part of the Glenfiddich Experimental series, this limited edition 21 year old, in its striking white ceramic bottle, has been finished in French oak ice wine casks. Its creator, Malt Master Brian Kinsman, says "a uniquely fresh lychee note" keeps overwhelming sweetness at bay. In the end, the fusion of sweet flavors with the ice wine creates a short and crisp grand finale. Only 650 9-liter cases were produced for select market so, feeling lucky? Info: glenfiddich.com
---
Style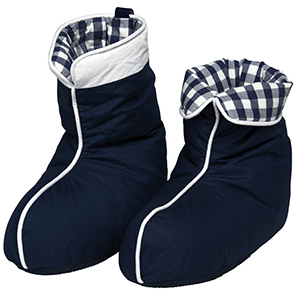 DAS BOOTIES
This winter I want luxury ski-lodge comfort at home and I want it to last until the thaw. Godiva hot chocolate… roaring fire (candles count)… in-home massage (Google Soothe)… comfy chair strategically placed to watch the marriage of snow and ice build-up outside… and warm, cozy everything, starting with my slippers, Hästens Down Boots. These babies offer the perfect combo of ingredients: lush 100 percent cotton satin weave filled with goose down and feathers with Hästens' impeccable detailing. They even have their own duffle—very nice if, say, you're traveling to an actual ski resort! Info: hastens.com
---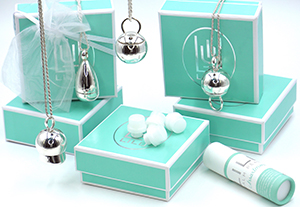 COVERT LIP SERVICE
On an average out-and-about day I reach for my lipstick or lip balm as many as seven times, at least five of them requiring serious rummaging. So when word reached me of LILU Refillable Lip Care in Beautiful Jewelry I wanted to see for myself. Here you have elegant sterling silver or gold-plated pendants, teardrop or orbs, on 30" chains that go with pretty much anything. Within these lovely pieces is a secret compartment with a LILU Lip Balm Pearl, a soft, tinted insert made with natural and organic ingredients. I already have one, but am holding out for "more to come." Info: lilulipcare.com
---

SPRAY IT AGAIN, SAM
So here we are, riding this millennial wave of amazing complexion advancements, and still battling dry and/or damaged skin. Newsflash: Alkaglam Hydrogen Mineral Spray, a new arrival already making its mark on the beauty industry. Inspired by the healing waters of Lourdes, France, this unprecedented product layers crystals and minerals in a sleek spray bottle (refillable up to a year with filtered aka bottled, Brita, etc.) water. Once activated, Alkaglam sets your makeup, hydrates with every spritz, reduces redness, and faces off against hateful aging demons. Prediction: Will it be the next big celebrity essential. alkaglam.com.
---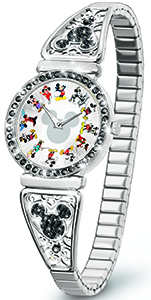 ALL IN THE TIMING
Attention former kids, collectors, and fashionistas on the prowl for a fierce little bling thing: a decades-spanning, crystal-studded, Mickey Mouse timepiece has arrived on the Hammacher Schlemmer must-have scene! In the 1950s, owning a Mickey Mouse watch was a coveted rite of passage – a right that's built up to The Mickey Through The Years Rotating Watch. Boasting 12 iconic Mickey looks from Steamboat Willie through today, this sparkling homage is etched on the back with the message "Believe in the Magic," which pretty much says it all. Info: hammacher.com.
---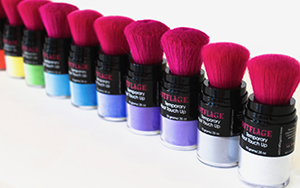 TRESS TO IMPRESS
Its vivid powder colors seem to have taken their cue from preschool tempera paints, while the sturdy tube-shaped bottles are topped with super soft magenta kabuki brushes, not unlike drum major hats. Yet once brush meets mineral powder and powder meets hair, the colors mellow into gorgeous pastels. This is the Rooflage Renagade line and, depending on one's hair—or intent—the effect can be ombré, staccato streaks, root touch ups, or something bursting from your imagination. Fleeting, the color is temporary, but the process is fun and the end result is all original… all you. Info: rootflage.com/collections/renegade-colors.