FALL FOLIAGE GETAWAYS
6 Road Trips For Leaf Peepers
By Patricia Canole
Fall Foliage is here! And one of the best ways to take in Mother Nature's spectacular show. This year, why not hit the road to include your specific interests? Whether you're a foodie or a thrill-seeker, a museum lover or looking for a family-friendly getaway, there's a fabulous trip out there with your name on it. Read on for some fall road trip suggestions.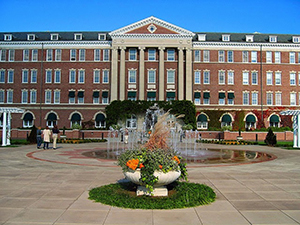 The Culinary Institute of America
CULINARY DELIGHTS
HUDSON VALLEY, New York
Located in Hyde Park, The Culinary Institute of America is one of the country's top schools. After a tour of the campus—be sure to visit its terrace offering sweeping Hudson River views—dine in one of its restaurants such as the farm-to-table American Bounty and the modern French Bocuse Restaurant. Throughout the Hudson Valley, you can visit farmer's markets to buy local produce as well as family-owned orchards, where you can pick your own apples (and don't forget the cider donuts!).
Stay & Dine Aside from fine-dining restaurants, the CIA also has a few casual lunch spots, including Apple Pie Bakery Café. The menu features bountiful salads, salmon tartines and quiches (be sure to save room for dessert). A convenient and comfortable place to stay is the Poughkeepsie Grand Hotel, a quick drive from the school.
For more information on the Hudson Valley, visit travelhudsonvalley.com.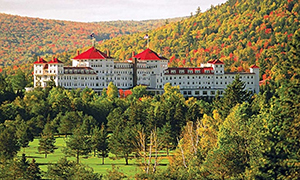 ADVENTURE THRILLS
WHITE MOUNTAINS, New Hampshire
Bikers and hikers will love this region loaded with scenic trails that take you beside cascading waterfalls and covered bridges. With its many rivers, streams, and lakes, the White Mountains also offer plenty of aquatic adventures including whitewater rafting and kayaking. Still, crave more adventure? Then sign up for a Bretton Woods Canopy Tour, a three-hour excursion that takes you across a series a treetop zip lines—a beautiful trip in spring and summer, but even more so when the leaves have turned.
Stay & Dine The Omni Mount Washington Resort, built in 1902 by mining magnate Joseph Stickney, is one of New England's classic resorts. Located in Bretton Woods and overlooking 6,288-foot Mount Washington, the hotel features several restaurants, a spa, and a spectacular 900-foot veranda.
For more information on the White Mountains, go to visitwhitemountains.com.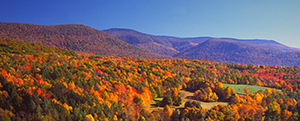 ANTIQUE TREASURES
THE BERKSHIRES, Massachusetts
The rural region is not only a prime leaf-peeping destination, but it's also known for its many antique shops, especially in the southern Berkshires. In Sheffield, Painted Porch Antiques and Cupboards and Roses Swedish Antiques are two favorite shops, while in Great Barrington, the Great Barrington Antiques Center has 50-plus dealers under one roof, selling everything from American quilts and antique clocks to estate jewelry and 19-century furniture. Additionally, as you head north on Rte. 7, you'll find even more shops to browse.
Stay & Dine In Great Barrington, it's worth the wait for a table at Baba Louie's to sample the wood-fired pizza, while Allium is a fine-dining restaurant with a farm-to-table menu. Stay at Seven Hills Inn which comes complete with acres of terraced lawns and manicured gardens. The inn serves a gourmet brunch on weekends.
For more information on The Berkshires, visit berkshire.org.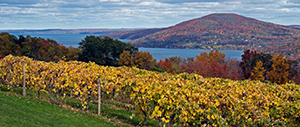 Finger Lakes
GRAPE ESCAPES
FINGER LAKES, New York
Finger Lakes Wine Country has been recognized as the Best Wine Region by USA Today's Readers' Choice Awards 2018—with good reason. With its 11 lakes stretching across 14 counties, it is home to more than 140 wineries. This picturesque landscape entices visitors from around the globe to discover orld-class wine, award-winning craft beverages, historic communities and is the perfect backdrop for year-round outdoor recreation.
It's hard not to be charmed by the tiny village of Aurora on the eastern shore of 37-mile Cayuga Lake, the longest of the Finger Lakes. Here you find Long Point Winery, overlooking the lake. Also take a turn at Bet the Farm, a small tasting room and market selling New York State products like cheeses and chutneys. Another spot to explore is Knapp Winery on the lakes northwestern corner. Sample dry Riesling in its rustic tasting room. Take the time to visit Seneca Lake where you will find Chateau LaFayette Reneau perched on a hillside. It's one of the prettiest settings imaginable to sample wine.
Stay & Dine Located on the southern tip of Skaneateles Lake is Mirbeau Inn & Spa, one of the Finger Lakes' most popular properties. All rooms feature wood-beamed ceiling and gas ceilings. Borrow one of the inn's bikes to explore: Browse the shops, visit the historic sites, and brave the lines to lunch on a fish sandwich at Doug's Fish Fry. For dinner, try The Krebs restaurant in a meticulously restored 1899 house. Enjoy a superb menu of oysters and duck, along with incredible local wines.
For more information on the Finger Lakes, go to visitfingerlakes.com.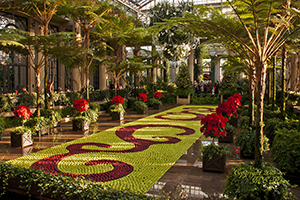 CULTURE FLOURISHES
BRANDYWINE VALLEY, Pennsylvania/Delaware
The Brandywine River Museum, housed in a former mill in Chadds Ford, is known for its collection of paintings from Andrew Wyeth. Another must-see is the 1,000-acre Longwood Gardens, created by industrialist Pierre DuPont in 1910, with fabulous gardens and decorative fountains to admire. In nearby northern Delaware, be sure to take a tour of Winterthur, the former 175-room estate of the DuPonts, with its glorious gardens. During this time of year, marvel at the riot of fall colors from its multitude of beech, ash, maple, and dogwood trees.
Stay & Dine Lunch at Hank's Place, a mom-and-pop diner with hot sandwiches, burgers and Greek dishes, and Brandywine Prime, serving steaks and seafood, make great options. Overnight at the Brandywine River Hotel, a few minutes' drive from the Brandywine River Museum and Chaddsford Winery.
For more information on the Brandywine Valley, visit and brandywinevalley.com.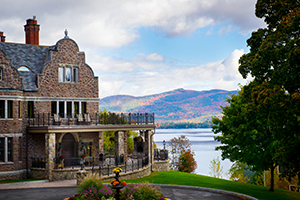 The Inn at Erlowest ©Tom Wall Photography
FAMILY-FRIENDLY OUTINGS
ADIRONDACKS, New York
In the village of Tupper Lake is the Wild Center, a nature-focused non-profit museum. One of its biggest draws—and one the kids will love—is the Wild Walk, 1,250-feet of elevated trails across the treetops, which in fall, is quite magical. In Lake Placid, there are endless hiking trails, including family-friendly Cobble Hill, which offers fabulous views. In Lake George, you can take a replica steamboat cruise, sample craft beverages along the Adirondack Craft Beverage Trail, or browse the many farmer's markets for some one-of-a-kind treats.
Stay & Dine In both Lake Placid and Lake George, there are plenty of family-friendly restaurants—not to mention ice cream shops. Lodging-wise, Lake Placid's award-winning Mirror Lake Inn is superb as is the Crowne Plaza Lake Placid. Accommodations in Lake George are just as stellar: a stay at The Inn at Erlowest is what dreams are made of.
For more information on the Adirondacks, go to visitadirondacks.com.