GRAYCLIFF
The Caribbean's Best-Kept Secret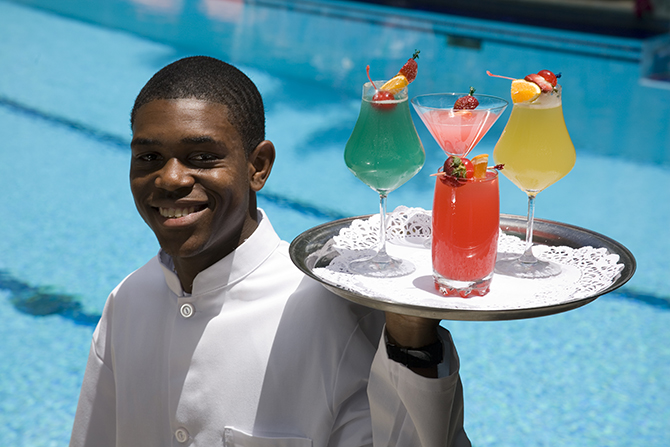 By Clint Brownfield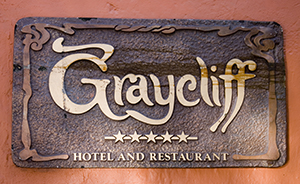 It may be hard to believe that a hotel like Graycliff can still be found in the Bahamas today. Not only for its luxurious accommodations and award-winning restaurant, but the delightful experiences as well. A far cry from those nearby mega-hotels and all-inclusive resorts, this hidden treasure will undoubtedly transform your getaway into a memorable escape—and is reason enough to visit the Bahamas.
Here, guests are offered some of the best and most genuine hospitality they may ever experience. Graycliff is family owned and operated—purchased in 1973 by Enrico and Anna Maria Garzaroli, who run the hotel, restaurant, and various other enterprises, along with the much-valued help of their son and daughter and a devoted cadre of dedicated staffers. Guests very quickly feel like members of the family—many returning year after year to be indulged by the Garzarolis.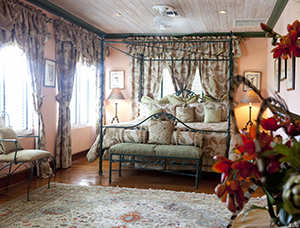 Luxury Room A
THE HOTEL
The colonial mansion was built in 1740 by Captain John Graysmith, a famed Caribbean pirate who plundered ships to gain a bounty of treasure. Years later, in 1776 it became headquarters for the American Navy, and centuries later during Prohibition was owned by a good friend of Al Capone.
Today, Graycliff offers guests a tranquil respite from the casinos, lively nightlife and busy Bay Street—Nassau's shopping and business hub. You may give up the beach views but will gain a lushly landscaped and secluded environment, which features two private pools and entertaining and dining spaces. Since the hotel is virtually next door to Government House, the official residence of the Governor General of the Bahamas, Graycliff's gardens are frequently used for official receptions. For those who feel the need to soak up some rays, arrangements can be made for guests to enjoy beach privileges. The same goes for golfing and popular attractions in Nassau and nearby Paradise Island.
The hotel's 20 guest rooms and suites, in the main house and the gardens, are all individually decorated with antiques and fabrics, that blend with the house's historic past and elegance. All feature complimentary Wi-Fi access, private baths, and luxurious amenities. Since history runs deep here, request the room once occupied by Winston Churchill himself.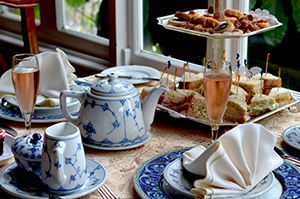 Graycliff Afternoon Tea
WINE & DINE
This small hotel treasure, a landmark listed on the National Register of Historic Places, is home to Graycliff Restaurant, the Caribbean's first 5-star restaurant. It's a destination unto itself, where you might find yourself dining along a headliner on Lobster or Rack of Lamb. Is that Beyoncé and Jay-Z? They've been known to fly in and out of Nassau just to dine at Graycliff. But A-lister or not, everyone is treated in the same very gracious and friendly manner.
One of the reasons that the restaurant has become such a mecca is not just for its sublime food, but it also sits on top of what is believed to be the largest wine collection in the world. Garzaroli has amassed more than 250,000 bottles, and guests are offered complimentary tours of the cellars, which also contain the oldest known bottle of drinkable wine in the world, a 1727 Rudesheimer Apostelwein from Bremen Ratskeller in the Rheingau Region. It's offered on the restaurant's wine list for $200,000. Prospective customers are warned that they must pay for it—no matter how it tastes.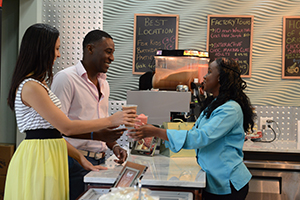 Chocolatier Shop
GRAYCLIFF ADVENTURES
To sit and chat with Enrico is a real treat. His knowledge of wine, food, hospitality, the Bahamas (and the world) is remarkable and any time you can spend with him makes for one of the most memorable experiences you may ever encounter as you continue to travel the globe. It's also here guests and visitors alike can experience some exciting adventures too.
Bahama Barrels Here's your chance to take part in wine mixing sessions offered in the Chapel. Guided by a California winemaker with nearly 20 years of experience, participants learn to blend their wine by sampling different varietals and then mixing them to create their own specially labeled bottle. to take home. Before departure, you can still enjoy hospitality at the Graycliff Lounge ($10 plus VAT entrance fee or complimentary with Priority Pass).
Graycliff Chocolatier It's a chocoholic's dream come true. Here guests can learn how to make their own chocolates, sample the wares—and (if you must) purchase more to eat later or take home to family and friends. Free tours are offered daily.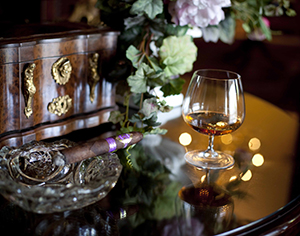 Cigar & Cognac
Graycliff Cigar Company Because Garzaroli could never find the "perfect" cigar; he founded the Graycliff Cigar Company. Production began in 1997 with a single roller in the foyer of the restaurant and has now expanded to the award-winning boutique Cigar Company with 16 master rollers—each an expert in the art of cigar making. Five brands are currently being produced, and guests are welcome to observe these experts as they roll away and also invited to take lessons. Tours are offered daily along with very popular cigar and rum pairing sessions.
Don't be concerned by all this activity—none of it interferes with the tranquil setting of the hotel and restaurant. The secluded grounds are designed so that everything blends together without one experience infringing on another's quietude.
If you yearn for a perfect getaway from the hustle and bustle of New York, why not book a stay at Graycliff? She's waiting along with a snifter of cognac just for you.
For more information on Graycliff Hotel & Restaurant, visit graycliff.com.