STARTING YOUR OWN BUSINESS
6 Tips To Get You Off On The Right Foot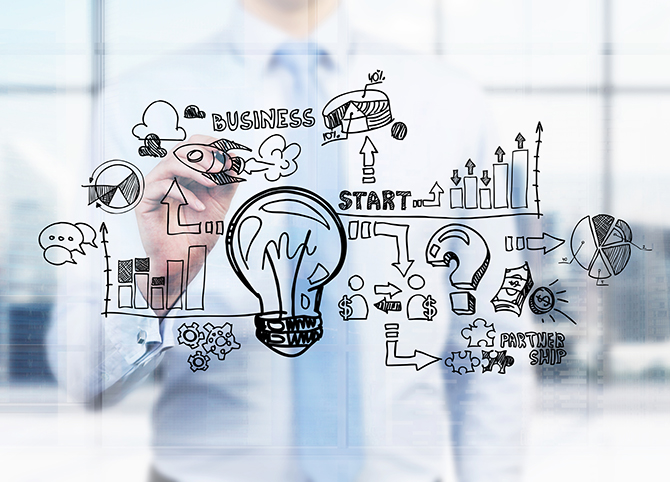 By Eric Czepyha, BNY Mellon Wealth Management
Starting a business can be an exhilarating experience. However, it's easy to get stuck in the stress of trying to manage a business and your finances. Here, six ways to get started.
THE RIGHT BUSINESS STRUCTURE
Familiarize yourself with the various business structures and determine which one will work best for your business and financial situation. The most common business structures in the U.S. are corporations, limited partnerships and limited liability companies. Each business structure has its own pros and cons, eligibility requirements and tax consequences, and the structure you ultimately choose can have a significant impact on the cash flow and risk profile of your business.
APPLY FOR BUSINESS CREDIT
One of the perks of being a business owner is that you can write off many of your business expenses as deductions on your taxes. These can be difficult to track, however. Paying for all of your business expenses with a business credit card can make it significantly easier to track your business expenses. It can also help your business build up its own business credit score. Most major credit card companies offer cards specifically designed for businesses, and some offer special perks like cash-back rewards for common business expenses (for example, spending on office supplies and business-related meals).
IMPLEMENT BUSINESS PROCESSES
When you're working at your business, it can often be tough to work on your business. That›s why it is critical to have processes in place to help simplify and standardize as much of your business operations as possible to keep the wheels spinning and allow you to focus your time and energy on what matters—for example, keeping your employees motivated and executing your long-term strategic plan.
Create systems for paying expenses and payroll and for processing payments. Identify the tools and products that will help you manage your bookkeeping efficiently. Develop metrics and reports that you can easily and periodically generate to help you understand how your business is performing in real time. Create an organizational structure that clearly lays out the decision-making process at the shareholder, board and management levels for major business decisions.
SEPARATE BUSINESS & PERSONAL FINANCES
When you start a business, you may simply rely on your own personal checking and savings accounts to get started. However, it is important early on to separate your personal and business finances. This will allow you to generate "clean" reports on the income and expenses of your business and keep track of business accounting for tax-reporting purposes. To get started, open business checking and business savings accounts and make sure all business-related activity is run through them.
UNDERSTAND TAX REQUIREMENTS
For most individuals, filing your tax return is a once-a-year headache. For small business owners, however, taxes can be a year-round undertaking. When you start a business, you will want to ensure that your business is built upon a solid financial foundation, including how your business prepares and files its taxes. Make sure you keep records of all of your expenses, track your payments and properly estimate your tax payments. You will want to maintain detailed records and make your payments on time. Putting organizational systems in place for your year-round tax-filing obligations can make the process less frustrating over the long run. Consider hiring an accountant to help you stay on top of your tax payments and keep you on track with bookkeeping.
ASSEMBLE A HIGH-QUALITY BOARD
A high-quality board of directors with a range of talents and experience can be a powerful resource for your company. Taking steps to ensure your board is well-designed, well-informed and properly engaged will reap significant benefits for your company's shareholders and management team.
Make sure your board includes at least a few independent members with experience relevant to your industry, and a few that come from completely different industries who might offer an alternative approach to issues rather than the "industry norm." Family-owned business may want to have at a least one family member on the board who can represent the family's legacy and long-term vision for the company. And don't overlook gender diversity. Our analysis has found that companies where women made up at least 30% of the board of directors saw higher returns on invested capital and other measures of business success.
Getting the most out of your board of directors requires that you keep them engaged and informed. In addition to regularly scheduled quarterly board meetings, it may be helpful for the board to schedule an all-day offsite every year or two, where the agenda is entirely devoted to reviewing the company's long-term strategic plan with members of senior management.
Remember to build a solid foundation through careful planning. From taxes to tools and payments to products, following these six steps will help you better prepare for the many challenges and opportunities you may encounter on the road to building a successful business.
©2018 The Bank of New York Mellon Corporation. All rights reserved.