ON STAGE
By Lori Zelenko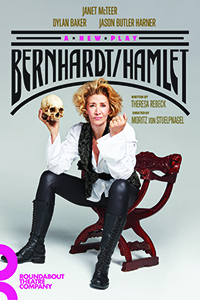 BERNHARDT/HAMLET
The American Airlines Theatre
Through November 11th
Mark Twain wrote, "There are five kinds of actresses: bad actresses, fair actresses, good actresses, great actresses. And then there is Sarah Bernhardt." In 1899, the international stage celebrity considered the greatest actress of her time, set out to tackle her most ambitious role yet: Hamlet. Taking on the part was potentially perilous even for a risk-taking actress as dressing in men's clothing could have been a ruinous move back in the day. But Bernhardt, being an adventurer, more than overcame cross-dressing challenges.
Janet McTeer considered "arguably to be the greatest stage actress of our time," according to Bernhardt/Hamlet playwright Theresa Rebeck not to mention a host of critics brings this legendary leading lady to life in the Roundabout production of Bernhardt/Hamlet.
As much high comedy as it is a human drama, the story of Bernhardt's risky role plays out with laughs and pathos against the lavish Shakespearean production that could make or break Bernhardt's career.
For Rebeck the opportunity to explore the relationship between Bernhardt and one of Shakespeare's most famous characters was a wonderful temptation: "In the part of Bernhardt playing Hamlet, Janet McTee attacks the mysterious questions of power, gender, and identity which provoke us now more than ever."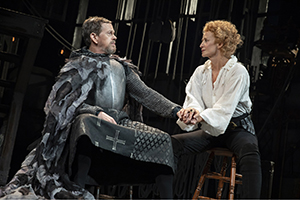 Janet McTeer speaks of Bernhardt as "a great actress who took the bull by the horns, she did lots of parts for men when she couldn't find enough parts for women. She was just out there. I love the fact that she was clearly herself. Essentially the play is an homage to a woman who stood up and did it at a time when women didn't stand up and do it. She did. That's pretty incredible."
Directed by Tony nominee Moritz von Stuelpnagel, Roundabout Theatre's production also stars Dylan Baker as Constant Coquelin and Jason Butler Harner as Edmond Rostand. The cast also includes Brittany Bradford, Aaron Costa Ganis, and Triney Sandoval.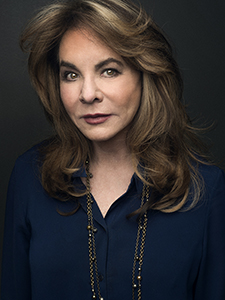 APOLOGIA
Laura Pels Theatre at The Harold and Miriam Steinberg Center for Theatre
Through December 16th
Stockard Channing earned rave reviews in London for her powerhouse performance in the West End hit Apologia. The magnificent Channing plays what some might call a monstrous matriarch, a woman who seeks conflict and never hesitates to voice her brutal opinion yet she's still tinged with vulnerability and dawning regret in Alexi Kaye Campbell's biting play.
Kristin Miller (Channing) is one tough customer, critical, confrontational; you could even call her vicious yet not without a sense of humor. In the 1960s, she was a radical activist and political protester. Now she's evolved to be a celebrated art historian. As she prepares to publish her memoir, she has to face the choices she made along the way, prioritizing career over family, pain, and anger simmering in mother and sons; a family about to split apart by the consequences of the past relived in the present. Though the play may be considered a lively look at yesterday's rebels living in today's reality, it's also a look at the motivations for deciding to pursue a career that rewards and challenges.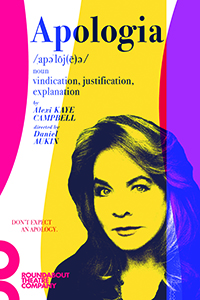 This backstory is explored, judged, seen with compassion, defended as well as criticized. No heroes, no victims just a struggle to resolve damage done. Three-time Obie Award winner Daniel Aukin directs this passionate human and sometimes hilarious drama. You could say he adeptly creates sympathy for the devil. Aukin's recent work includes Dan Lefranc's Rancho Viejo and the Broadway revival of Sam Shepard's Fool for Love.
A longtime friend of Roundabout Theatre Company, Channing returns to the theater following her Tony-nominated performances in Pal Joey (2008), The Lion in Winter (1999) and Joe Egg (1985, Tony Award Best Actress). Most recently, she has delighted Broadway audiences with her performances in It's Only a Play and Other Desert Cities. She is joined in this production by Emmy-nominated stage alum Hugh Dancy, John Tillinger, Megalyn Echikunwoke, and Talene Monahon.
Roundabout Theatre Company presents a variety of plays, musicals, and new works on its five stages, each of which is specifically designed to enhance the needs of Roundabout's mission. Through the New Play Initiative, Roundabout proves its devotion to the development and production of new works by significant writers and artists.