HAUNTED NYC
A Guide To Ghostly Happenings Around Town
By Natasha Bazika
We all know New York City can be a pretty scary place most times—high rents, subway woes, dodging messengers on bikes, you name it! One thing you probably haven't considered: Ghosts! The city is full of haunted buildings and with a history of over 400 years old it has seen its share of paranormal activity from river to river. So what better time to visit some of the most popular haunted dwellings than this Halloween?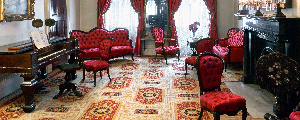 MERCHANT'S HOUSE MUSEUM
Dubbed as Manhattan's Most Haunted House, the Merchant's House Museum was home to the Treadwell family for nearly 100 years. Some say they never left. In 1840, the youngest of the Treadwell's eight children was born. Gertrude never married and lived her life in the house before her death in 1933. As the last member of the family to occupy the house, it is believed Gertrude watches over her family home. In the 1930's, the house opened to the public as a museum. Visitors reported strange and inexplicable things, such as sounds, sights, and smells. As the only historic house museum in the Greenwich, SoHo, and NoHo neighborhoods, the museum is one of the most excellent surviving examples of architecture and cultural-elite in the 19th century. Venture into the shadows of history to listen to voices call into the dead of night, and hear true tales of the unexplained from people who experienced them.
---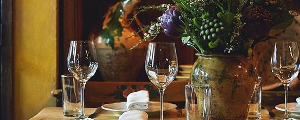 IL BUCO 47 BOND STREET
This acclaimed Italian restaurant serves more than just good food. The rustic Old World charm cellar is a labyrinth of brick caves, each leading to a selection of boutique wines. It is rumored to have inspired the great Edgar Allan Poe to pen The Cask of Amontillado. Owners and employees have reported a strange presence, which was later discovered there may have been a murder in the cellar. There are also occurrences where bottles have been opened. Whether that was one of the employees or the ghost of Poe, we will never know, however, sitting where Poe sat and sipping a glass of red wine this Halloween is a thrill in itself.
---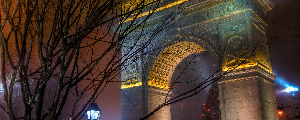 WASHINGTON SQUARE PARK
Much like most parks within the city, Washington Square Park is filled with benches, beautiful trees, and even a water fountain. But it's what lies beneath that makes this park uncanny. Centuries ago, before the park was built, it is said to have been an Indian burial ground and post-revolutionary war, the park was used as a graveyard. Later, a yellow fever epidemic claimed thousands of New Yorkers who were buried here along with criminals where the fountain stands today.Since then, visitors have reported paranormal sightings, such as feeling a cold breeze or even witnessing people dressed up in 18th-century attire disappear. Could evil spirits be lurking around the beloved Washington Square Park?
---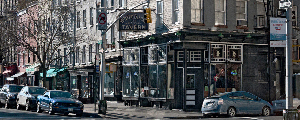 WHITE HORSE TAVERN
Built in 1880, the White Horse Tavern has a reputation for its resident ghost, Dylan Thomas. The Welsh poet famous for his poem Do Not Go Gentle into that Good Night did not get the memo when he tried to beat his 18 whiskey-shot record and died in a hospital shortly after collapsing on the sidewalk, although other factors may have led to his demise. Since then, visitors have spoken about sightings of the poet sitting at his favorite table or walking around the tavern, often pouring shots or beers when no one else is around. Now that's worth a visit!
---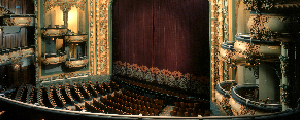 NEW AMSTERDAM THEATER
Broadway is a staple in the city, and the New Amsterdam Theater is a century-old main course, complete with a Broadway ghost. In the early 1900s a Broadway chorus girl, by the name of Olive Thomas caught the eye of many suiters with her beauty. She settled with Jack Pickford, but they didn't have the greatest relationship, which led to an impromptu trip to Paris to mend their situation. Little did Olive know, she would die from a tragic overdose. Since her death, visitors reported seeing the beautiful young lady roam the halls of the theater. The best-known sighting is from a security guard who claimed to have seen a woman in a green beaded dress. She turned to him and blew him a kiss before walking out through the stage wall onto 41st street. The next time you go to the New Amsterdam Theater to enjoy the Aladdin production, you may see more than a magic flying carpet.
---
NEW YORK UNIVERSITY
One New York University building has more than just books and students in it. NYU's Brown Building was the former Triangle Shirtwaist Factory before the university acquired it in 1929. In 1911 a tragic fire broke out on the 8th floor before spreading to the 9th and 10th floors, where there were hundreds of workers, most of them women who sewed blouses. The fire claimed many lives, which some say still roam the building today, often scaring visitors.
---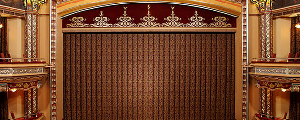 BELASCO THEATRE
Midtown's Belasco Theatre is an architectural marvel; namesake David Belasco wasn't ready to part with his beloved building. Many have claimed to see the spirit of Belasco walking around and wearing his popular choice of attire. The building was designed by George Kester and opened in 1907 as the Stuyvesant Theatre. Actors alike have claimed to see a lone dark figure watching from the balcony waiting to talk, but never heard a word. There have been reports of doors opening and closing at random and curtains swaying without being touched. The New York Times once reported a dog growling at a ghost every day at 4 pm; however, there are claims a second ghost, thought to be the lover of Belasco also haunts the theatre.
---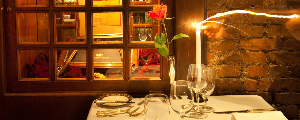 ONE IF BY LAND, TWO IF BY SEA
This restaurant in the heart of West Village is known for its romantic setting, but also for its rebellious local spirits—not the alcoholic kind. The romantic establishment was once former Vice President, Aaron Burr's carriage house, which his daughter also occupied. Reports state visitors and workers noticed a woman in a black gown walk downstairs, but never back up. The theory is she broke her neck falling down the stairs. Other reports include champagne glasses breaking on their own and paintings falling off walls.
---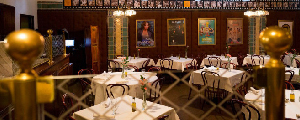 THE ASTOR ROOM
This Hollywood legend among many others never left what is now the Kaufman Astoria Studios in Queens. Silent-film heartthrob Rudolph Valentino often visited his favorite spot after filming at the nearby Paramount Studios, and today some say they have seen him sitting where he sat most days. Other sightings include Charlie Chaplin and Gloria Swanson.
---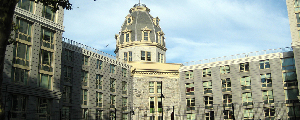 ROOSEVELT ISLAND
Today The Octagon is a luxury high-rise building on Roosevelt Island, but from 1841-1894 the building had a less opulent purpose as the New York Lunatic Asylum. Some warn the halls to be spooky at night, with many stories of sightings and feelings of spiritual presence. It was the subject of Nelly Bly's famous exposé Ten Days in a Mad House. Even Charles Dickens had a shiver down his spine when he was given a tour of the building in 1842.
---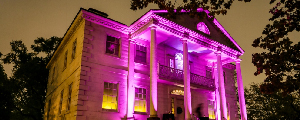 THE MORRIS-JUMEL MANSION
One of the oldest houses in the City, this Georgian mansion was built by Roger Morris—a colonel in the British army—in 1765. Located in Washington Heights, it served as headquarters for both sides of the Revolution, with George Washington retreating here after his defeat at the Battle of Brooklyn. In 1810, the stately house was purchased by Stephen Jumel and his wife Eliza. After his suspicious death, Eliza remarried in 1832 to a haunted figure in his own right: Aaron Burr who shot Alexander Hamilton. Rumors of the supernatural have been documented through the years of the ghostly visage of Eliza appearing to visitors before gliding away.