ENTREPRENEUR'S CORNER
Caroline Hofmann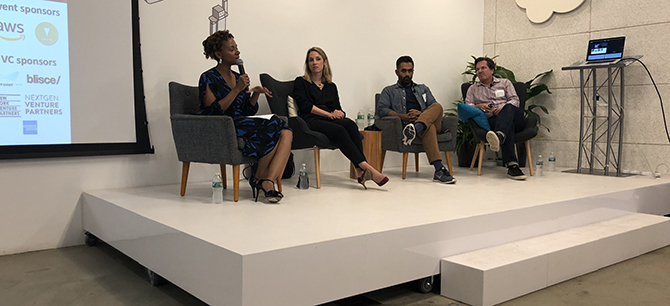 By Jenna Guarneri
The NYC start-up scene is having a moment with many calling it the fastest-growing tech hub on the planet. Meet Caroline Hofmann, COO and co-founder of Republic, who is at the helm of one of the most impactful start-ups in the city.
Being on the founding team of a start-up is an exciting yet very challenging endeavor, and no amount of schooling or professional experience can prepare you for it, but Hofmann is up for the task. After managing multiple teams at McKinsey & Company, she joined Republic, giving up the stability of her job at a long-established company to build something from the ground up. It was a risky move, but she embraced it with enthusiasm.
Born and raised in Germany, Hofmann lived and studied in France, Spain and the UK, focusing on international relations and economics, before earning an MBA at Harvard. She started her career in the world of management consulting at McKinsey & Company, mostly focusing on healthcare clients before leaving the consulting world behind in 2017 to join Republic.
Republic's mission is simple: It wants to democratize start-up investing by allowing anyone, regardless of wealth, to invest as little as $10 in start-ups. Up until recently, only accredited investors (broadly speaking the top 5 percent) could invest in start-ups. Republic changes that and makes start-up investing a lot more approachable and fun. By doing so, Republic is also opening up the opportunity for lots of companies to fundraise and has helped traditionally underserved founders, women, and minorities. Companies that have raised on Republic have tackled business and societal problems such as developing a drug for brain cancer, ending food insecurity, providing easier access to kid's classes and finding leaks in pipelines.
New York Lifestyles recently met with Caroline Hofmann to learn a little more about this new way of investing.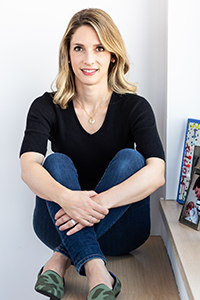 ©Paul Morejón
What inspired you to make New York City home?
I came for a very simple reason: seizing the opportunity to live in New York once in my life. After my MBA, it was relatively easy. I could work at McKinsey in New York and had a work permit. I was planning to stay a year and then move back to London. However, life dealt me different cards. I met my husband on my very first work day in NYC, so I stayed. I feed off the energy of New York. People seem to have boundless energy and do things 24/7 and are always up for trying something new—whether it's the latest restaurant or workout trend. New York is also really diverse and open, and I love that.
Before joining Republic, you were the associate principal for McKinsey & Company. Tell us a little about that time.
I had a fantastic time at McKinsey. I have met mentors, friends (and even my husband) there and worked on a really broad set of business problems for Fortune 50 companies. In my last few years at McKinsey, I was mostly advising pharmaceutical and medical device clients in the US. It was definitely interesting, but what I always liked most was working with my project teams, the daily camaraderie and friendships you build working long hours together.
Having graduated from Harvard Business School, was the start-up world something that became a natural transition for you?
I don't think that earning an MBA can prepare you for start-ups—the only way to acclimate is to dive in and get your hands dirty. What the MBA does teach though, is some lessons in entrepreneurship and I learned to value and respect people who build companies from scratch. The start-up landscape in NY a few years ago was quite different from what it is today; there was a lot less activity. However, over the years, while working at McKinsey I saw a lot more start-ups come to life and grow, some run by my classmates. That's obviously an inspiring example.
Start-ups always require you give 150 percent and work long hours, but they're more laid back culturally, meaning they're less hierarchical than traditional companies. Everyone kind of gets to have a say in the way the company grows—we're all stakeholders. Sometimes this can make things a bit tricky to navigate, but on the whole, it can fuel creativity, innovation, and rapid growth and scaling. It's especially fulfilling to build something from the ground up, which is just something you don't experience when working for an established company.
How is your role at Republic different from when you were at the consulting firm?
Many skills I gained at McKinsey are really valuable: Being able to structure and break down any problem, managing teams, prioritization, and communication skills.
Operating a business is messy at times, and requires on-the-fly decisions and being a little bit creative at times. I am writing blog posts, hiring, overseeing finance, doing business development, organizing company retreats. There's never a dull moment. Lastly, Republic is in the middle of the start-up ecosystem. I feel incredibly lucky to meet with fascinating founders who are developing breakthrough technologies, and that will help make our world a better place.
It's a big transition—and risk—to go with a start-up. What led you to take that risk?
It was a big step, but I've always believed in stretching yourself and stepping outside your comfort zone. I also strongly believe that life is too short to do something professionally that you're not 100 percent satisfied with. Though it was certainly a risk to join Republic, I had a lot of faith in our CEO Kendrick Nguyen. He has a wealth of experience as a securities attorney, and he served as general counsel for AngelList. So, I was joining a project with someone who had an impressive track record and experience working at a reputable organization. Most importantly, I believed in his vision, what he was building with Republic. I haven't looked back.
Tell us a little more about Republic.
At the highest level, Republic seeks to democratize start-up investing and fundraising. We want to make it easy for everyone to invest in start-ups, as easy as it is to buy stocks. Since we launched the company, we've helped over 60 start-ups raise capital, and over 10,000 people have made investments with us. Last year, we launched Republic Crypto, which is focused on bringing high-quality blockchain projects to investors. We are working on a bunch of projects around the ecosystem of fundraising and investing that can be a value-add.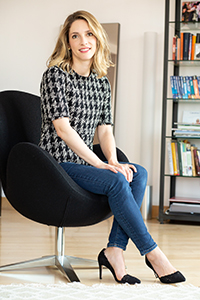 ©Paul Morejón
Why has equity crowdfunding become a go-to for start-up companies looking to raise capital?
More and more start-ups realize that what we provide is a lot more than helping them raise up to $1 million. The whole process of running a campaign creates engaged users and customers and is a unique opportunity for a start-up to transform their followers, users, and customers into investors. Investors typically become brand ambassadors on their own volition. Who wouldn't want to say, "Hey you should check out this start-up—I'm an investor. Our most successful founders do exactly that and see real success.
How has diversity played a role for Republic both internally and with the companies you work with?
We always have our eye on start-ups founded by underserved founders, given one of our central missions is to help them gain access to capital. One of the reasons for this is women, and people of color receive incredibly low amounts of venture capital funding, around 3 percent for women and 1 percent for women of color, even though diverse teams have proven to perform well. To call out these troubling trends and put an end to them, we created The Diversity Report, which includes the statistics on the bias against women and people of color with VC funding, along with data revealing diverse teams perform better.
How do you continue to challenge yourself in other areas of your life?
Start-up life is crazy. I wish I could pretend I am this wonder woman who wakes up rested, works out and drinks a green smoothie every morning. The reality is that I work a lot, I have two young kids, and I try to keep things on track on all fronts. My personal goals are about health and happiness—finding time to work out regularly (I am trying the Mirror right now and love it a few days in, and I swim, which is my form of meditation) and spending quality time with my children. My aspirational goal is to get back to play the piano regularly.
Tell us what are your favorite things to do in New York City?
• I love going to the Farmers Market next to the Natural History Museum on Sunday mornings. We always run into friends there, and we usually buy some fresh produce and cook during the day.
• I love early morning runs. I do a lot less of them now that I have two young kids, unfortunately. It's a great way to clear your mind. When I lived in the West Village, I'd hit the High Line at 7 am right when it opened, and you could sometimes see professional photo shoots happening right there. Now, these morning jogs are usually just quick runs around Central Park.
• I don't think I'll ever get bored of looking at Manhattan when driving over one of the bridges. Every time I do, I feel lucky that I get to live here.
For more information on Republic, visit republic.co.