CHRISTIANI PITTS
The Queen Of New York Tames Her King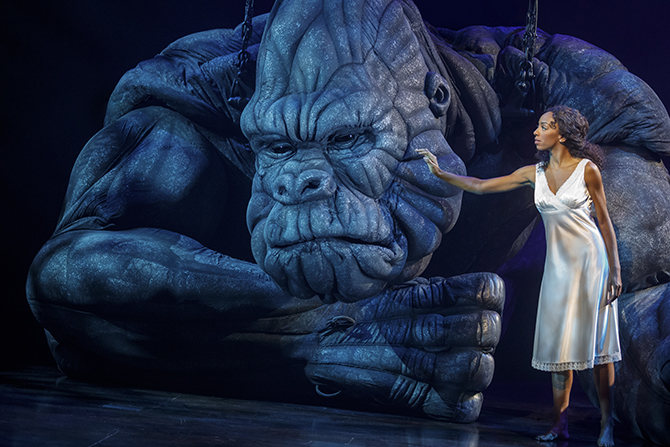 By Ellis Nassour
The 20-foot, 2,000-pound silverback is no match for Christiani Pitts, the beautiful young actress making a big leap to stardom playing the coveted female lead, Ann Darrow, in the Broadway mega-musical King Kong.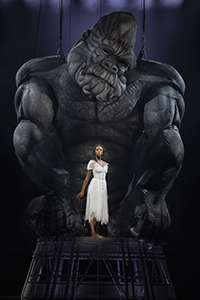 Of her first leading role, she says, "It's been an incredible journey after having been in only one Broadway show. I am unbelievably fortunate and blessed. It's one of the most incredible gifts from God I've received. I'm overwhelmed with how happy and grateful I am. It's the only way I can describe it!"
Christiani was a virtual force of nature after she worked her way up in her first Broadway show from ensemble to co-star as Jane, the gal from the other side of the Italian-dominated neighborhood along Belmont Avenue in A Bronx Tale, the musical adaptation by Alan Menken and Glenn Slater of Chazz Palminteri's solo play and film. Now, she's standing tall as Ann Darrow. The role made famous onscreen by the never-forgotten Fay Wray in a huge cast of 50 actors and puppeteers.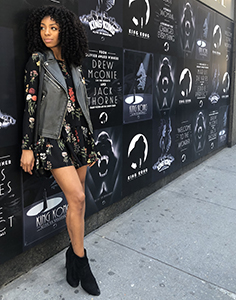 "It's been an incredible journey after having been in only one Broadway show."
A MODERN-DAY ANN DARROW
"When we first saw Christiani," says lead co-producer Carmen Pavlovic, "she blew us away. She embodies everything we aspired to in creating a female protagonist who is relevant in 2018. She is an Ann Darrow for our time—plucky, courageous and the master of her own destiny."
Christiani's opening number in King Kong is the rousing "Queen of New York," and it appears she may be on her way to becoming just that. The role of Ann Darrow has been much expanded to showcase Christiani's strengths. For instance, when the shifty film producer, Carl Denham—played by Eric William Morris (Coram Boy, Mamma Mia!)—tries to tame the untamable in a film with a Skid Row budget and decides to introduce him to Broadway, Christiani/Ann stomps on his megalomaniacal ego to do battle royal. She attempts to stop him from the destructive path he's on. She's not there just to do a blood-curdling scream.
"The role requires me to be all the things I've been working for since I was a child," says Christiani. "The singing, acting, and athleticism is all I've ever wanted to do. It's a role I've been preparing for since grammar school. Broadway is every actor's dream and, oh my, I've been twice-blessed. It's really insane. I'm still pinching myself to make sure it's real."
AN EPIC TALE
King Kong, the musical, is adapted by Jack Thorne, the Olivier - and Tony-winning playwright behind Harry Potter and The Cursed Child. Music is by Grammy-winner Marius de Vries (music director for La La Land and the upcoming Moulin Rouge) and Australia's Eddie Perfect (the soon-to-be stage adaptation of Beetlejuice). Directing is Brit Drew McOnie (Olivier-winner for In the Heights), who's also responsible for the show's dizzying choreography. David Caddick (The Phantom of the Opera) is the music director.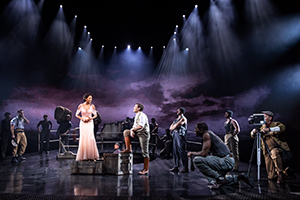 "King Kong is an epic story, but also a really intimate one, about the limits of ambition and the cages we're put in," states Thorne. "Thankfully, in Christiani and Eric, we've two remarkable talents who lead our incredible and multi-talented company."
The mammoth animatronic Kong, designed by Sonny Tildlers and Roger Kirk and movement-directed by Gavin Robins, is created by Global Creatures. The 90' x 27' LED screen, Broadway's biggest, takes audiences on a realistic journey to the New York of the 1930s and on rolling seas to mysterious, uncharted, and aptly-named Skull Island.
There are some powerful, memorable moments in King Kong for some audience members, as when the skyscraper ape decides to check out unsuspecting folks in the front rows. "No one's expecting that," laughs Christiani. "They quickly get so caught up in the show that they think he's real."
Christiani is beginning to feel that way, too. "I thought the more time I spent with Kong, the less realistic he'd be, but it's just the opposite. I see little nuances on his face that weren't there before. Then, there's the way he moves and the way he communicates with me. Kong feels like a living, breathing creature. It's quite entrancing. King Kong is always portrayed as a menace, but he's not a villain."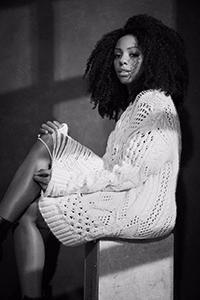 SHOW BIZ IN HER DNA
The daughter of author and TV journalist and anchor Byron Pitts (ABC's Nightline) and TV executive and journalist Lyne Johnson Pitts, relates, "It's quite the show biz family. We're like the Brady Bunch." She has three older sisters, two older step-brothers, and a younger brother. For a while, she and an older sister had a singing group. "She lost the passion for it, but it only grew in me. By the time I decided I was going into theater, the family wasn't exactly shocked. It was like, 'Finally!'"
She began singing at age eight in her church choir in Georgia and continued to sing when the family relocated to New Jersey. By age 11, she was making recordings and appearing in plays. Right out of high school, she was cast in a production of Tim Rice and Elton John's Aida; then, in her sophomore year of college, she was cast in the musical as Aida's servant Nehebka. She also began writing screenplays, which had to take a backseat when she began going the audition route in New York, and when cast in A Bronx Tale. "I love the creative process of writing, and it's something I'll focus on in a couple of months when things aren't so hectic. We just opened, and now we're already preparing for our cast album."
In 2014, in her junior year of college, Christiani says, "I had my first really awesome theater experience performing in Rent." She lost a longtime friend and the Jonathan Larson musical "helped me heal. It was a turning point for me. Theater was my church, my therapy. Now, I'm not putting on shows in our living room. I'm on Broadway, singing, and acting and getting paid to do it. Life is wonderful, isn't it!"