MAGNIFICENT MONTREAL
Memorable Meals and Merry-Making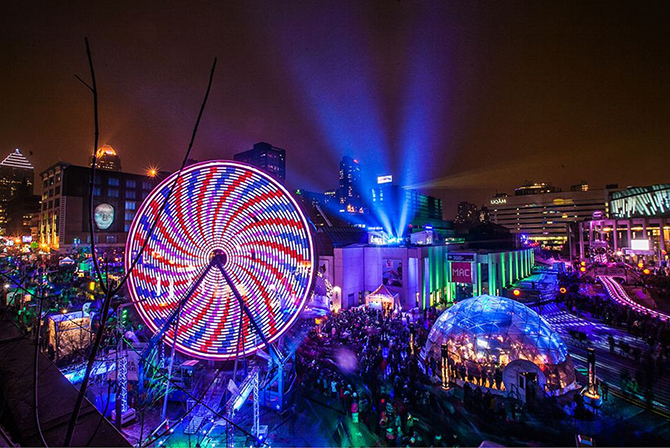 By Ruth J. Katz
I should have known from the moment I unfurled my napkin that my luncheon at Restaurant Europea in downtown Montreal was going to present culinary fireworks for my taste buds.
The waiter presented me with a book to start—but I realized it was not reading material. I flipped up the cover and nestled inside were mignon, snail-shaped, cheese-infused rolls. Next came the three different types of butter to accompany the fancy breads that were later proffered. Arriving after that was a perfect lobster bisque cappuccino, brimming with delicate crème and shaved truffles. The finale of the gastronomic, five-course stage show arrived in the form of a tree-like metal armature, with blossoms of blush-pink cocoons made of light spun sugar—yes, cotton candy. Surrounding the tasty tree, were alabaster-white "rocks," meringue cookies.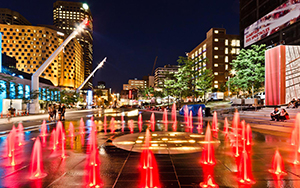 Quartier des Spectacles
CULINARY MAGIC
This was but one of the truly memorable meals I experienced in this bi-cultural commercial (and dare I say culinary) capital of Canada. I had chosen to take my trip during the city's annual and much anticipated Montréal en Lumière Festival, a paean to food, festivities, concerts, and illuminated sculptures and artworks. The downtown area comes to life with staccato notes of neon and LED; the famed Place des Arts in the heart of town becomes the Quartier des Spectacles, the nexus for the event. Founded in 2000, the aim of Montréal en Lumière was to instill a touch of divine madness and culinary.
Hence, one evening I sampled the cuisine at L'Auberge Saint-Gabriel, helmed by highly regarded Swedish-born chef Ola Claesson. For the festival, Swedish-Korean chef Claes Grännsjö of the acclaimed Restaurant Nook in Stockholm was invited to tag-team with Claesson, and the result was a menu with Scandinavian overtones, accented by Korean (seriously!) flavors.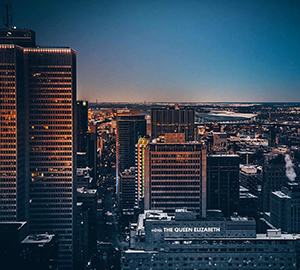 Fairmont Queen Elizabeth Hote
SERVE IT UP IN STYLE
Another culinary stop was the Dominion Square Tavern, a city institution since 1927, and a favorite watering hole (cocktails rock) with hearty fare and a convivial atmosphere. For a truly local experience, Brasserie T, located in a glass rectangle in the shadow of the Musée d'Art Contemporain de Montréal delivers pleasant, toothsome bistro food. Blumenthal Restaurant, also in the thick of the festival's footprint, offers everything from short ribs to veggie burgers and is a perfect jumping off point to enjoy the festival. Lastly, one of my favorite foodie stops was right in my hotel, the Fairmont Queen Elizabeth, newly renovated and a comfy place to hang my hat. The lobby is home to the Marché Artisans, a high-class, beautifully merchandised, gourmet greengrocer/market as well as a home to several diverse dining spots, in an open-plan environment. Food was delicious, handsomely presented, and graciously served.
A trip to Montreal means a quick jaunt to Le Plateau-Mont-Royal area, home to 90-year-old Schwartz's Charcuterie Heraique, the north-of-the-border answer to our own Katz's Deli. Although it was founded by Reuben Schwartz, a Romanian immigrant, today it is owned by songstress Celine Dion. Don't leave the area without sampling Montreal bagels (yes, they are different from NYC bagels, sweeter and less dense), at the two dueling bagel-meisters of Montreal: St-Viateur Bagel and Fairmount Bagel.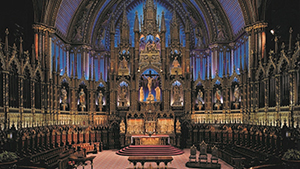 Notre-Dame Basilica
SIGHTS & SOUNDS
Lest it sound like all I did was eat while there, I did manage to take in a heartbreakingly impressive Leonard Cohen (a native son) exhibit, A Crack in Everything, at the Musée d'Art Contemporain. I also ventured to the Montreal Holocaust Museum, where most of the objects, testimonies, and archives are from survivors who rebuilt their lives in Montreal after the war. With hundreds of concerts, shows, theatrical performances, and even circus presentations being staged, I sampled a celestial harp concert sponsored by the Musée des Beaux-Arts and then capped off my visit with the sound and light show Aura, at the Notre-Dame Basilica. This multi-sensory experience by the Moment Factory bathes the church's interior architecture in cascading streams of undulating lights, mercurially dancing on the ceiling and walls, accompanied by heart-stopping music. A fitting flight of fancy as the culmination of my stay.
For more information on Montreal and its cuisine, sights, and festivals, visit mtl.org.
YEAR-ROUND FUN
This metropolis of four million residents mushrooms with tourists—nearly nine million visitors come annually. Given that the city is a mere 40 miles over the US border or a two-hour plane ride from Gotham, it's easily accessible for us. In addition to the Montreal en Lumière, there are even more festivals held throughout the year.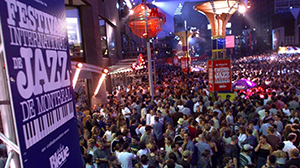 Jazz Festival
• Jazz Festival is wildly popular when hundreds of events are mounted, guaranteed to satisfy any jazz aficionado.
• International Balloon Festival of Saint-Jean-Richelieu stages a magical flight of 125 balloons, performances, and entertainment.
• POP Montreal offers talks, workshops, performances, family activities, craft fairs, visual art, fashion shows, film screenings, and more—again, for the whole family.
• The Botanical Garden hosts an enchanting event, Gardens of Light, in which fanciful and fantastical lanterns are lit at night, glowing in vibrant colors.
• The Black & Blue, where visitors can boogie the night away.
• The Carnaval des Couleurs celebrates musical diversity and is mounted to coincide with Canadian Thanksgiving.
• The Mural Festival, which invites guests to paint the town red or any color they deem appropriate.