CARNIVAL HORIZON
Fun On The High Seas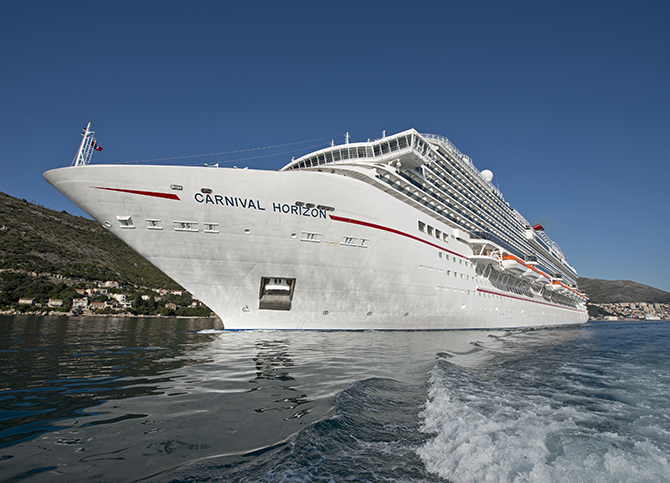 By Morgan Matlock
You can still recall the 80s jingle: an exuberant Kathie Lee Gifford gliding around a Carnival cruise ship singing "In the morning, in the evening, ain't we got fun." Of course, much has changed since then. Kathie Lee is now a fixture in the morning on the Today Show, shoulder pads are definitely out, and cruising is now a way of life. But one thing still remains. Carnival has the fun, more than any other brand. And its new ship Carnival Horizon, which made its U.S. debut sailing out of New York's Manhattan Terminal, continues the tradition.
Every cruise brand has its niche. Some, like the ultra-luxury Seabourn, rivals even David Geffen's yacht Rising Sun for opulence. Cunard, with its fleet of three "Queens," makes an upscale demographic feel, well, royal. And Carnival Cruise Line is America's Cruise Line. Its lively atmosphere thrives on all its ships, whether for a family reunion, bachelor or bachelorette party or girlfriend get-away.
With 26 ships already sailing the high seas, Carnival welcomed its newest Horizon to the fleet earlier this year. It resembles more a floating city with nearly 4,000 passengers. For Winter season it was repositioned to Miami and includes everything—pools, bars, restaurants, nightclub/entertainment, casino, spa, IMAX theater and, a themed water park for kids.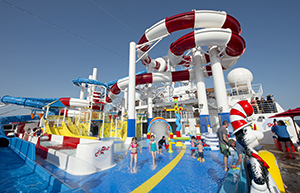 ACTIVITIES
The one common denominator cruise-goersshare a love for is sun and sport, and horizon has that in spades. Whether it's tanning by the pool or lounging with a good book, there are hundreds of spaces for passengers to relax and unplug (although the cruise does offer Wi-Fi, which is surprisingly strong for a ship at sea).
Lazy lounging has never had more options, including the lively Carnival Seaside Theater, a huge outdoor LED screen located on Lido Deck with a bevy of food and beverage options. There's also a Serenity (adults only!) retreat, as well as a Lanai wrap-around promenade.
For the adventurous adult, Carnival Horizon offers the SkyRide, rope courses, pools galore and a ClubHouse at SportSquare featuring mini-bowling, ping pong, video games, arcade basketball, mini-golf, and jogging, among other activities.
And Christmas comes early for the kiddies in the form of Dr. Seuss WaterWorks, a themed water park sitting atop the ship, with a Cat in the Hat tube slide, PowerDrencher tipping bucket, and a SplashZone park.
And that's just on board. Once you dock at your destination, there are myriad excursions available (depending on the port) including scuba diving, skiing, skydiving, hiking and nearly every outdoor activity you can think of.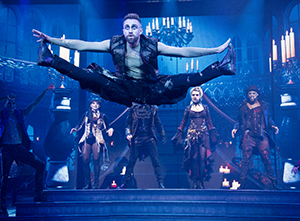 ENTERTAINMENT
Passengers looking for some on-board sizzle also have access to Liquid Lounge, which features a dance club and on-stage entertainment in a space that holds 900. An IMAX Theater, seating 160 guests, plays all the latest movies on a screen that rivals any theater at home, while The Limelight Lounge includes cocktails and stand-up comedy performances. Passengers can channel their inner Baker Boy at the Piano Bar 88 though those wanting a more intimate, clubby ambiance have access to The Library Bar.
The evening comes alive at the Havana Bar, a Latin-themed nightspot. Meanwhile, lounge lizards wanting to stay in the sun refusing to go indoors can quench their thirst at the Red Frog Rum Bar and the Blue Iguana Tequila Bar.
Last but not least is the Winner's Luck Casino, where guests can pull the slots and spin the wheel to their heart's content.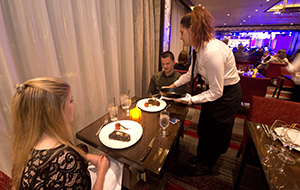 FOOD
Any good cruise offers its passengers options, and Carnival Horizon rivals any on the sea. Its Lido Marketplace is a supermarket of scrumptiousness. Pizzeria del Capitano can satisfy even the most hardened New Yorker, while Guy's Burger Joint (created by celebrity chef Guy Fieri) offers ground sirloin with all the fixings.
Those favoring Italian will get amore and then some at Cucina del Capitano, which offers delicious entrees (the penne is particularly delicious) and wine. Add to your options the Ji Ji Asian Kitchen, Java Blue Café, milkshakes at the Shake Spot, New England-inspired fare at the Seafood Shack and the full-service Bonsai Sushi.
Best of all is Fahrenheit 555, a Michelin star-quality steakhouse with the choicest cuts of meat and vintage wines that last all night.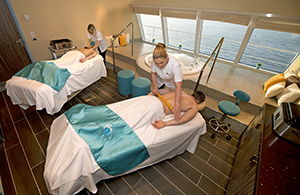 SPA
There's nothing quite like a serene massage; add in an ocean view and the experience is tenfold. The Cloud 9 Spa features virtually everything from a Thalassotherapy Pool, Ginger Salt Body Scrubs, to Pro-Collagen Grooming Treatment with Shave. This plus Steam Chambers, Infrared Saunas and an indoor cycling studio will revive your body and soul.
Clearly, Kathie Lee wasn't wrong. Indeed, if your friends could see you now.
For more information on the Carnival Cruise Line, visit carnival.com.