MIAMI'S HOTEL JULIA
A Work Of Art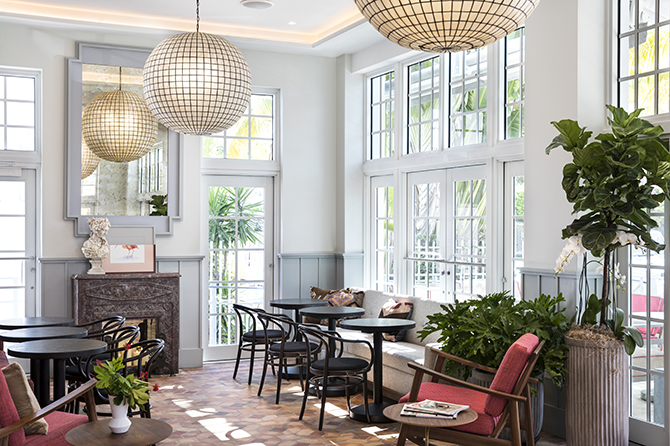 By Gretchen Kelly
One of my favorite classic films is Notorious with Ingrid Bergman and Cary Grant. In the film, Bergman's character, a woman of "loose morals" and louche friends (including the dapper Grant) lives in a South Beach bungalow, fronted by waving palms where she gives great parties and says things like, "the important drinking hasn't begun yet." There are stuffed marlins on the walls, rattan chairs on the porch and rum and cokes all around.
Those days might be over in Miami, but the intimate boutique Hotel Julia calls them back. The Julia is in SOFI (South of Fifth) and bills itself as an "adults exclusive boutique hotel." It's on a quiet street (if Miami can ever be called "quiet") about a block from the beach where you can find Julia-branded beach chairs and a special area to call your own.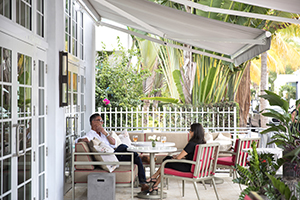 The Julia - Patio
THE GOLDEN ERA
The Julia is named for Julia Tuttle, a shrewd businesswoman who came to Miami in the 1880s and invested in the real estate so she could sell it back when it became the hot destination. Known as the Mother of Miami to some, Tuttle died before the Art Deco era. Today, the hotel—a Golden Era treasure of the 1930s—features entire, original tile floor in the lobby (the part that reminds me most of the Bergman/Grant film).
Designer, Steven Busto has created an intimate, personal space in the airy lobby and guestrooms, that blends out to the relaxing patio in front of the hotel where complimentary wine and cheese mixers are held every day as the heat of the city relaxes its grip and travelers get loose, relaxed, and in their white linen and backless dresses.
Artwork is everywhere: Step back in time to grand old Miami as if you are entering into the private property of the proclaimed Miami founder. In the lobby, mysterious paint-dipped Tuttle family portrait gallery illustrates a surreal portrait of an imagined Grande Dame of Miami, to the collection of mid-century art in the feature staircase. The Julia Hotel incorporates the rich history of Miami in a modern and intriguing way.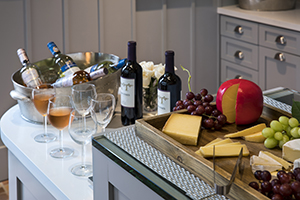 A PLACE TO ESCAPE The storytelling continues in the guestrooms with paper cutouts in the style of Matisse, by Canadian artist, Edward Bader, featuring faceless vacationers floating in serene pools of color. The five featured two-story Ibis rooms each have different installations in their twenty-foot tall ceilings. One room creates a swarm of Miami blue butterflies by Kiyoto paper artist Yumiko, and another features parasols dreamily floating away on an imagined Miami tropical breeze.
The rooms are a place for you to escape and dream. A place for you to brainstorm and create. I had an atrium room on the ground floor which featured slatted window shade to keep the sun from heating the room, and a floating paper sculpture that looked like green seaweed.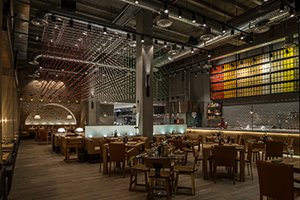 The Cibo Wine Bar
WINE & DINE
Venture out and get to know SOFI, once considered a bit quiet and too residential for tourists but that's changing rapidly. Tons of great restaurants and good nightlife fringe the area, close enough to walk to and from The Julia. The Cibo Wine Bar, for instance, is a popular bistro with a beautiful rooftop bar and a flying "wine angel" hangs from a sling in the restaurant's glass cellar flying up to the rafters to get you that bottle of Pinot Noir or Malbec. The Big Pink, is another area favorite, a retro-feel comfort food restaurant that's great for breakfast or brunch and which is decorated in flamingo touches of Miami blush. They even have their version of a TV dinner featuring daily specials on a stainless steel tray and their cocktail list includes lots of entries with things like fresh ginger and pomegranate juice used to great effect with rums, gins, and vodkas.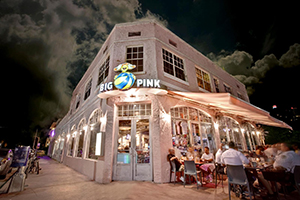 The Big Pink
At night, my favorite thing to do was to emulate Ingrid Bergman and enjoy meeting new friends over a glass of wine. In the mornings, I made sure I was down to the lobby for a homey breakfast of assorted pastries, coffee—and the most delicious homemade bread served with graciousness and smiles.
Although no Cary Grant ever showed up, it hardly mattered in such an elegant and easeful residence (however temporary).
For more information on The Hotel Julia, visit thejuliahotel.com.