CAPE COD
Thanksgiving With The Pilgrims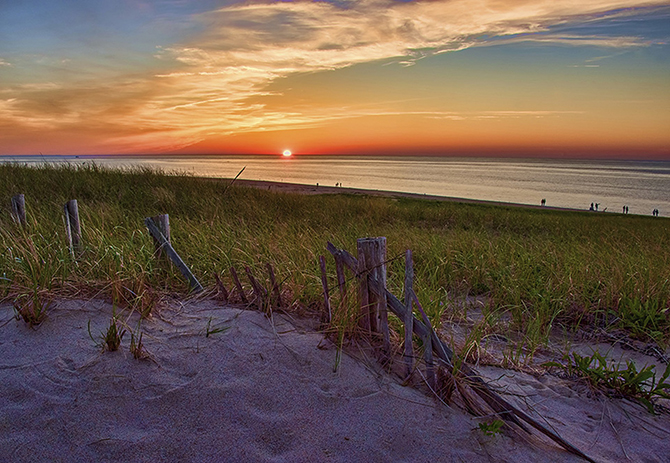 By Laurie Bain Wilson
So, the Pilgrims didn't first land in Plymouth. They first debuted in Provincetown, aboard the Mayflower, in 1620. And there is no better place to celebrate Thanksgiving than on Cape Cod. It's a special time of year on the Cape—some refer to it as the shoulder season, but locals call it barstool season, when they can reclaim their favorite seat at the bar again after the frenzied summer season. You'll have the strands to yourself for moody beach walks, and the darling shops in pretty towns like Chatham are ideal for holiday shopping.
The peninsula's communities all distinguish themselves in some unique way. History buffs and those interested in that rock, might start with a detour to Plymouth to also see Plimoth Plantation Museum before they arrive at Cape Cod itself, then follow historic Route 6A from Sandwich (the Cape's oldest town); houses lining this twisting road range from Colonial to Victorian in style. The tiny village of Woods Hole is the ferry point for Martha's Vineyard and home to the world-renowned scientific community, and represents one of the hipper enclaves on the Cape, with laid-back restaurants and watering holes. Old money has claimed the coastline along the Nantucket Sound, from Falmouth to Hyannisport, but there's no charge for gazing at these seaside estates.
Route 28 east of Hyannis is where you'll find pretty Harwich Port. Continue and you're at Chatham, at the Cape's "elbow," with its quintessential New England seaside village flavor. Then, of course, there's Provincetown at the tip of the Cape. It is, after all, the spot where the Pilgrims first set foot in the New World.
The islands—Nantucket and Martha's Vineyard—are worlds unto themselves. They offer all the advantages of modern-day life (Nantucket's restaurants, in particular, are world-class). Once you venture past the well-preserved whaling towns of Nantucket on Nantucket Island and Edgartown on Martha's Vineyard, you'll discover scrub-oak forests and perfect strands, with only a few fellow escapists for company.
In fall, the foliage casts a fiery glow across the marshlands and inland hills, and the cranberry bogs gleam with fruit. There's no pleasure so great as walking off a lovely Thanksgiving dinner on a quiet beach on a chilly autumn afternoon. Gobble up these ideas for a memorable Thanksgiving on the Cape and Islands.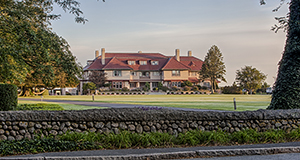 Ocean Edge Resort
WHERE TO STAY
Sea Street Inn This meticulously-kept modern luxury inn with three guestrooms and two suites, has raised the bar for Cape Cod hospitality. Expect an experience, not just a stay, thanks to owner Adrian D'Ambrosi. The Wall-Street-investment-research-analyst-turned-culinary-chef (his pedigree includes working with Jean-Georges Vongerichten) will spoil you with a lobster roll upon check-in and a gourmet breakfast that he prepares daily in his designer open-kitchen. His wife, Xenia, is the brains behind the inn's surprise elements of nature—a framed photo of a flower, for instance, presents a pop of color that is so striking, passersby who glimpse it through the window stop to take photos. The inn is a lovely walk to the beach, as well as to the Kennedy Compound. Perhaps one of the most compelling reasons to visit Cape Cod this Thanksgiving is to experience this inn. Info: seastreetinn.com.
Ocean Edge Resort and Spa A stunning mansion by the sea with 429 rooms, including townhouse accommodations, you'll also find a fabulous spa, indoor swimming pools, and stirring sunsets over the bay. Thanksgiving brunch will be served in the Ocean Terrace. Did we mention those sunsets? Info: oceanedge.com.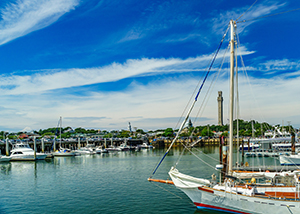 Provincetown Marina and Pilgrim Monument
Chatham Bars Inn Stay at this historic 217-room resort (it dates to 1914) and you can conveniently walk into the darling town of Chatham, as well as to the Chatham Fish Pier and beach. Book a spa suite or a cottage (with fireplace) or a room right in the inn. Nice: Cranberries, herbs and produce are locally-sourced from the resort's eight-acre farm. Info: chathambarsinn.com.
Eben House A Provincetown gem, this 1776 sea captain's house (Captain Eben Snow) is done up with 18th-century portraits hanging at every turn—but these portraits were commissioned by a local P-town artist who has painted playful portraits of the Snows. The rooms are darling—and daring with those portraits hanging on the wall—and don't sleep in or you'll miss worth-getting-up-for morning repast in the cozy breakfast room. Info: ebenhouse.com.
Coonamessett Lark Hotels reimagined this popular and historic Cape inn earlier this summer and you'll find Lark's signature all over it—whimsical maritime décor with an appreciation for the inn's storied past evident in spirited Eli's Tavern. Info: the coonamessett.com.
Cape Codder Resort Got kids? This Hyannis resort makes a splash with an indoor water park. There's also a year-round outdoor heated pool—and a spa, too! Info: capecodderresort.com.
Wequassett Resort and Golf Club You'll give thanks for your stay at this upscale 120-rooms and suites resort (many with bay views) in Harwich. Bonus: Thanksgiving dinner is served at Twenty Atlantic restaurant here. Info: wequassettresort.com.
WINE & DINE
The Lobster Trap An uber-popular year-round restaurant in Bourne with standout lobster rolls and feel-good scene. For an autumn meal, order the Macadamia and Cranberry Crusted Sea Scallops with Root Vegetable Risotto and Spinach. Info: lobstertrap.net.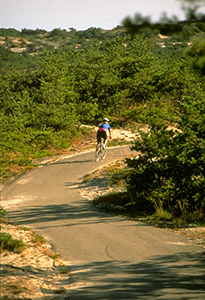 Cape Cod Rail Trail
Chillingsworth in Brewster was a favorite of Julia Child. She adored the oysters served here in a restored late 1600's house. For a more casual meal, hit Chill's Bistro and Bar. Info: chillingsworth.com.
Fanizzi's You can't get much more waterfront than this low-key beauty in Provincetown. Snag a window table, and you'll have the ocean as the perfect side dish to accompany your Provincetown Fisherman's Fried Platter. Info: fanizzisrestaurant.com.
The Red Inn A beloved Provincetown restaurant (and inn), this waterfront spot will be serving dinner on Thanksgiving, so you can toast to the Pilgrims with a Cape Codder and dig into grilled lobster tails, Wellfleet Oysters, Seafood Cakes and other fish-and-seafood specials. Info: theredinn.com.
Bayzo's Pub This handsome pub in the Ocean Edge Resort is where you want to go to catch a football game and enjoy great pub fare like the Signature Bayzo's Burger and Cape Cod Mussels. Info: oceanedge.com.
Thoreau's Channel Thoreau while seated in a clubby chair by the fireplace at this smart-looking pub in the Wequassett Resort—perfect for a transcendental convo (or sports) and sips. Info: wequassett.com.
Chatham Squire In the heart of Chatham, you're guaranteed a lively, in-crowd at the bar (there are tables and booths, too) and excellent fish sandwiches, chowder and brews, too. Info: thesquire.com.
Stars Tucked inside the Chatham Bars Inn, feast on a splashy Thanksgiving buffet including smoked fish displays, caviar, roast turkey, slow roasted prime rib and more—and water views to swoon over. Info: chathambarsinn.com.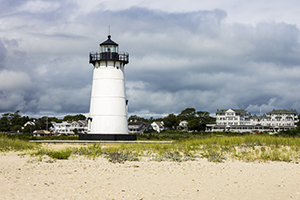 Martha's Vineyard Lighthouse
WHAT TO DO
The Annual Lighting of the Pilgrim Monument This annual event in Provincetown is a favorite Thanksgiving weekend tradition with music and refreshments and a holiday season kick-off. The towering 252-foot monument is lighted with more than 3,000 landing lights that shine through January. This year, the lighting takes place on November 21st from 5 to 7 pm.
Turkey Trot A Thanksgiving tradition in many towns across America is to run a morning Turkey Trot. The Cape is no exception. The towns of Chatham and Sandwich both host turkey trots.
Cape Cod National Seashore Mother Nature blessed New England with the Cape Cod National Seashore, a stretch of 40 miles between Eastham and Provincetown. Bundle up and walk one of the many self-guided trails. Info: nps.gov/caco/index.htm.
Biking Bring your bicycles—and bike the miles of picturesque cranberry bogs, marshes and forest. You can bike the Shining Sea Bikeway in Falmouth, a ten mile stretch that runs from Woods Hole to Falmouth. Or, the Cape Cod Rail Trail, a 22-mile trail from to South Dennis to Wellfleet.
Cruise Route 6A Also known as Antiques Alley, this lanky necklace of road dangles through some of the Cape's prettiest villages like, flanked with antiques shops.
For more information on Cape Cod and its Islands visit capecodchamber.org.