ALL ABOUT FRENCH WINES
How To Navigate A List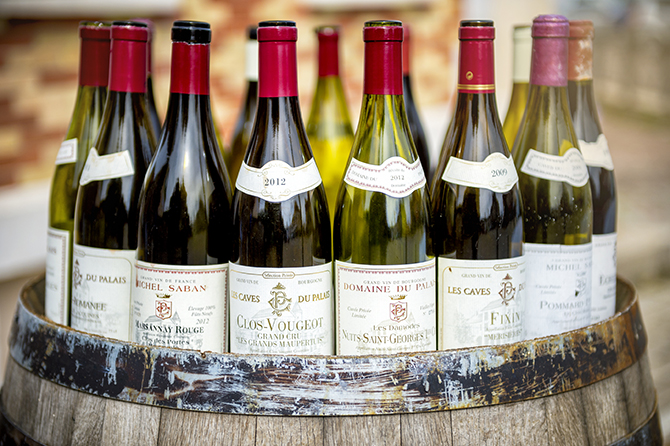 By Tina & T.J. Mulqueen
Step into any restaurant touting a respectable wine list, and you'll be met with a list of wines that seem to blur together into oblivion before you nervously settle on that good old dependable California Cabernet.
Before we got serious about wine, we found these wine lists daunting, particularly from regions with hard-to-pronounce selections, like France. So, if like us, you find yourself pointing at your French wine selection on the restaurant wine list without much basis for its selection apart from its price point, this article is for you.
We recently went to France to navigate our way through the wine list in person (because somebody had to do it!). Here's all you need to know.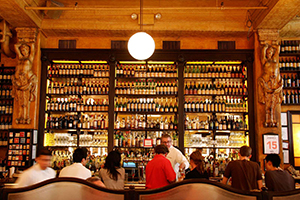 Balthazar New York
CHÂTEAUNEUF-DU-PAPE
Most wine lists at high-rated restaurants will have at least one bottle of Châteauneuf-du-Pape (CDP). The good news is, you can't go wrong with a selection from this region, and that's by design. There are strict rules in place for the cultivation and treatment of grapes to ensure the quality of the wine, regardless of the house from which you drink. These wines are wonderful aged, and will present with licorice, light acids, and a truffle or woody, rustic flavor.
These bottles generally have high price points due to the strict adherence to quality, and also the history that accompanies this region. Châteauneuf-du-Pape is literally translated as "new castle of the Pope"; it's where the Pope built his summer home when the Papacy had shifted from Rome to Avignon in the 14th century (the reason for the move is replete with conflict and scandals including "antipopes" but let's leave that for another day - suffice it to say, even though the history of CDP is rather tumultuous, they eventually left us with incredible wine). I would argue that any CDP on your wine list is going to dazzle your senses and make you feel like you're tasting what a Pope might select.
Vacqueyras AND GIGONDAS
Just north of Châteauneuf-du-Pape, these wine regions have their own signature and style much like their southern neighbor. Vacqueyras (vock-ehr-ahs) may not have the street cred of Châteauneuf-du-Pape or Gigondas with "only" four hundred years of wine production but there is something to be said for this new kid on the block. These wines taste similarly to their neighbor, Gigondas, with spice and red berry overtones but with a lower price point.
Gigondas can be considered the mature brother to Vacqueyras. With that maturity comes big, bold red wines that you've undoubtedly seen grace the menus of many discerning restaurants. Any of the wines from this region will please your palate, with a bouquet of flavors that can range from blackberry or blackcurrant to white pepper and licorice. It's what you might come to expect from a wine region that has been producing since Roman times (or so says our friend Marie who drove us around the region and spoke "Google translate" English).
CÔTES DU RHÔNE
From the same region as the higher-priced and more famed designations of the Rhône Valley, Côtes du Rhône wines share characteristics with these more renowned territories and can be quite good for a much lower price point. (In fact, Châteauneuf du Pape, Gigondas and Vacqueyras are all technically Côtes du Rhône wines, but their high-level "Crus" distinction allows them to be named for their respective villages, dropping "Côtes du Rhône" from the label.)
Often, "by the glass" French selections on a restaurant wine list will be from Côtes du Rhône, but not all of these wines are created equal. The Côtes du Rhône distinction has specific designations within it, depending on the level of care put into the wine-making process. Simply put, the plain "Côtes du Rhône" designation has the least stringent rules, followed by Côtes du Rhône Villages. If the label names a particular village, that's a sign that it's elevated in the hierarchy.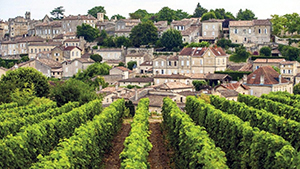 Bordeaux
BORDEAUX
One of the most recognizable wine regions in the world, Bordeaux produces millions of cases of wine a year and distributes worldwide. This is the wine region where people often talk about "Left Bank" and "Right Bank." The left and right banks are formed by the Gironde estuary at the meeting of the rivers Garonne and Dordogne just downstream of central Bordeaux. At its most basic (and I'm taking liberties here) Left Bank is dominated by Cabernet Sauvignon, and the Right Bank is dominated by Merlot. That's not to say that Bordeaux doesn't produce fantastic white wine, but the lion's share which is north of 90% is red and holds primacy over the production.
For the taste, trust your palate. If you like Cabs, go for Left Bank wines, if you like Merlots, go for the Right Bank. With bright red fruit, medium body and a long finish, you can't go wrong with these wines.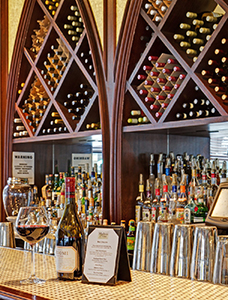 Library Hotel NY
BURGUNDY
Located in east-central France, Burgundy is renowned for its use of Pinot noir and Chardonnay. Like the Côtes du Rhône distinctions, Burgundies have their own spectrum of designations that are meant to convey quality. At the top of the hierarchy are "Grand Cru" vineyards, followed by "Premier Cru," then village appellations and, finally, regional appellations. Unlike Côtes du Rhône, however, the designations for Burgundy are more heavily based on the terroir, or the soil/climate combination, of the particular appellations.
For those that gravitate toward like lighter-bodied, dry red wines, Burgundy reds are a great choice. The familiar earthy notes of American Pinots reveal themselves in these wines but do not drown out the signature of Burgundy wines which is purely French. Floral aromas along with scents of truffles and rose petals give way to flavors of raspberries and cherries, but only lightly so. These are not the meaty wines you'll experience farther South. Burgundy is a softer expression of French wine and a crowd favorite.
While these regions are just the tip of the iceberg when it comes to French wines, they're some of the most common you'll find on a French wine list. While there's plenty of knowledge here, don't get too wrapped up in the details and go where your palate takes you. Enjoy navigating your own way through the regions of France.