PAWS DOWN, TAILS UP
Essentials To Keep Your Pet Safe & Secure
By Lori Zelenko
The Holidays are upon us. Family obligations pulling you in frazzling directions? Or thinking it's time for a quick getaway to somewhere not too far and not too exotic? Contemplating a jaunt to a place that's fun not just for you but for your four-legged best friend too would be the perfect getaway? Or maybe it's a staycation that's calling your name.
Wherever you go, whatever you decide to do, we've got the travel tips that will make getting there and being there with your pet so much more enjoyable. From the safest pet carriers to how to make the most of a road trip, options abound. We even asked a pet travel pro, Amy Burkert (author of The Ultimate Pet Friendly Road Trip), to contribute a tip or two. Read on to learn the best way to travel with your pet not only stylishly but safely.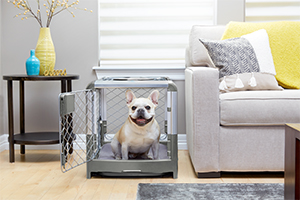 LIFE TOGETHER MADE BETTER
motto of Diggs Revol the revolutionary ergonomic crate that's strong and sturdy but great looking and uber-safe (best for pets under 30 lbs.). We love the way it folds up into a practical, rollable, flat, suitcase-sized unit. Great to keep open in the back of the car to stow your pet safely when you hit the road for a trip that's short or long. And equally terrific to have on hand when bringing a four-legged guest, an extra pet "home" definitely comes in handy. So get prepared and get going to somewhere you've always dreamed of visiting with your fur buddy. Info: dig.pet.
Diggs Revol is the collapsible crate that is safe, practical, and attractive. It's an innovation that's sleek and necessary.
---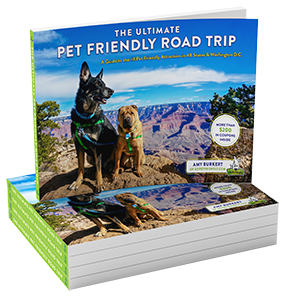 HITTING THE ROAD
Imagine having a personal guide to nearly 50 of the most pet-friendly destinations you can get to by car? Or in part by plane. Who knows one might be near those relatives you need to visit over the Holidays. Amy Burkert, the founder of Go Pet Friendly and author of The Ultimate Pet Friendly Road Trip takes you away with "a pet lover's bucket list," 200 breathtaking photos with endless practical tips and advice help you plan a trip that's sure to be an unforgettable experience for you and your pet. Info: book.gopetfriendly.com.
Travel pro Amy Burkert's The Ultimate Pet Friendly Road Trip guides you to some 49 destinations. This fun book should be on every pet lover's bucket list.
---
TAKE PAWS: TRAVEL PRO'S PICKS
favorite pet travel musts. A true pet travel pro, she's spent more than eight years exploring America's highways and byways with her husband and their two dogs.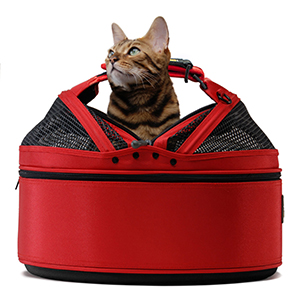 Sleepypod is three products in one: everyday bed, travel carrier and car seat. Eases travel anxiety with familiarity, perfect for cats or small dogs.
• Among her favorites are Sleepypod. Their harnesses and carriers are not only beautifully constructed, but they're crash-tested and will keep pets safe on the road. What's unique about Sleepypod is that it is actually three products in one: an everyday pet bed (great for travel as it's familiar, so less anxiety for your pet), a stylish carrier, and a safe car seat. Note that the top of their round colorful travel case (perfect for cats and small dogs) unzips so the base is a bed perfect for sleeping once you've arrived at your destination. They also introduced their fantastic Go Bag this year, and their Yummy Bowls are super for traveling in the car. Info: sleepypod.com.
• Taking a break to stretch your legs? And let your four-legged best friend get some fresh air as well? Amy recommends the Freedom No Pull Harness from 2 Hounds Design. But there is an entire rainbow of color combinations not just for the harness but for their collars and leashes too making your dog surely the snazziest on the road. Info: 2houndsdesign.com.
---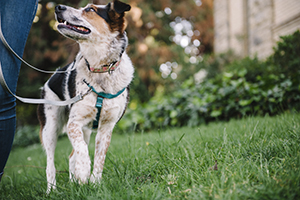 STROLLING AROUND TOWN
For the pet that's portable enough to tote around town with ease or take on a weekend adventure, there is The Django Carry Bag in waxed canvas and leather. Your pup is safe and secure in this one with an interior bag to harness tether not to mention a soft and sturdy footpad. But for people like me who are always scrambling for a phone or lost keys, you've got to love their four exterior and interior zip pockets great for essentials (poop bags, sunglasses, etc.). Plus Django's Carry Bag comes in three practical but fashionable colors: Olive Green, Navy Blue and Black. No dog left behind with this color scheme. Info: djangobrand.com.
2 Hounds Design Freedom No Pull Harness is available in a rainbow of colors. A road-trip must according to pet travel pro Amy Burkert founder of Go Friendly Pet.
---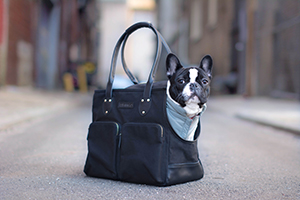 PRADA-STYLE CHIC
City or country, when your pet runs out of steam it's great to have a back-up that's portable and practical, we love the City Gypsy Wristlet Pet Carrier not just because it comfortably and safely holds Fido or Fifi but because it folds into a compact wristlet bag that fits easily inside your tote or suitcase. Its Prada-like style makes it a fashion-forward choice with pockets to hold your necessities and your pampered pet's must haves. We're impressed that something so chic is completely eco-friendly from fabric to packaging. Plus, City Dog Co. also donates 10 percent of their proceeds to local organizations focused on animal welfare and rights. Info: citydogco.com/products/city-gypsy-pet-wristlet-carrier.
The Django Carry Bag is practical and fashionable in waxed canvas and leather. Perfect for weekend adventures or just a city stroll with your fur buddy.
---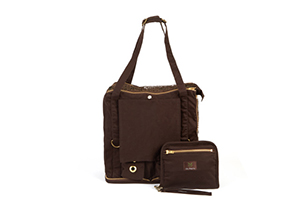 CRASH TESTED—PET APPROVED
Peace of mind while you are driving does not come with an unrestrained pet. Much as we love our furry friends and want them by our side at all times, keeping them safe and secure in a comfortable pet carrier is a must. Gen7Pets is on a mission to make every car ride a safe one, after all their Commuter Pet Carrier has the highest crash test rating from the Center for Pet Safety; it also features a seat-belt latch to hold the carrier in place (among a host of other safety features. Gen7's Commuter carrier is also a good choice for air travel, its sturdy frame really does keep your pet feeling safe and secure. Info: gen7pets.com.
City Gypsy Wristlet Bag is as eco-friendly as it is chic with extra pockets for essentials. Zips closed to fit in your bag or suitcase, zips open to carry your pet.
---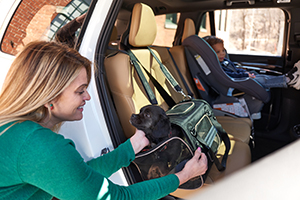 WITH A WOOF AND A PURR
As Amy Burkert, sums it up, "Vacations are good…but vacations with pets are better." No matter where you are going or even if it's a staycation, let us know how you're planning for a safe, happy, and healthy time together with your pet. We'll send you a travel gift to enjoy! Follow us on Instagram to enter to win: @petlifestylesmag.
The new Gen 7 Commuter pet carrier has a five-star safety rating. Sturdy and exceptionally safe for car or plane travel. Securely straps in with a seat belt.