TIME OUT WITH…
Jeff Kimmel, Attorney at Law
By Bailey Beckett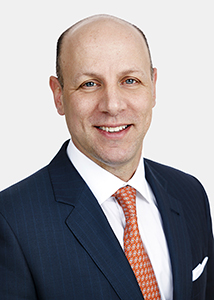 Jeffrey Kimmel is a laid-back, affable guy… off hours. At Midtown's Davio's restaurant, the lawyer is quick with a joke and smile. But that belies his litigation prowess. Kimmel's mastery of the law and aggressive advocacy of his clients has made him one of the most admired—and feared—in the courtroom.
AT THE TOP OF HIS GAME
Recently made partner at Akerman LLP, one of the city's most respected firms, Kimmel is known for his work with start-up companies like Viber, a voice over IP phone app that competes with WhatsApp sold to a Japanese conglomerate for $900 million; and Juno car service, a New York-based Uber competitor recently sold to Gettaxi. New York Lifestyles caught up with the legal eagle to get his perspective on an ever-shifting legal landscape.
Describe your area of focus.
My main focus is employment law—generally representing employers, but also representing executives in contract negotiations. However, in addition to my employment law practice, I represent and have represented some start-up technology clients, many of which have been very successful.
Why did you go into the specialty?
During law school, I took a job working for a plaintiff-side employment lawyer. I found the practice area to be really interesting.
What do you find most exciting and most challenging?
One of the great things about employment law is that it is continually evolving. Another great thing is it has a direct bearing on people's lives. The issues are not "ivory tower" legal issues, but rather have an immediate impact on the industry, workers, etc. Also, the fact patterns can be more interesting than, for instance, a breach of contract case between two large companies. Although, those can be interesting too.
What are the big issues you are seeing/facing of late?
Naturally, the #MeToo movement over the past year or so has generated a lot of cases. Additionally, new laws have been passed to deal with sexual harassment in the workplace, which require employers to take immediate action to comply. In addition to the sexual harassment issues, another major problem in employment law is the on-demand economy and whether workers are to be classified as employees or independent contractors, or some other classification of non-employee. That is the issue in most of the large class actions I defend—proper classification of works.
You have represented employees against big companies and vice versa. Which is easier?
I have done both. Nothing is easy. It is a case by case question. Sometimes you have good facts or law on your side, and sometimes you do not.
What is the best advice you can give each party before litigation?
Avoid litigation if you can. If you can't—go hard. If you can't afford to go hard, avoid litigation.
What should people know about employment law? It is complicated. Always seek the advice of a lawyer.
Is Human Resources an employee's friend or do they serve to protect the company?
Many good people work in Human Resources who care about the workers in a company. Whether HR is looking out for the workers or the company management depends in large part on the culture of the particular company. But if you are an employee, you cannot just assume that HR is there to help you.
What is your life motto?
I have few: 1) Don't try to control everything or you will go nuts. You can control some things, but sometimes you have to adjust to the path that is in front of you. 2) Treat people the way you would want to be treated. 3) See rule 2, but in words of Patrick Swayze in Roadhouse, "Be nice until it's time not to be nice."
What do you do to relax?
Family. Practicing law—it relieves the stress caused by my golf game. Also, Scotch helps.
For more information on Jeffrey Kimmel, visit akerman.com.