HOLIDAY GIFT GUIDE 2018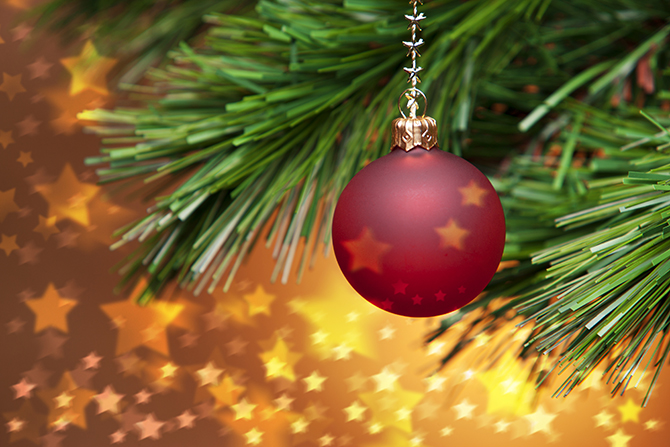 By Griffin Miller
Luxe or practical, these gifts will send just the right message to the people you want to remember this year. Our elf scoured the market for the perfect holiday ideas—tough to shop for him, your wellness-obsessed friend, sophisticated boss, and many more. Sort by interest or browse until you've checked everyone off your list!
---
FOR HIM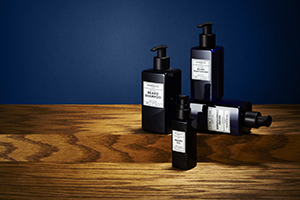 BEARD BRAVADO
Guys with beards take them seriously… they are, after all, a part of them. But as much as they love having them, their beard maintenance can (and often is) slapdash: trim and wash as needed. Thankfully, there's Murdock London, a British company dedicated to male de-scruffication. Their "How To Beard" products, from shampoos and moisturizers to nifty beard brushes will have even the die-hard unkempt looking polished – beard-wise. Info: murdocklondon.com.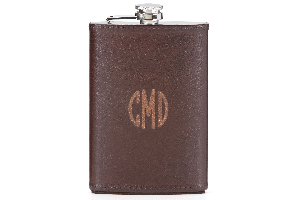 CLASS SANS GLASS
It's something James Bond would own for those times when martinis just won't cut it, and all the private clubs are closed for the night. The Reed & Hudson™ Leather Flask is refined without being stuffy: the mottled brown leather is ruggedly masculine, and because personalization is available (and awesome), there's no chance 007 will scoop up yours by mistake. Your Johnny Walker Blue is safe… for now. Info: reedandbarton.com.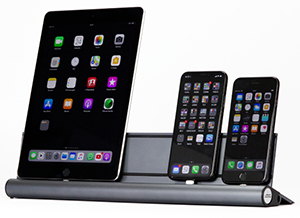 TOUCHING BASE
It's finally here—a universal docking station for (wait for it…) all mobile devices. I'm talking Apple, Andriod, tablets, smartwatches, stuff that hasn't been invented yet… all together in a one-size-fits-all charging portal thanks to the creator: udoq. And the stations are adjustable to any height to give you a solid read on your digital life. Depending on your needs there are four versions, the largest fitting up to 12 devices. Cool. Info: udoq.com.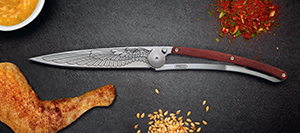 ETCHED TO IMPRESS
Of all the potential gifts I've checked out this season, there's one that took my breath away: Deejo Pocket Knives. Nothing like a multi-function Swiss Army knife, Deejo's blade stands alone: lightweight and a work of art, available plain or "tattooed" from a jaw-dropping assortment of designs. Or customize to your own whims & passions. Ultra-strong, the knives' handles come in various woods, colors or minimalist/naked. Info: deejo.com/en/.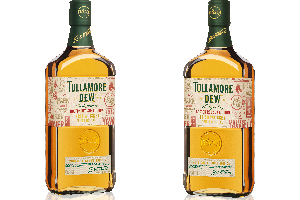 TEAM SPIRITS
Fact is, triple-blend/triple distilled Tullamore D.E.W. Irish Whiskey is so smooth and balanced that more than a few non-whiskey drinkers have become converts. That said—and avid Yankee fans may want to stop reading here—Tullamore is the Official Irish Whiskey of the Boston Red Sox and at the moment it's being offered in a Boston Red Sox Limited Edition bottle. The perfect offering to a Red Sox fan (there are some in NYC) or as a friendly nudge to a World Series survivor. Info: tullamoredew.com.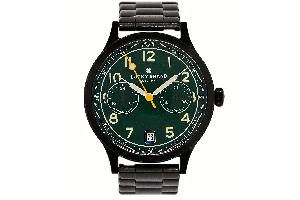 TIME HONORED
With so many watches to choose from it's nice to find an eye-catching style that works for all kinds of men. I can see college students loving this timepiece as much as their grandfathers.
It's officially called the Jefferson Multi Black Watch and its attractive looks are enhanced by practicality since its features include a world clock and date on the face as well as a multi-function movement. Most excellent. Info: luckybrand.com.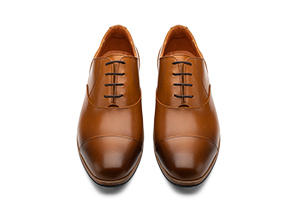 IT'S SHOE TIME!
And you thought sneakers were the only shoes out there. Sorry to disappoint, but Wolf & Shepherd's extensive dress wear collection of wingtips, monkstraps, loafers and chelsea boots were created by former athlete Justin Schneider who clearly took his cue for comfort from his sneaker-wearing days, using proprietary running shoe technology in his designs. Shown here is, the Closer, a classic oxford lace-up with a burnished cap toe. No more high-tops at weddings: win-win. wolfandshepherd.com.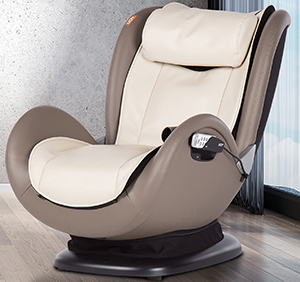 WE'VE GOT YOUR BACK
It's the Rolls Royce of dude chairs custom made for a soothing sit down session après workout or game with the guys. Simultaneously targeting the back and the glutes, this aptly named Back and Glute Massaging Chair, simulates a first-rate therapeutic hands-on massage—only unlike a massage therapist you control the rollers and nodes for a customized experience. It even features a USB charging port. The ultimate… plus its scoop design is amazing. Info: hammacher.com.
---
FOR HER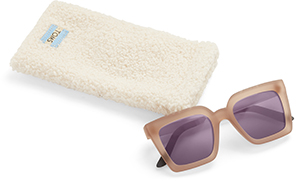 PURPLE HAZE
Glam, but not too glam; edgy, but not over the top. Just the most striking sunglasses I've chanced upon and, okay, coveted. TRAVELER by TOMS Zuma Matte Smoke Lilac—who knew the outdoors would look so cool bathed in lavender? Extra pliable because of their special SOLAFLEX construction (great for me and others who are relentlessly tough on eyewear) and featuring 100% UVA/UVB protection. Info: toms.co.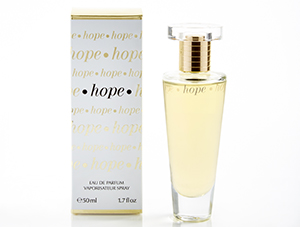 FLOWER POWER
Quintessentially sophisticated, layering lush white flowers—lily of the valley, gardenia, tuberose and jasmine—Hope Eau de Parfum, Body Crème and Scented Candles have a fresh, nuanced quality that captures the spirit of its namesake. Worth noting: 100 percent of the company's net profit goes to the Hope for Depression Research Foundation. Also check out the backstory—and the uplifting products. Info: hopefragrancesint.com.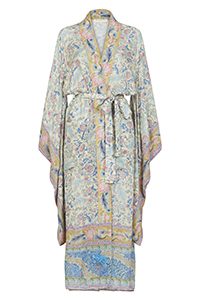 WRAP ARTIST
How nice to get the absolute perfect gift: no hints; no demands. Someone just knew. For all its luminous beauty (the print was inspired by 18th century Indian linen), Spell & the Gypsy's Oasis Maxi Kimono has a versatility that can take it from poolside to boudoir to statement-hostess-with-bodysuit-and-stilettoes. The company even suggests it go grunge –preferably over a torn tee and distressed jeans. Make it happen. Info: shop.spelldesigns.com.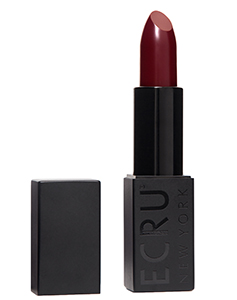 KISS KISS
For the mistletoe minded: ECRU New York's Velvet Air Lipsticks in ten killer shades including my picks for the New Year, Plumberry and Mullberry. This line not only gets you Lady Gaga pucker perfect, it follows my personal must-have guidelines: gluten and paraben free; lightweight, glides on smoothly; long lasting. And there's an added perk as well: if you swipe your finger across your lips, the satin finish transforms to matte. ecrunewyork.com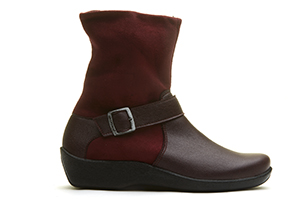 STYLE TO BOOT
When I discovered Arcopedico footwear it was like finding a soul mate…sole mate? Either way, that's saying something since my feet are, to put it kindly, challenged. But this company, founded in Portugal, has given my feet arch support, unprecedented comfort and on-trend good looks. There are many designs, but shown are their burgundy Runa Boots, simply because they're guaranteed to steal the show at holiday get-togethers. simcofootwear.com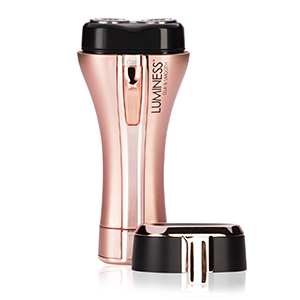 SLEEK UNLIMITED
Practical presents may raise a few millennial eyebrows (we won't go into the 1998 fiasco when Dad surprised Mom with a vacuum cleaner), but occasionally something super savvy appears on the scene and rules go out the window. Luminessair BodyShaver with its 36-blade full-body technology tackles the body's every curve and contour. Perfection personified no shaving cream needed. Oh yes, it also makes a most attractive traveling companion. luminessair.com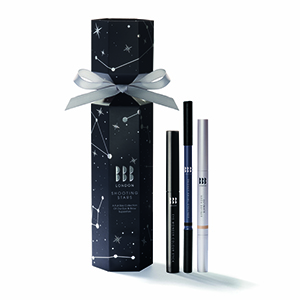 THE BOLD STANDARD
Whether they're shooting daggers or letting love shine through, eyes have a lot to say and it's our job to help them say it with uncompromising panache. To turn them yuletide sultry I recommend tapping into BBROWBAR London Shooting Stars Collection: Smokey Kajal Liner, Ultimate Arch Definer and new Eye Wonder Colour Stick. Starry packaging makes them ready to slip into your BFF's Christmas stocking. Info: net-a-porter.com.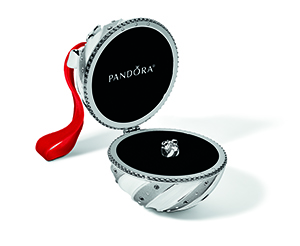 FROM KICKLINES TO KEEPSAKES
I know how jaded New Yorkers can seem when it comes to The Radio City Christmas Spectacular – even though they secretly harbor fond personal memories, especially of the Rockettes. So it's not surprising their razzle-dazzle served as inspiration for PANDORA Jewelry's Radio City Music Hall Charm & Ceramic Box and 2018 Exclusive Holiday Charm and Ornament Gift Set (shown). To share and wear! pandora.net.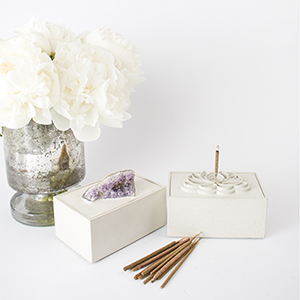 A RELAXING EXPERIENCE
For the Spa Lover on your list, here's an extraordinary treasure. Yes, good things do come in small boxes. Take the Lux Box from The Holistic Home Co., which is handmade, multi-purpose, and a forever vessel. The decorative cement box comes with 20 sticks of hand rolled, non-toxic incense. The lid conveniently flips to be used as a incense holder on the Lotus side. When not in use, turn the lid over and a one-of-a-kind crystal can be admired. Available in stone or black. Info: theholistichomecompany.com.
---
FOR KIDS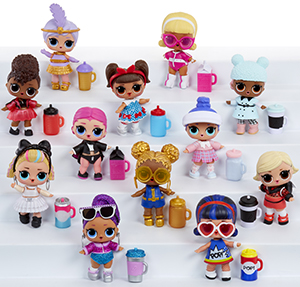 STOCKING STUFFER CONFIDENTIAL
Prepare to amaze and delight L.O.L. Surprise! fans with one of the season's most popular items: the L.O.L. Surprise!® Eye Spy Series Under Wraps Dolls. To get to the mystery doll the recipient must embark on a treasure hunt involving a spyglass, codes, disguise, fashions accessories… the list goes on, but the capsule containing everything becomes a purse carrying case and doll stand once the puzzle is unraveled! Info: lolsurprise.mgae.com.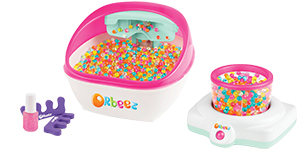 SPA-A-LICIOUS
R&R is not just for grownups anymore, thanks to a couple of epic takes on the spa experience from Maya Toys: Orbeez Ultimate Soothing Spa and Spin & Soothe Hand Spa. When a thousand (or two!) Orbeeze (multi-colored marbles… but not really marbles) do their tumbling thing, be assured the mani-pedi experience will turn tween sleepovers into OMG fabulous. Info: mayatoys.net.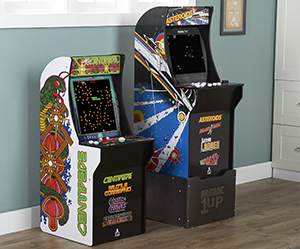 HOME GAME ADVANTAGE
When the weather outside turns frightful why not play up indoor distraction in vintage 2-D style with The Atari Home Arcade, complete with cabinet (Asteroids or Centipede). From the 17" flat-screen LCDs to the classic sound effects, teens will cast off their ennui as they lose themselves (and their cell phones) to the games that rocked the 1980's arcade scene: Tempest, Lunar Lander, Millipede, Missile Command, et al. Info: Hammacher.com.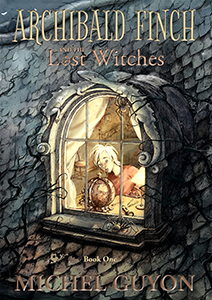 BY THE BOOK
For kids on the literary prowl for the fantastic – curious creatures, ancient spells, disarming darkness and whatnot – there's a new book and a new kid hero that you should meet. His name is attached to the title: Archibald Finch and the Lost Witches, and he is the brainchild of French journalist Michel Guyon. I won't reveal the story, but will say it's a compelling read, enhanced by Zina Kostich's bewitching illustrations. Info: archibaldfinch.com.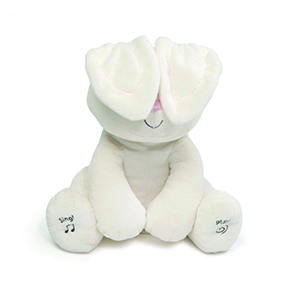 COMFORT & TOY
Peek-a-boo may be an oldie but goodie when it comes to engaging baby, but Gund's ultra- huggable Flora Bunny gives the classic hand-to-eyes format a new twist with this adorable companion featuring movable ears a little kid's voice singing "Do Your Ears Hang Low". Flora's endearing smile and floppy ears that move make this award-winning sweetheart of toy a slam-dunk for baby's first Christmas! Info: gund.com.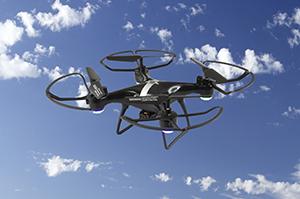 DRONING ON
Imagine 360° flips, tricks, stunts, etc.; built-in Wi-Fi camera (480x640 resolution); 2.4GHz remote 4-channel direction control and LED navigation lights. All this, plus the ability to watch footage live on your smartphone or through a VR goggles, makes The Eagle 3 Quadcopter Drone one super pumped must have. Get ready to see the world from all kinds of interesting angles. Info: dpiinc.com

HARRY POTTER & THE REALLY AWESOME WAND
In the films, "Brilliant!" is Harry, Hermione and Ron's favorite expression and now it's a bona fide reality for wizard wannabes. The Harry Potter Light Painting Wand with lumos-inspired LED tip lets you do battle with Death Eaters or conjure your patronus with a flick and swish. Bonus: fFee iOS/Android light painting app allows time-lapse artistry. Info: hammacher.com.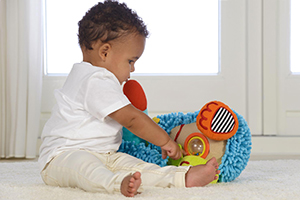 PLUSH PLAY
As a card-carrying advocate of all things quirky, I admit to falling hard for the Dolce Afghan Hound—an interactive shaggy dog with a wonderfully quizzical expression, designed to tweak the imaginations and senses of the wee-est of the wee. Soft velour with a visible tummy rattle, squeaking nose, crinkly feet – plus mirror… too, too wonderful! Info: magformers.com.