SUSTAINABLE FASHION
Changing Your Style—And The World
By Amanda Singh, Founder of Jean Franklin
The words "sustainable," "eco-friendly," and "green" may feel like they're everywhere these days. But how can an abstract marketing term like sustainable fashion become something more than a hashtag on Instagram that we can all apply to our daily routines and busy lives?
Let's start with the goal of sustainable fashion: to transform the fashion industry so that it can be supported in a closed loop that reuses and recycles materials without harmful impact on the environment or the people who make the clothing. So how do we take this very ambitious goal for an industry that is one of the most polluting and has major human rights issues and make this applicable to each of us?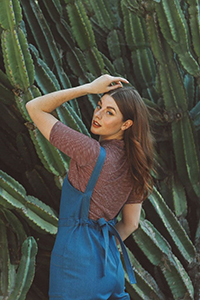 GO QUALITY
A good rule of thumb is to start before you even purchase. Ask yourself how many times you will wear this. Chances are if you'd wear it at least 30 times, it's probably a keeper and something you'll wear quite frequently. Transitioning to a more sustainable way of shopping is about finding pieces you love and will wear for a long time. It's in stark contrast to buying throw-away pieces that may be out of style quickly or aren't made to last, otherwise known as "fast" fashion.
If you live in a smaller space or older building you probably have a limited closet space. By buying fewer pieces made of a higher quality, it allows you to have a clean, simplified space for all of your favorite pieces. I've also found that by having less, it encourages me to be more creative with my outfits and how I style them.
Thrift or second-hand clothing is the most sustainable way to shop because no new energy goes into making the clothing, it already exists. Companies like Thred Up are making it extremely easy to buy slightly used pieces that are like new or in good condition. If you like vintage clothing that is also an eco-friendly way to shop and keeps your style unique. Also, if you're buying on a budget, this is the most economical way to be fashionable.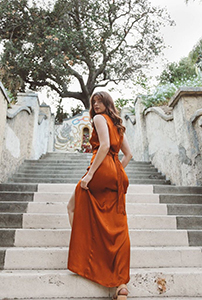 THE RECYCLE APPROACH
Purchasing clothing made from deadstock (surplus fabric created and unused by other fashion brands) or recycled materials is eco-friendly as well. Similar to shopping second hand or vintage, using deadstock fabric and trim (thread, buttons, zippers, etc.) repurposes materials that have already been produced. Jean Franklin, the womenswear line that I founded takes this approach. We source deadstock materials and recycled thread to create beautiful new pieces with existing waste materials. Since there are limited amounts of deadstock fabrics, brands like Jean Franklin create limited edition fabric options for the styles that we create. This makes the piece you purchase even more unique, knowing that sometimes we can only make a limited amount in the same fabric.
When you shop for new clothing, look at the tag to see what materials the item is made from. Many brands (even the pricey ones!) use polyester and synthetic materials to reduce the cost of making the finished product. However, these materials don't biodegrade. These fibers can take up to 200 years to break down. Biodegradable natural materials include hemp, linen, Tencel, silk, bamboo, cotton, and even rayon. There isn't a perfect fiber, but you can try to get close, and hemp is at the top of that list because it is easy to grow, it requires very little water, and doesn't need much land to grow on, making it a low-impact option in many ways.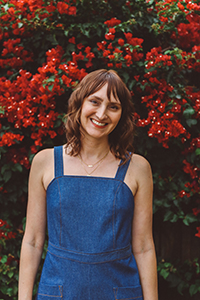 Amanda Singh
©Michelle Terris
MADE TO ORDER
How the clothing is made and in what quantities is also essential to consider. I chose to build a business by creating clothing that is made to order. What this means is that we don't make a piece until the client places an order. We do this to reduce waste in production. A considerable percentage of clothing never gets purchased, sometimes it's donated, sometimes sent to outlets, and other times just destroyed. Made to order does require a little more wait time to receive your piece, but it is made for each customer, and unless we run out of fabric, your size will never be sold out.
Remember that sustainable shopping begins with thinking about how your clothes are made. What you purchase can have a positive impact on the environment and the people who make your clothes.
For more information on Amanda Singh and Jean Franklin fashions, visit jeanfranklin.com.