CHARLEVOIX, QUEBEC
An Easy Getaway To The North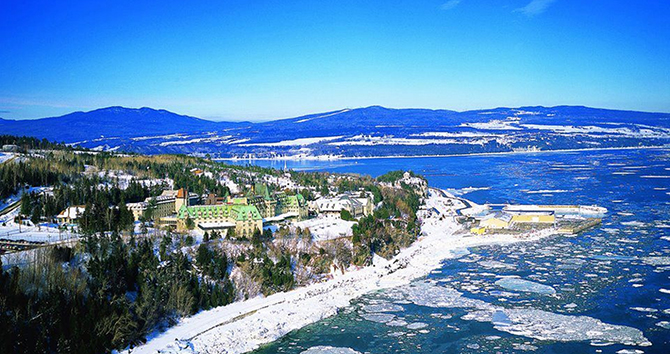 By Sherry Amatenstein
In Charlevoix, the almost decadently scenic region 90 miles northeast of Quebec City, the 30,000 locals take unceasing delight in their surroundings. Not surprising, since the cozy resort town that hosted the G7 Summit attended by the world's leaders last June, and which President William Howard Taft once described as "intoxicating like champagne without the next day's hangover" actually saw the creation of Cirque du Soleil in the early 1980s from a ragtag band of colorful street entertainers called Les Echassiers de-Baie-Saint-Paul (the Baie-Saint-Paul Stiltwalkers).
While Cirque has of course morphed into a company of performers who have enthralled over 50 million around the globe, the perennial Champagne fizz in the Charlevoix air has led to quirky sights and pleasures that can't help but lift the spirits of visitors.
That Charlevoix, a UNESCO Biosphere Reserve since 1989, is delightfully odd is befitting of a region that began 300 million years ago when a random meteor dropped out of the sky gorging a tremendous hole in the earth along the St. Lawrence River.
WHAT TO SEE & DO
Omerto Visit the 'vineyard' and tasting room of the world's first and only tomato wine. In 1998 Pascal Miche, a onetime Belgium pork butcher moved to Charlevoix to continue developing his great-grandfather's recipe for wine created from special varietals of heirloom tomatoes. An Omerto cocktail, The Cobbler infused with rosemary syrup, was served at the G7 Summit after another Omerto cocktail, the Molotov, was rejected due to its violent name! Info: omerto.com/en.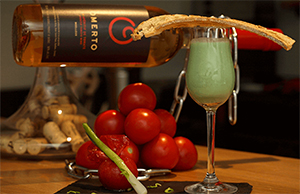 An Omerto Cocktail
Flavour Trail While winter eliminates a few of the region's abundant charms (i.e.: we're talking about you, whale watching!), happily food is an all-weather activity. Charlevoix has cooked up a creative way to showcase its artisanal cheeses, foie gras, ciders, craft beers, duck, organic meats and other fabulous regional edible offerings. The Flavour Trail, comprised of 40 local growers, producers and restaurateurs, offers a gastronomic journey down the sometimes rugged terrain from Petite-Riviere-Saint-Francois to La Malbaie. The participants (Miche among them) love sharing their stories. Clearly you would need days to sample every stop on the trail, but one standout, attached to the fabulous cheese shop Famille Migneron de Charlevoix (set to begin selling vodka made from the whey byproduct of their cheese production). Don't miss Faux Bergers run by the husband and wife team Sylvain Dervieux and Emile Tremblay, this intimate restaurant eliminates the stress of deciding which delectable dish to order. Instead of a menu there is a chef's choice six-course repast. Info: tourisme-charlevoix.com/en/what-to-do/routes-and-circuits/flavour-trail.
Winter Attractions In 2002 Cirque du Soleil co-founder Daniel Gauthier traded pratfalls for state parks, purchasing and modernizing a ski resort now called Le Massif de Charlevoix. The resort already had a stunning location overlooking the St. Lawrence River and at 2,526 feet the highest vertical drop east of the Rockies, plus an annual powdery snowfall of 236 inches. In addition to the superlative skiing (including off trail), Le Massif de Charlevoix has offbeat Gauthier touches such as ice skating trails and "rodeling"—a 4.6 mile sled trail—the third longest in the world reaching speeds of 50 mph. Info: lemassif.com/en.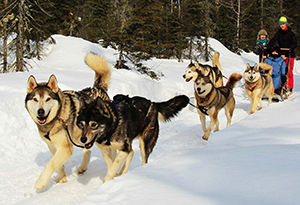 Le Chenil du Sportif
If you like canoodling with canines, Le Chenil du Sportif offers from half day to three day dog sledding excursions. After the "harnessing ceremony" accompanied by much yipping and tail wagging, your excited husky drivers offer a four woof-rated experience. Info: chenildusportif.com.
WHERE TO STAY
Naturally, Charlevoix boasts hotels that offer unique experiences. Here, some favorites.
Le Germain Charlevoix Hotel and Spa Want to look out your oversized window and watch sheep? Commune with Highland cattle, mulard and Barbary ducks, white pigs, and then visit a Honey House with 15 beehives? Then the luxurious 145-room Le Germain Hotel and Spa, comprised of five urban style pavilions in the heart of Baie-St-Paul, is perfect for you. Once a wooden farmhouse belonging to a religious congregation (check out the fabulous miniature replication of the original complex, replete with miniature cows, ducks and nuns), The Germain has a full-service spa perfect for snowy afternoons, ski train to Le Massif, outdoor skating rink and roaring campfires in the on-site public square—yes, the latter activity includes star gazing. The restaurants on-site serve ingredients fresh from the organic garden, with Les Labors vast kitchen, open on all four sides allowing diners to watch their inventive meals being created! The accommodations range from suites and lofts to bunk beds dormitory style—all upscale—with the coziest down pillows and comforters to lull even an insomniac to sleep. Info: legermainhotels.com.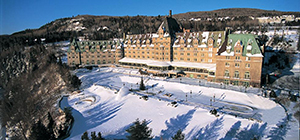 Fairmont Le Manoir Richelieu
Fairmont Le Manoir Richelieu It's no wonder the 5-star Fairmont Le Manoir Richelieu in Malbaie was chosen as the site of the G7 summit. Prepare for a jaw dropping moment at the approach to this commanding 405-room French style castle perched between the St. Lawrence River and the Laurentian Mountains. After walking up a winding staircase to the lobby entrance, guests are greeted by Roux, the resort's 3-year-old Canine Ambassador. Trained by the Canadian Guide Dogs for the Blind in Ottawa, the Golden Labrador Retriever has business cards and if his schedule isn't booked, appointments are available with Roux at the concierge. Then rent snowmobiles, take a sleigh ride, snow shoe to the top of the resort's world-renowned golf course, ice fish (the good-natured staff will cut a hole in the ice!), play hockey or ice skate on an outdoor rink, enjoy easy access to nearby skiing, later soothe your sore muscles at the Moment Spa, enjoy a drink in the heated outdoor pool and/or dine at Le Charlevoix Restaurant, which won Wine Spectator's 2017 Award of Excellence. Indulgence in paradise with a touch of Charlevoix idiosyncrasies is the Fairmont's policy. Info: fairmont.com/richelieu-charlevoix.
For more information on Charlevoix, Quebec, visit tourisme-charlevoix.com.