THE BERNARDS INN
A New Jersey Gem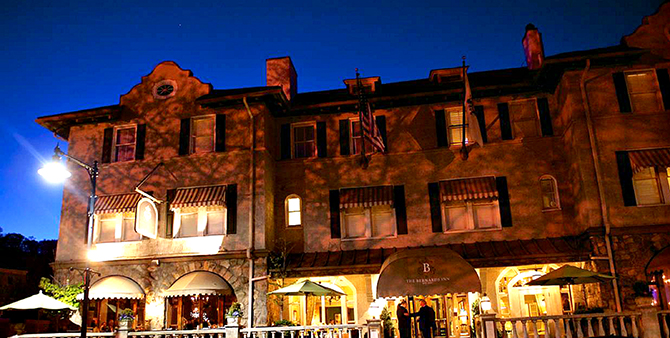 By Jeff & Stephanie Sylva
Does the thought of exploring a boutique hotel featuring a quintessential luxury restaurant sound enticing to you? If so, all it takes is a one-hour train ride from Penn Station to the quaint hamlet of Bernardsville, New Jersey, where The Bernards Inn will welcome you to a bygone era of understated elegance.
For more than a century The Bernards Inn has provided guests with exceptional experiences. Today, the inn is a Forbes Travel Guide recommended property with the style and elegance of a small European luxury hotel.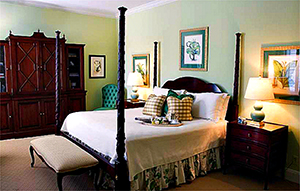 A BIT OF HISTORY
The Bernards Inn has a long and storied history since it first opened in 1907. Construction of the inn began in 1905 using stone from an old stable located on Main Street. Some of this stone can still be seen in the foundation visible in the wine cellar. Additionally, many items including mirrors, mantels, and the components of the lobby staircase, which still exists today, were culled from the original Hotel Plaza in New York City. In addition to being the town's first venue for moving pictures, the inn welcomed some famous motion picture stars, such as Mary Pickford.
Following several years of successful operation as a hotel and restaurant, The Bernards Inn fell victim to the effects of Prohibition in 1920 and suffered a substantial drop-off in business. However, in one aspect the inn did continue to be successful—albeit as one of Bernardsville's four illegal "speakeasies," experiencing police raids on more than one occasion.
A decade later, the inn experienced a dramatic change from two fires purported to be set by a man being held in the police department's detention room, which was housed in the same building. The section of the inn that was destroyed was never rebuilt. For the next several decades the inn would change hands and go through a variety of décor and architectural changes, as well as a name change—the Widow Brown's Inn. Thankfully, in 1972, new owners renamed it The Bernards Inn.
It was during the ownership period of Alice and George Rochat, from 1985 to 2002, that The Bernards Inn earned its reputation as a top choice for fine dining and luxurious accommodations, garnering numerous dining and hotelier awards including the AAA Four-Diamond. Today, under the ownership of Hampshire Destination Properties and the creative culinary direction of Executive Chef Todd Mark Miller, The Bernards Inn is now in its second century of providing outstanding hospitality and culinary experiences with a gracious and refined elegance.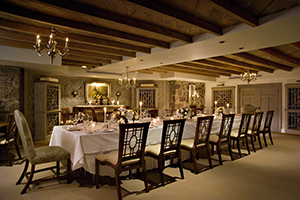 ELEGANT SURROUNDINGS
The new décor and architectural details of the property and updated rooms, designed with pastoral-themed oil paintings and beautiful antiques, are reminiscent of the magnificent estate homes of the Somerset Hills. A number of the rooms are named for these estates, such as Overleigh, Mayfield, and Claremont. Inn accommodations include the Historic Suites, each with a spacious sitting room; Historic Deluxe Rooms, all offering generously-sized rooms; or Historical Superior Rooms. What is also enticing about the inn is its location in the town of Bernardsville, which is in the heart of the picturesque Somerset Hills countryside. There are numerous opportunities to explore, engage, or relax and enjoy a quiet stroll in one of the area's beautiful estate gardens.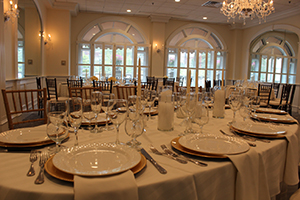 SPECIAL PACKAGED STAYS
The inn offers a variety of package plans designed to give guests a chance to experience the picturesque Somerset Hills and enjoy the elegant atmosphere of this beautiful inn.
Seasonal Dining includes an overnight stay in one of the Inn's twenty smartly-appointed guest rooms with award-winning Progressive American cuisine and wine center stage for these epicurean escapes. Chef Miller presents a seasonally-inspired Four-Course Tasting Menu paired with exceptional wines. (A Six-Course Tasting Dinner is available as an upgrade.)
Fall Feast is available through December 20th. After feasting on Chef Miller's gourmet creations, it is easy to see why the New York Times distinguished the Inn as the Best Fresh and Local restaurant while Zagat's calls it One of NJ's Best gourmet restaurants. You will be equally impressed by Chef Miller's menu favorites like Roasted Lobster with Baby Bok Choy, Skirt Steak Frites, and his delicious Blue Lump Crab Cake. Two very popular appetizers are the Yellowfin Tuna Flatbread and the Creole Oysters.
Bed & Breakfast is an excellent opportunity to choose from a long list to add your own touch. Amenities like White Petal Turndown, Celebratory Cake for Two, Picnic Bag for Two, wine flights, craft beer tasting, Grand Mariner and chocolates, is just a start!
Be sure to check the inn's website for a description of the many other package plans available.
Not to be missed is the Library Bar, where mixologist Claudineia Bock meticulously prepares many of her creative libations' ingredients by hand. With a vast array of in-house infusions, hand-crafted bitters, and special purees and reductions. Bock brings many unique twists to some classic cocktail recipes. The menu features some enticing delicacies such as Thai Fries and a Duck Reuben.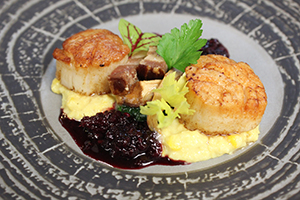 EXPLORE AND ENJOY
As inviting as the inn's accommodations and restaurant may be, you may want to get out and explore some of the Somerset Hills attractions. Golfers can visit the nearby United States Golf Association Museum. Nature lovers can enjoy a variety of estate gardens, wildlife sanctuaries, and historical parks such as Natirar, The Leonard J. Buck Garden, Duke Farms, The Cross Estate Gardens, and The Scherman-Hoffman Wildlife Sanctuary NJ Audubon Society.
With so many local attractions and events, The Bernards Inn is a perfect nearby getaway any time of the year.
For information on even more area attractions or details about The Bernards Inn visit bernardsinn.com.