BITS & BAILEY
News, Views & The Latest Happenings
By Bailey Beckett
Welcome to the first Bits & Bailey, a monthly who's who and what's what in the Big Apple, all through the glossy, perfectly-lit, soft lens of yours truly. As a bon vivant in every sense of the term, I've been chronicling the have and have-mores for 20 years, and I'll be giving readers an inside glimpse into that rarefied world. So … grab your passport and pack the Goyard, this journey is just getting started.
---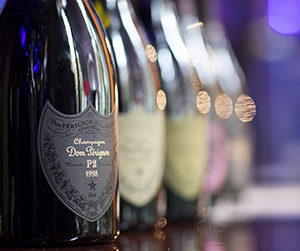 A TOAST WITH THE MOST
The world's most glamorous hotel, the Hotel Plaza Athenee Paris has long been a love nest for discriminating New Yorkers. And now there's another reason to gas up the G5 and go into the (city of) light. The palace-ranked hotel is getting cozy with Dom Perignon to showcase a collection of its White and Rosé Champagnes—Vintage P2 and P3 Magnum, Jeroboam and Mathusalem—in a custom glass display case exclusive to the hotel's famous Le Bar. Designed by Nicolas Francart, the installation will run three years and offer guests a peek at its most revered vintages, like the P2 (Second Plénitude—16 years of elaboration) and P3 (Third Plénitude—more than 25 years of elaboration) Champagnes. The most expensive—a steal at just $150,000—is its vaunted Jeroboam with a silver cover. The entire selection can only be savored at the Plaza, naturally. Info: dorchestercollection.com/en/paris/hotel-plaza-athenee.
---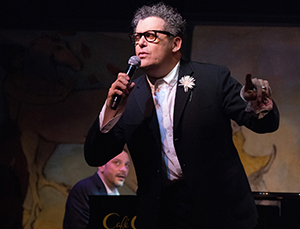 LIGHTS! (NO) CAMERAS! (ALLOWED) ISAAC!
Anyone who has ever seen Unzipped, the 1995 documentary about fashion icon Isaac Mizrahi, knows the designer is an outrageous talent whose skills extend way beyond the catwalk. Witness his one-person show at Café Carlyle, the entertainment mecca nestled elegantly inside the historic hotel. After two sold-out schedules last year, he's bringing the cabaret act back for an encore with Isaac Mizrahi: Queen Size. From February 5th through 16th, the designer will again wax poetic about love and life with a set that mixes classics (Leonard Bernstein, Cat Stevens, Jimmy Webb, John Kander, Cole Porter, James Taylor, and Jerome Kern), wry commentary and a heavy dose of comedy. He joked during his last run that his recent weight gain is the fault of the Trump administration and that every time he sees Sarah Huckabee Sanders, "that's a pint of ice cream," Last year's shows were huge hits. The New York Times noted "he is determined to challenge the cultural status quo and help blaze a path… his Café Carlyle engagement is a big deal" while Vogue called it "the hottest ticket at New York Fashion Week." Info: cafecarlylenewyork.com.
---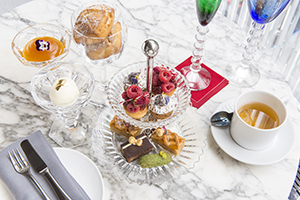 HOLIDAY TREATS
For centuries, Baccarat has created masterpieces for royal households throughout the world, and this holiday its tony New York hotel honors that legacy with tea services as they might have been held in palaces from St. Petersburg to Bangalore. Pairing its menus with world-renowned Mariage Frères teas certainly evokes that majesty. And it gets more magical with two enchanted holiday servings this season in its opulent second-floor lounge. The T'was the Night Before Christmas experience includes savories like Croque Monsieur Gruyere, Holiday Stuffing, Butternut Squash Tart, Foie Gras and Roasted Turkey, as well as delicious sweets like Spiced Chocolate Cherry Buche de Noel, early Grey Religieuse, Rosé Macarons, Sugar Plum Cake, Raspberry Rolls, Lemon Honey Vol Au Vent, and Spiced Pear Gelée.
For the kiddies, the Le Petit Prince is serving Napoleon of Pears and Brie, Cranberry Muffins, Banana Bread, Spiced Cupcakes, and a Chocolate Brownie Tree. It's a spirited way to enjoy the Christmas spirit, for sure! Info: baccarathotels.com.
---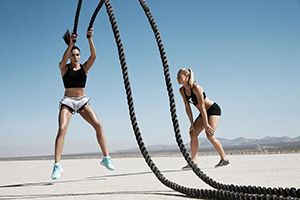 LUXURY EXERCISE
New York's favorite fitness brand Equinox is introducing bespoke luxury travel experiences to include multi-day journeys around the world. Starting in April 2019 with an adventure in Morocco, travelers will get to discover exotic, undiscovered destinations corners of the globe, all grounded with fitness and lifestyle programming that align with the brand's holistic approach to living. Each one-of-a-kind itinerary will be developed in conjunction with Equinox's top lifestyle and fitness experts, accentuated with harmonized meals, premium transportation, and tailored exercise routines. Looking for a personalized training session with a champion athlete? Foraging experience hosted by a renowned local chef? Transformative mountaintop meditation at sunrise? It's all here, folks!
Working with Equinox is Leah Howe, formerly of New York's Van Wyck & Van Wyck, who knows a thing or two about bringing to life off-the-beaten-path experiences for a who's who list of well-heeled travelers. "Our move into travel is a natural—and almost inevitable— extension of our unmatched lifestyle proposition," said Equinox head Harvey Spevak. "We are expanding our purview to include active, covetable experiences that empower our discerning members to connect with the world—and themselves." Info: equinox.com.
---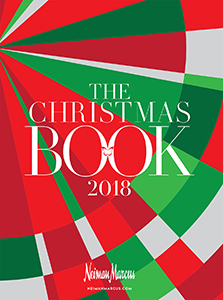 ON THE MAR(CUS)
One of the best parts of the season is seeing what outrageous Fantasy Gifts Neiman Marcus features in their holiday catalog. This year's offerings include being a VIP Guest of 2017 U.S. Open Champion Sloane Stephens at all four major tournaments (Melbourne, Paris, London, and NYC); and a Custom Candy Bar with one million pieces of Sugarfina candy.
My favorite, however, is a Secret Agent Experience in Las Vegas. Neiman Marcus will fly you and four friends to Sin City via private jet for a three-day, two-night espionage adventure organized by The Invictus Experience. Upon landing, you'll be greeted by a mysterious man in a tux who will hand over an envelope containing your assigned mission profile—and the fun will begin with a team of elite and decorated Special Operations Forces veterans. Free-fall parachutists, combatant divers, force reconnaissance marines will fill your schedule as you enjoy secret agent fantasies: jumping out of planes, racing supercars and whatever else is required to complete the mission at hand. Covert dinners and unforgettable accommodations at Waldorf Astoria Las Vegas are included. Only one question remains: Will you accept this mission? For $315,000, why not? Chump change for a one in a lifetime experience! Info: neimanmarcus.com/c/gifts-christmas-book.
---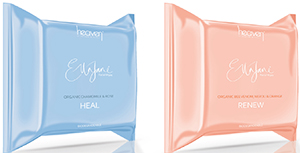 BEAUTY AND THE BEE
A more practical gift for loved ones is skin products by Heaven, the UK-based beauty brand created by Deborah Mitchell, who gives the Royal Family their regal glow. Whether it's the Bee Venom line or the much-in-demand Emma Jane Wipes to refresh and renew your face, Deborah's products are all the rage with beauty conscious New Yorkers—especially as they escape the frigid winter weather for sun and sand down south. Though not yet in stores in the U.S., you can order online. Be sure to snap up the Bee Peel, which works wonders for fine lines, wrinkles, hyperpigmentation, and uneven skin tones. The secret is in the sauce: ABEETOXIN® (Deborah's own creation) that gently dissolves imperfections and leaves your face looking bright and dewy. Info: heavenskincare.com.