ON THE BIG SCREEN
By Jenny Peters
CLASSIC TALES RETOLD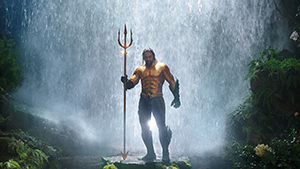 AQUAMAN
Rated: PG-13
He's been a part of comic-book myth since 1941, has had his own television shows and video games along the way and now that undersea superhero Aquaman bursts onto the big screen just in time for Christmas. The DC Comics character is half human, half Atlantean (the underwater species that lives in the legendary city of Atlantis), and all hunk as portrayed here by Jason Momoa of Game of Thrones fame. The action-packed flick follows Arthur Curry, who in this origin story discovers his fantastic underwater abilities as well as his undersea home. Look for eye-popping special effects and a host of famous faces—Nicole Kidman, Willem Dafoe, Amber Heard, Djimon Hounsou and Dolph Lundgren—in this family-friendly flick.
---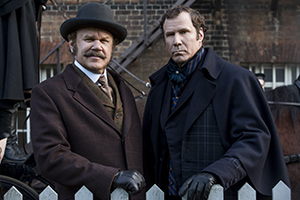 HOLMES & WATSON
Not yet rated
Sherlock Holmes purists will shiver in their shoes at the release of Holmes & Watson, as Will Ferrell and John C. Reilly put their comedic spin on Arthur Conan Doyle's very serious detective. Director-writer Etan Cohen (Tropic Thunder, Get Hard) gleefully skewers the Holmes legend, as Ferrell and Reilly pair up yet again, after making hits Talladega Nights and Stepbrothers together. Ralph Fiennes, Rebecca Hall and Kelly Macdonald join them in the mysterious mayhem; and we're sure all are hoping that this latest pairing turns into a movie franchise worthy of earlier Holmes and Watson big- and small-screen partnerships.
---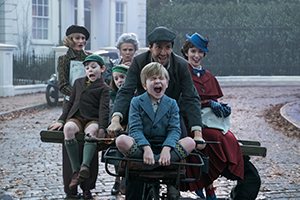 MARY POPPINS RETURNS
Rated: PG
Purists may balk at a sequel to the beloved 1964 Academy Award winner Mary Poppins, but true purists know that P. L. Travers actually wrote eight books about the magical nanny (and that a West End/Broadway theatrical adaptation also ran for years). Plus, with Emily Blunt in the leading role of this much-anticipated musical and Lin-Manual Miranda joining her as Jack, a friend very much in the tradition of Bert, there's much to like about this new story told by director Rob Marshall. Add in a practically perfect in every way cast that includes Dick Van Dyke, Angela Lansbury, Colin Firth and Meryl Streep and this one's bound to be one of the winter's biggest hits.
---
END-OF-YEAR OSCAR HOPEFULS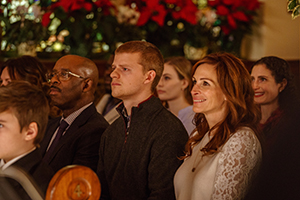 BEN IS BACK
Rated: R
Julia Roberts and Lucas Hedges are both frontrunners for Academy Award nominations for their performances as mother and son in Ben Is Back, an emotional drama set on Christmas Eve. He's a teenage drug addict, she's a mother at her wit's end. From writer Peter Hedges, whose What's Eating Gilbert Grape? and Dan in Real Life also navigate intense personal stories, Ben Is Back explores the nature of love, addiction and second chances. Courtney B. Vance also stars.
---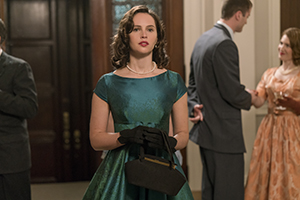 ON THE BASIS OF SEX
Rated: PG-13
Oscar nominee Felicity Jones (The Theory of Everything) stars as a youthful Ruth Bader Ginsburg, who began her career in the judiciary as an attorney who fought for women's rights. Working along with her fellow lawyer and husband Marty (played by Armie Hammer) in the early 1970s, the couple brought a key gender discrimination case before the U.S. Court of Appeals, in an attempt to change the status quo in American society. This is that story, which indirectly celebrates RBG's 25th anniversary as a U.S. Supreme Court judge with its 2018 holiday release. Justin Theroux, Sam Waterston and Kathy Bates costar in this courtroom drama directed by Mimi Leder.
---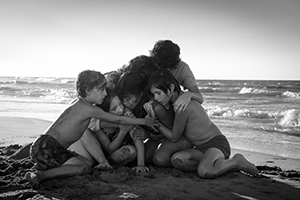 ROMA
Rated: R
Alfonso Cuaron, the two-time Academy Award winning director-editor of Gravity, returns to the big screen with Roma, a personal story set in a Mexico City neighborhood of the same name. Winner of the Golden Lion Best Picture Award at the Venice Film Festival, Roma has had the frontrunner Best Picture Oscar buzz since early Fall, as the one to beat. Shot in black and white and set in the 1970s, this evocative drama is a tribute to that vibrant, chaotic city as well as to the women who raised Cuaron, who also produced, shot, edited and penned the script of this film. And it's no surprise that the film shares the title with Federico Fellini's 1972 love letter to his home city of Rome; that's a clear influence on this, Cuaron's imaginative modern offering.
---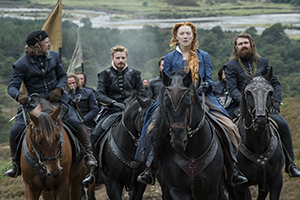 MARY QUEEN OF SCOTS
Rated: R
The newest take on this oft-told tale of the rivalry between Queen Elizabeth I of England and Mary Queen of Scots—we're partial to Mary of Scotland, the 1936 version starring Katharine Hepburn—stars two current powerhouses of modern cinema. With Saoirse Ronan as Mary and Margot Robbie as Elizabeth (both previous Oscar nominees) and a screenplay written by House of Cards creator Beau Willimon, this one's bound to be a barnburner of intrigue and action. Add in Guy Pearce, Gemma Chan and David Tennant in the cast of this period piece and we say grab the popcorn, it's probably gonna be a bumpy ride for Mary!
---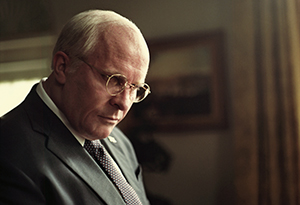 VICE
Rated: R
You may not recognize Christian Bale in Vice, for he is so completely transformed into Dick Cheney, the 46th Vice President of the United States. In this truth-based seriocomic tale, Cheney's rise to power (and control over everything in America, including his president, George W. Bush) is a mind-boggling story of greed and manipulation. Bale is a frontrunner to finally take home his first Best Actor Oscar (he's been nominated twice and has one for Best Supporting Actor already), while Amy Adams as his equally ambitious wife Lynne and Steve Carell as Daniel Rumsfeld are also on the Oscar hunt yet again. Meanwhile, Sam Rockwell as G. W. Bush just may win back-to-back Best Supporting Actor trophies for his inspired performance as well.