CHRISTINE LAHTI
A Feminist and Activist Channels Gloria Steinem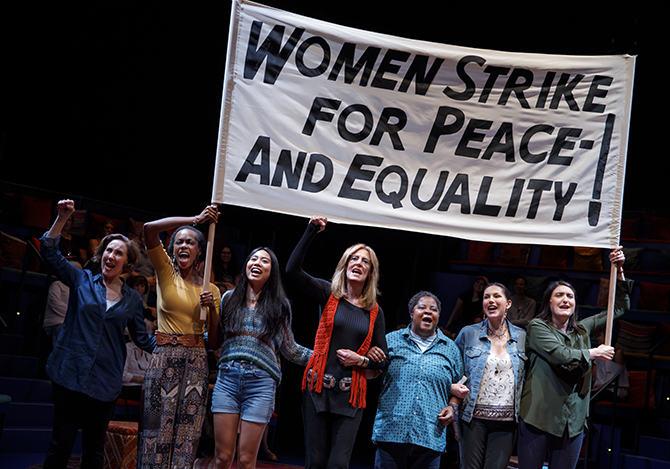 By Ellis Nassour
Stage, TV veteran, and Oscar-winner Christine Lahti is starring Off Broadway as her mentor and friend Gloria Steinem in Tony-winning playwright Emily Mann's play Gloria: A Life, an affecting, rich tapestry about one of the most inspiring and remarkable women of our time. For over five decades, Steinem has raised her voice for women's equality.
Gloria: A Life does something only live theater can do. Act One is Steinem's story, told by Lahti in illuminating ways, abetted by projections in a temporary configuration of posh stadium seating and a remarkable cast of seven women playing numerous female and male roles. Act Two, called a Talking Circle, invites audiences to carry the play's themes into conversations of their own. Special guests often lead the conversation.
Lahti has collaborated closely with Mann and Tony-winning director Diane Paulus to make the play as relevant as possible. "I've never had an experience like this," she enthuses. "Diane's amazing, so low-ego, and open to ideas I've put forward. Gloria and I connect on many levels. Having her as a friend, I had a lot of offer."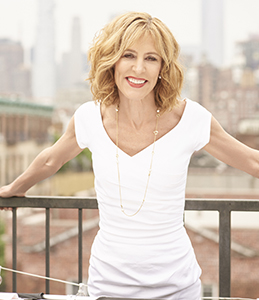 AT THE FOREFRONT
Since her days at the University of Michigan, where Lahti received a bachelor's degree in drama, she's been in the forefront for job/pay equality and health care for women. She's been particularly effective as a member of NOW (National Organization for Women); a board member of ERA, which is making ratifying the Equal Rights Amendment a top priority ("especially since we didn't succeed the first time); and a board member of Equality Now, the grassroots organization that's trying to eradicate violence against women worldwide. She's also gone on the road to pitch for candidates she believes in.
"Those four years at university changed my life and turned me into an advocate for women," says Lahti. "It was the late 60s and the height of the Vietnam War protests, but that wasn't the only mitigating factor." Lahti reveals her activism came about the same way it did for Steinem. "Hers came from witnessing that her mother wasn't able to live a full life for lots of reasons. I witnessed the same thing with my mother Elizabeth. She was always second class in her marriage and not really respected. She was never able to live her full potential. That worry has been the fuel of my activism. That's where Gloria and I connect on a very deep level. I feel the same type of fire in my belly."
She's quite candid about pushing her mother away "because I was afraid of becoming her. Gloria did the same. However, I was vindicated by mother's last chapter. She became a professional artist and a pilot. I like to think she was inspired by her daughter and the feminist movement." But it wasn't just her mother or Steinem's. "In the suburb of Detroit where I grew up, it was every mother," states Lahti. "They had the role that was handed to them: housewives, which in itself is an honorable thing, but none were able to live to their full potential. It was the same everywhere. I was determined, like Gloria, to make sure all women matter. That's the message that resonates throughout Gloria: A Life."
When Lahti heard about the play by Mann (who adapted Having Our Say, from the best-selling memoir by Sarah and Annie Elizabeth Delany and Amy Hill Hearth), she reached out to lead producer Daryl Roth (Kinky Boots, The Normal Heart, and Indecent), Tony-winning director Diane Paulus (Waitress, Pippin, Porgy and Bess), and her friend Steinem to say she was interested. So were they, it turns out.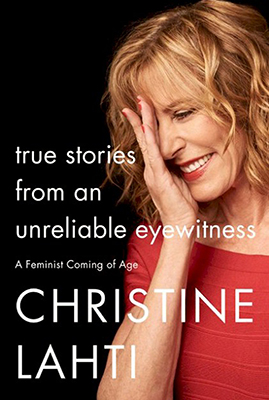 EMBRACING THE PRESENT MOMENT
The production at the Daryl Roth Theatre is the very definition of gender equality activism. The company comprised almost entirely of women—cast, creative team, designers, staff, and producers. "Even in theater, often regarded as an equality leader in the entertainment world," notes Roth, "this extraordinary group of women is unprecedented on or Off Broadway. We honor Gloria's five decades of activism and breaking down barriers for women around the world. We're so very lucky that Christine, whose life has been affected and inspired by Gloria, is our Gloria. Her physicality is uncanny. It feels like she's channeling Gloria."
Paulus agrees. "Christine's a supremely talented actress, activist, and friend of Gloria's. She's brought everything in her being to this production." Audiences, female and male, are moved. "Emily's play includes embracing the present moment, so we're consistently updating the script to energize the production. There's been an overwhelming response from those who've shared what we're all going through. Hearing their stories has been amazing. For some, it's a trip down memory lane; for younger generations, an informative lesson of where we came from, and what their mothers and grandmothers went through."
AT HOME ON STAGE & TV
"I was getting some great roles in TV, and stayed away from theater for a while. But I began to crave it after I aged out of certain TV and film roles," says Christine. She's had recurring roles in The Blacklist, the reboot of Hawaii Five-0, and co-starred three seasons on Law and Order: Special Victim's Unit as A.D.A. Sonya Paxton, and five seasons as Dr. Kathryn Austin on Chicago Hope. She's especially proud of her role in 2004's short-lived, way ahead of its time Jack and Bobby, a futuristic faux documentary in which she had the scene-stealing role of the eccentric college professor and single mother of brothers Jack and Bobby McCallister and her efforts to secure one a place in the history as U.S. president. It netted her a Golden Globe nomination for Best Performance by an Actress in a TV Series/Drama. Lahti also was Oscar-nominated as Best Supporting Actress for 1984's Swing Shift, and won a 1995 Oscar for Best Short Film, Live Action for Lieberman in Love, in which she starred and directed.
Her early years in New York she was a waitress and did commercials before breaking into theater and TV. Off Broadway, she appeared in major roles at the Public; in the rotating cast of Culture Project's Jessica Blank and Erik Jensen's award-winning The Exonerated, a first-person narrative about wrongfully-convicted inmates; and revivals, such as Clifford Odets' The Country Girl; and Second Stage's revival of Jules Feiffer's black comedy Little Murders. Broadway roles have included Michael Weller's bittersweet romance Loose Ends, Wendy Wasserstein's acclaimed The Heidi Chronicles; and Yasmina Reza's Tony-winning black comedy God of Carnage.
There've been other important successes as well. Lahti authored True Stories from an Unreliable Eyewitness, a comical and self-deprecating essay collection focusing on three major periods of her life: childhood, her journey as an actress and activist, and the realities of her life as a middle-aged woman in Hollywood.
Another role certainly shouldn't be overlooked. Lahti, 68, has been married to her soul mate producer/director Thomas Schlamme (The Americans, West Wing, and Sports Night among others) since 1983. They have three children. They met through friends and had shared theatrical interests. "But at that time, I was very suspect of any man." she laughs. "I thought all men wanted to squish me, but he turned out to be this incredible feminist. In those days, men never called themselves feminists. They were humanists. Today, you can't get away with that! You have to identify where you stand." One reason their marriage has been strong, Lahti points out, "is that we have work we're passionate about and share our adventures with each other." She describes being directed by her husband in a play and episodes of Chicago Hope and Jack and Bobby as "wonderful experiences." Either way you look at it, she says, "I really lucked out."
For more information on Gloria: A Life, visit gloriatheplay.com or ticketmaster.com.