MY NEW YORK STORY
Diana Haskell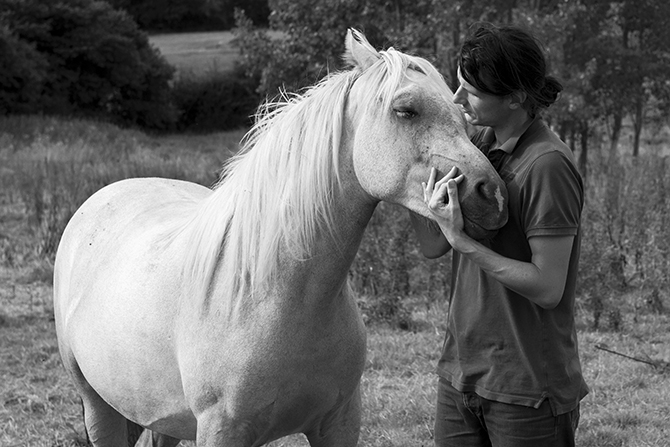 By Patricia Canole
If you have a pet, then there's a good chance you also have plenty of pictures stored on your phone or computer. However, quantity doesn't always equal quality. Going beyond a smartphone camera, animal portrait photographers have elevated the subject matter with their keen eye and a genuine understanding of the animal's point-of-view to capture the emotional bond we have with our four legged family members—the real glue that binds us to our animals. The best pet photographers have elevated animal portraits to the level of fine art that goes well beyond "cute" to look into the soul of an animal.
New York City-based photographer, Diana Haskell, takes the fine art pet photography niche one step further. Dubbed the animal relationship photographer, Diana's focus is almost exclusively on the human-animal connection. Her portraits help clients see the best version of themselves; when they are joyfully and lovingly "in connection" with their animal companions.
Her mission is to help people celebrate the unique and powerful bonds we have with our animals; both through the photographic experience itself and especially through her LoveStory artwork; personalized finished art for each client that become heirloom legacies for future generations.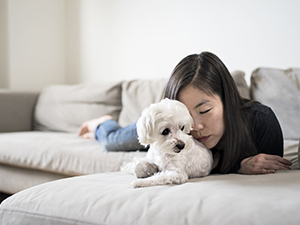 A TRUE LOVE STORY
"At first, most people say they don't want to be in the photos with their animal," explains Diana. "But then, during the shoot, something extraordinary happens. They drop into a zone as their connection takes over. They forget that I am there, and are simply surrounded by love. Afterwards, these images end up being a place where they go to draw peace, joy, and strength."
Diana's connection with animals is a deeply personal journey. Ivy League-educated, climbing the corporate ladder, her life looked nothing like she had imagined as a little girl. She had always dreamed of working with animals until an unexpected illness changed everything. Seeking answers and a complete recovery, Diana immersed herself in the healing arts, meditation, and other modalities for many years and, subsequently, her love of animals and nature returned to the forefront of her life.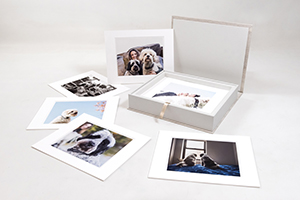 PRESERVING SPECIAL MOMENTS
Years passed and Diana, already a professional photographer, was capturing images of a friend with his dog. Then came a eureka moment! She realized how meaningful this bond was and knew her imagery had touched something deeper. Ultimately, Diana's tale as well as the tales she helps her clients realize through her photography and accompanying narratives, bears witness to humanity's love for animals, infusing all who come across it with joy.
These days, Diana's focus is on offering her clients a full LoveStory experience The initial consult, to the photoshoot, image review, and composition of accompanying text from the imagined perspective of the animal is a memorable journey for her clients and is as meaningful as the end result. Her calming presence and relaxed approach goes against the grain of our social media zeitgeist. There is no rushing. No imposed limits on the length or locations of the sessions. Together, Diana and her clients savor time, an essential (and often overlooked) ingredient of genuine art. These bespoke photographic experiences has clients flying her to all parts of the world from New York to Paris, Aspen, Santa Barbara, the Bahamas The Hamptons and beyond.
After the photo shoot, clients visit Diana's studio on the Upper West Side for their 'big reveal' to view the images. There they select their highly-personalized LoveStory art signature bespoke luxury book, a large-format fine-art print, or a hand-crafted keepsake box of mounted prints or all of the above. While every photo shoot is different and every resulting LoveStory unique, in Diana's experience our animal companions have a unified message to share. "This special experience and these beautiful fine art keepsakes are a constant reminder of what matters most," says Diana. "Namely, that we love and are loved."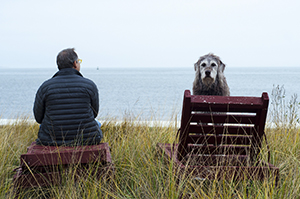 In 2018, she was invited by Madison Ave BID organization to partner with Madison Avenue stores like the flagship Lululemon store offering exclusive portrait photography events for their clientele. Most recently, she is featured in an exclusive special promotion at The Pierre Hotel for their guests of distinction. As a five-star pet-friendly hotel, The Pierre also celebrates the strong bonds that guests have with their animals and offers visitors an exclusive opportunity to capture their NYC visit with their dogs by booking a photo session with Diana. Aligned to celebrate The Year of the Dog, guests can plan a photo session that takes advantage of The Pierre's proximity to Central Park and other NYC landmarks to create memorable fine art images that will be treasured for a lifetime. For more information, visit thepierreny.com/special-offers/you-and-your-dog.
Today, Diana lives in New York City with her German Shepherd-Standard Poodle mix, Luka Longlegs. This self-taught photographer with over 20 years of professional experience in landscapes and portraiture, has exhibited her works in the U.S. and France since 1997. More than anything, for Diana, photographing animals and the people they love is a personal call to celebrating the present moment, where the animals always live.
For more information on Diana Haskell, visit dianahaskellphotography.com.